Chris Matthews Accuses Obama Opponents of 'Scorched Earth' Tactic; Predicts Clinton, Rand Paul Will Face Off in 2016
NEW YORK — MSNBC anchor Chris Matthews claimed Wednesday while sitting on a politics panel at a heavily-attended event in New York City that President Barack Obama's opponents were hell-bent on hindering his progress before he even took the oath of office. The "Hardball" anchor also called the 2016 presidential party tickets for Democrat Hillary Clinton and GOP Senator Rand Paul.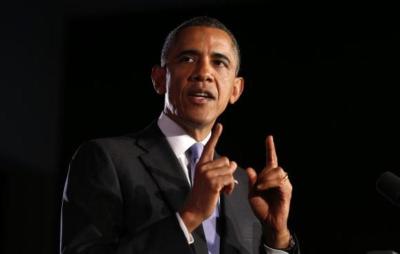 "President Obama is president of the United States, and he will be president for three more years. We have to get that into our heads ... three more years," Matthews reminded the several hundred in attendance at the Al Sharpton-organized National Action Network 2014 convention unfolding this week at the Sheraton Hotel in Times Square.
The NAN convention, which also saw opening day remarks from NYC Mayor Bill De Blassio and U.S. Attorney General Eric Holder, featured a panel discussion titled "Election 2014: Can America Get It Right?...or Left?" that was moderated by Professor Charles Ogletree, the Jesse Climenko Professor at Harvard Law School, where he taught Barack and Michelle Obama. Panelists for the discussion included Florida State Rep. Reggie Fullwood (D-13 District), Maria Teresa Kumar, CEO/president of Voto Latino, and Dr. James Peterson, director of Africana Studies at Lehigh University and MSNBC contributor, among others.
But it was Matthews and Ogletree who seemed to leave a lasting impression on the mostly-African American and apparent pro-Obama crowd when it came to diagnosing the ailments of Obama's time in office thus far, and forecasting for the 2016 presidential election.
"Maybe if he were a genius or a better politician, I don't know. But from the day he got in, he faced a wall of opposition," Matthews continued in his remarks on Obama.
Drawing a comparison to the kind of treatment President Abraham Lincoln faced during his term, Matthews suggested that some of Obama's Republican opponents have similarly deployed a "scorched earth" tactic to stymie his efforts in the White House.
"It wasn't a positive program. It was Mitch McConnell, it was Newt Gingrich, and these guys meeting almost like during the Civil War when Lincoln was coming to town. They were meeting as he (Obama) came to take the oath, and their goal was this: stop this guy in his tracks," said Matthews, who also expressed his belief that some of the opposition faced by Obama was due to his ethnicity.
But Matthews conceded, "The president's not a superman, we know that. We know he can be aloof, we know that. We can know a lot of things about him. He's not some glad-handing, backslapping pal. Maybe he ought to be more like Bill Clinton, who knows?"
"But what I know about the opposition he's faced is it's simple, direct and negative," he added.
That negativity will continue, Matthews suggested, as the nation heads into the next presidential election, which he said will be "tough for the Progressives."
Matthews also suggested that if Republicans had "helped," the stimulus plan, the healthcare program, and other Obama initiatives, they "could have been better."
When it came down to projecting who might wind up on the Republican and Democratic party tickets, Matthews noted Sen. Rand Paul (R-Ky.) and former Secretary of State Hillary Clinton, who is viewed favorably by 59 percent of Americans, according to Gallup.
"Hillary Clinton has a great strength, and that is what women my age really believe — they've taught me, 'our time has come,' so that's a big big factor," said Matthews at another turn in his assessment of the political landscape.
"Women are most of the voters. They care about health, education, of course they care about social issues and sex issues, but mainly it's about working issues, minimum wage, unemployment, education for their kids, health and social security for their parents. ... So when they're looking at these issues, they're probably looking to Hillary."
The "Hardball" host added, "What I'm afraid of, is that we're going to get another divided government. I can see Secretary Clinton coming in with 54 percent — 66 percent of people said in a recent poll they could see [themselves] voting for her. That's a lot, that's a high ceiling."
Expanding his thoughts on the GOP ticket, Matthews said, "I still think they're going wild, the Republicans. I think this is going to be like 1964 when LBJ ran against the guy on the far right. I think they're going wild this time. I think the Republicans are gonna say to themselves, 'We can't beat Hillary, we can't beat her so let's have some crazy fun."
"I think they're gonna go with Rand Paul, I'm telling you. Hillary vs Paul, big win," he said matter of factly, although his prediction was greeted with chuckles.
It was unclear which poll Matthews was referencing when he mentioned her potential voters, although the former secretary of state was viewed favorably on average by 64 percent of Americans during her tenure in the Obama White House. However, a national survey by the Pew Research Center and USA TODAY conducted Feb. 27-Mar. 2 among 1,002 adults found that 51 percent of Americans want to see Clinton make a run for the presidency (43 percent said the opposite).
"If Clinton decides to run, however, most say they would consider voting for her. Nearly six-in-ten say there is a good chance (35 percent) or some chance (24 percent) they would vote for Clinton. About four-in-ten adults (38 percent) – including 74 percent of Republicans – say there is no chance they would vote for her," Pew stated in its report on the poll.
As for Democrats, 87 percent of liberals said they want to see Clinton, 66, run in 2016 and 83 percent said there was a good chance she would get their votes. While 69 percent of conservative and moderate Democrats want Clinton to run, 60 percent of them say there is a good chance they would vote for her.
"The challenge is gonna be to find the great leaders on the Progressive and Progressive-center side and on the center-right who can talk," said Matthews, rounding out his comments by referencing the "old kind of Republicans, the Rockefeller Republicans, the Eisenhower Republicans" who were "civil rights people."
For his part, Ogletree, moderating the panel, focused on Michelle Obama and conducted a survey of his own, albeit a casual one, on whether the first lady should set her sights on the Oval Office.
"I thought I heard Chris say the Obamas, which makes me wonder what we are gonna do about Michelle Obama," said Dr. Ogletree. "She's not running for office. She would be a great president."
Amid scattered applause, a few voices rang out from the NAN convention audience stating that indeed "she should."
When Ogletree asked, "How many people think Michelle Obama should run for president of the United States?" — the crowd responded with hooting and applause.
"I just asked the question, Michelle," Ogletree added, finding his former student and close friend's favorability high, similar to a recent Gallup poll reporting on how Mrs. Obama was viewed by Americans.
Clinton, a former New York senator and first lady herself, has long avoided stating publicly whether she holds any presidential aspirations. Her stance appears to have changed, however, as she told an inquirer this week, "I am obviously flattered and deeply honored to have people ask me and people encourage me. And I am thinking about it, but I am going to continue to think about it for a while."