Chris Tomlin, Crystal Lewis, For King and Country Help Greg Laurie Celebrate 25th Anniversary of Harvest Crusades With 47,000 at Angel Stadium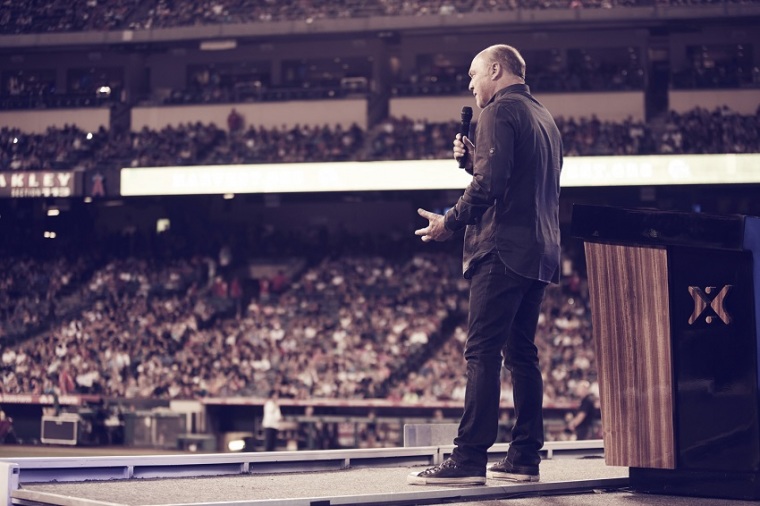 ANAHEIM, Calif. – An over-capacity crowd of 47,000 at Angel Stadium joined performers Chris Tomlin, Crystal Lewis, and for King and Country in what often seemed like the biggest Christian music sing-along ever during the closing night of the 3-day SoCal Harvest with Greg Laurie.
"People are so hungry. That's what I've loved about this crusade, is that people are so hungry to worship God, and not just checking it out but they are really engaged," worship singer and songwriter Chris Tomlin told The Christian Post shortly before taking the massive stage that was set up on the infield.
As performances from some of the top-rated Christian song artists began, Laurie made an announcement through social media, "Fire Marshall just closed doors. We are FULL!" and gave the website address, TV and radio stations where those unable to attend in person could watch and listen.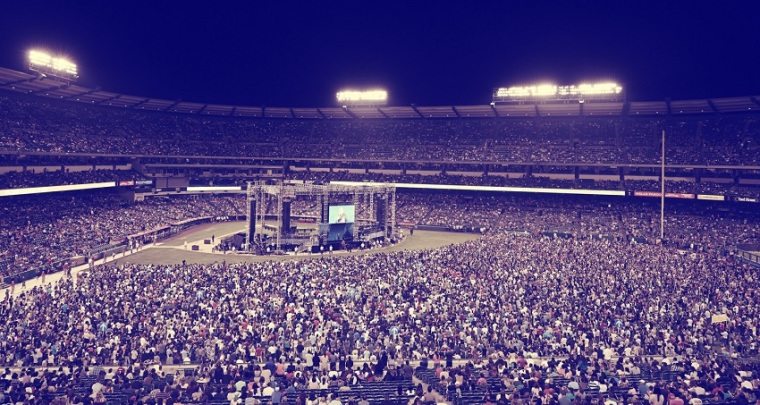 During this year's event, Laurie and his ministry celebrated 25 consecutive years of evangelistic outreach in Southern California. A total of 116,000 people attended over the three evenings and 11,366 came out onto the outfield grass at Laurie's invitation to make commitments or re-commitments to Jesus Christ, according to Harvest ministry officials.
Tomlin, like the other performers, had the crowd join him in song at several points of his performance, including an emotionally charged rendition of "Amazing Grace."
"I'm thankful to be here," said Tomlin, who was back this year to the Harvest Crusades for the third time. "Anybody that does anything 25 years [through] faithfulness, that takes a lot of sacrifice, takes a lot of vision, takes a lot of faithfulness. I'm just obviously coming over the coat tails of what they've been doing."
Tomlin, who lives in Florida and is considered "America's worship leader," is no stranger to stadium-sized events. He has toured for the college-age orientated "Passion" events that often have 40 to 50 thousand attend.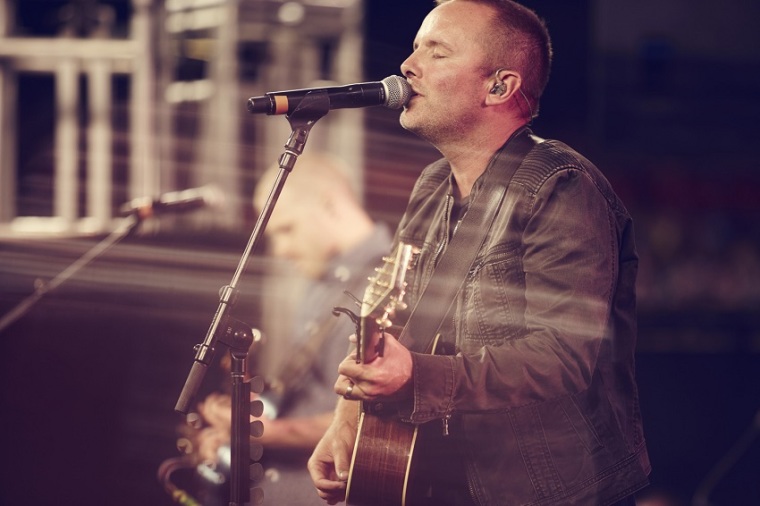 "My heart every time is 'can we connect people with God?' Any kind of platform God gives me is only to really help give people a voice to worship with, to worship God. At the end of the day, that's the goal," he explained. "It's not to perform, it's not to entertain, although I have a lot of fun and joy on stage. I believe in having a great time as your leading, but it's really to help people engage with God and to connect in that way."
When asked about what he likes about Laurie's preaching, Tomlin said he likes the simplicity of his message.
"I like how he really speaks the common language. He doesn't speak above people and he doesn't speak below people. He is really a gifted speaker who hits right at the center of people's hearts," he said.
"There's also an integrity there of years of doing this and there's a trust. I think when someone has been down this path this long you can really trust that Pastor Greg is really leading people to the truth of God," Tomlin said. "It's so much not just a pep rally, it's so much not just a big thing, it's really the Gospel. I love that his heart is really for people to receive salvation and to hear the Gospel."
Archived videos of all three nights can be viewed at Harvest.org.