28,000 People Attend SoCal Harvest; Greg Laurie Interviews Ex-Mob Boss, Says 'God Is a Big Eraser'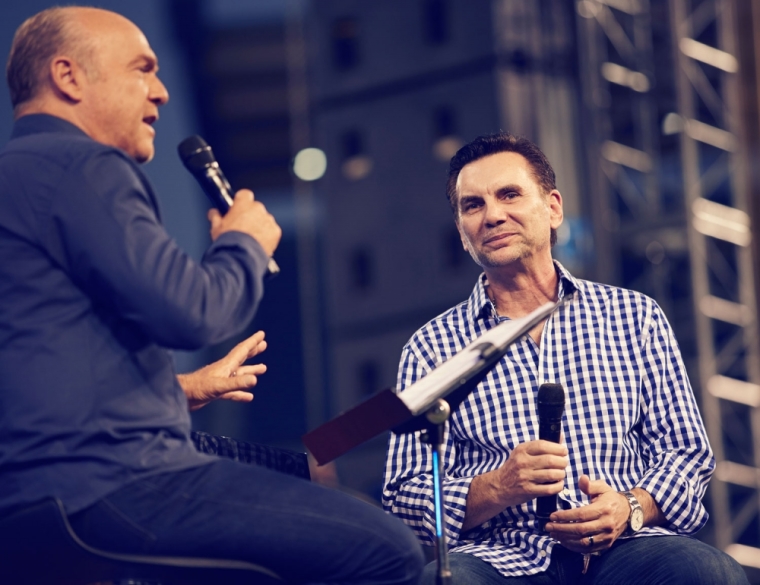 ANAHEIM, Calif. – Evangelist Greg Laurie told a crowd at Angel Stadium of more than 28,000 people and an online webcast audience of thousands more watching the opening night on Friday of the 3-day SoCal Harvest, that despite sins committed, no one is beyond the reach of God.
After interviewing former mobster Michael Franzese, who became a committed Christian while in solitary confinement inside prison, he said:
"If God can forgive and change a man such as Michael Franzese or Paul of Tarsus (from the Bible) then God can change even you.. God can forgive you of every sin you have ever committed because the Bible says that with God all things are possible."
Laurie added, "Guilt is not always a bad thing. Guilt is a symptom of a deeper problem and the deeper problem is sin. You feel guilty because you've sinned. It means your conscience is working. Sometimes you have to feel bad before you can feel good."
Laurie also explained that people should not dwell on their past sins.
"We should not choose to remember what God has chosen to forget," he said. "Our God is a big eraser."
Towards the end of Laurie's message he asked those in the crowd that wanted to commit or re-commit to Jesus to come down onto the outfield grass. He then led everyone in prayer to first admit they were a sinner, and then to acknowledge that Jesus, as savior, died on the cross and "shed his blood for every sin." The prayer included asking that Jesus be the leader of their lives.
Laurie's message on Friday was titled "The God Who Loves and Forgives." During this year's Harvest Crusades that end on Sunday evening, Laurie and his ministry celebrate 25 consecutive years of evangelistic outreach in Southern California. In addition to the interview with Franzese, music artists Phil Whickham, NEEDTOBREATHE, and the Harvest Band performed.
Franzese, who has been described in the past by media as the "Prince of the Mafia," shared how he put his faith in Christ while serving time in federal prison. The former mobster was once involved with the Colombo crime family and dubbed in the mid-1980s as one of the 50 most wealthy and powerful mafia bosses. At his peak, he was making $6 to $8 million a week. Then he ended up in prison.
For the remaining two nights, this year's SoCal Harvest will feature a nightly message from Laurie, as well as music from top Christian recording artists including Skillet, Sidewalk Prophets and Phil Wickham on Saturday; and Grammy Award winning singer-songwriter Chris Tomlin, For King & Country and Grammy nominated vocalist and Orange County native Crystal Lewis, who has performed at nearly every Southern California Harvest Crusade since 1990, on Sunday.
On the Web: http://www.harvest.org/