Christian Activist Who Created Traditional Marriage Pledge Signed by Over 50,000 Americans Says He 'Will Burn' Before Accepting Gay Marriage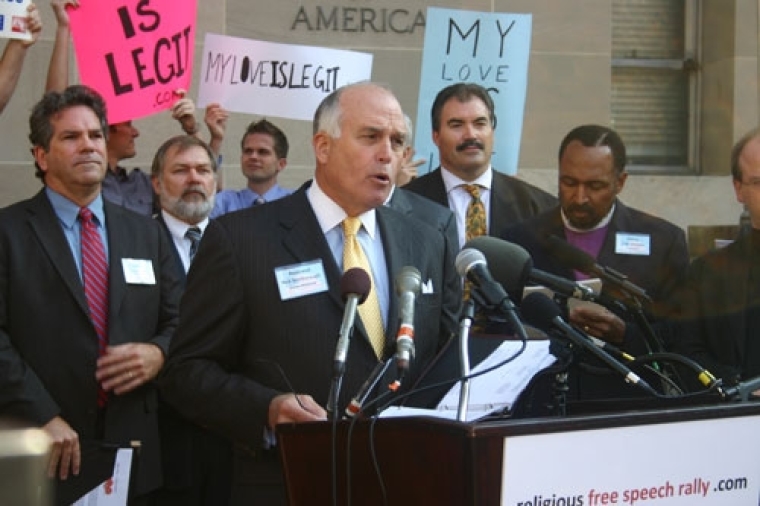 Former Baptist pastor and creator of the pro-traditional marriage petition known as the Pledge in Solidarity to Defend Marriage, which was signed by more than 50,000 Americans, said last Tuesday that he's willing to "burn" before accepting gay marriage.
Rick Scarborough, who's also the president of Vision America Action, a group that mobilizes pastors to help restore Judeo-Christian values in the U.S., was on a National Emergency Coalition conference call last week hosted by preacher E.W. Jackson when he revealed how far he's willing to go to resist gay marriage.
"We're simply being preemptive and saying, no matter what the cost we are not going to bow, we are not going to bend, and we will burn," said Scarborough.
Unlike abortion, Scarborough believes Christians cannot just choose to "opt-out" of supporting gay marriage since believers around the country are already being penalized in their businesses for not participating in gay weddings. He used the recent case involving the Oregon bakers who had to pay a $135,000 fine for refusing to bake a cake for a gay wedding as an example of the government not tolerating traditional Christian beliefs.
He also traced the origins of the gay marriage debate back to the Garden of Eden story found in the Bible's book of Genesis during the call.
"The end game is the complete destruction of the church of the Lord Jesus, the replacement of it with this liberal theology that's not a theology, it's a philosophy human made. It goes back to the Garden of Eden when Satan wanted to be God," he said. "We now have a race of humans that don't want to acknowledge that there's a God."
The Pledge in Solidarity to Defend Marriage is supported by prominent evangelicals such as Dr. James Dobson and Franklin Graham. It "was designed to send a clear message to the U.S. Supreme Court to uphold God's biblical plan for marriage and to uphold the choice of the American people," according to its website.
Scarborough said the pledge was meant to be forthright and clear.
"We're facing a real constitutional crisis if the Supreme Court rules adversely from our perspective on same-sex marriage," said Scarborough in an earlier report in The Christian Post. "For me, there's no option. I'm going to choose to serve the Lord. And I think that thousands of other pastors will take that position and hundreds of thousands – if not millions of Christians."
He added: "Christians are being declared the lawbreakers when we are simply living by what we have always believed, and by a set of laws that the culture historically has agreed to. ... Right now the courts are changing the playing field and declaring that what the natural eye can see and natural law reveals is not truth. What will we do, and how will we respond?"