Christian Boy May Be Executed in Pakistan for Posting 'Blasphemous' Picture on Facebook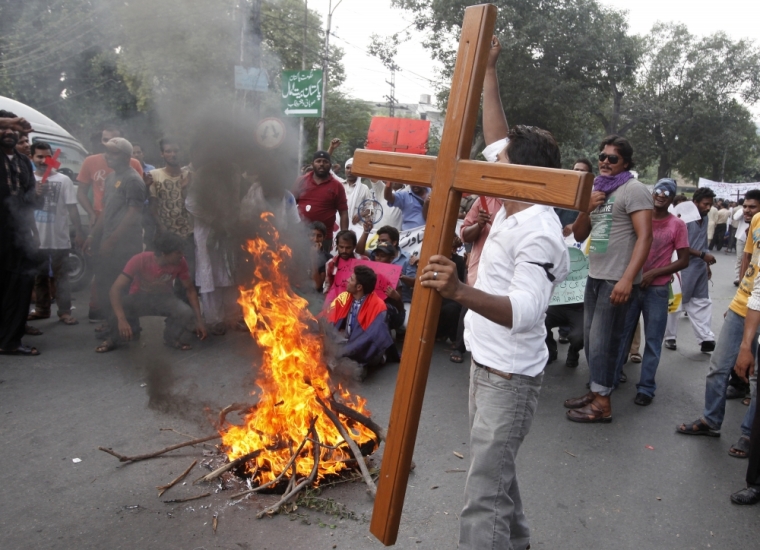 A Pakistani Christian boy who was arrested earlier this week could face the death penalty after he was accused of posting a picture on Facebook that Muslims consider to be blasphemous toward Islam.
According to the London-based charity British Pakistani Christian Association, 16-year-old Nabeel Masih, who lives in the town of Kasur in the Punjab province, was accused of posting a blasphemous picture on Facebook that reportedly showed the Kaaba (the building at the center of Islam's most sacred mosque in Mecca) with a pig's head on top.
Masih's alleged post was reported to local police by a Muslim friend who found it offensive. Masih was arrested and is being held at the local police station in Kasur until his trial.
Police official Shahbaz Ahmed told AFP that the Muslim's complaint against Masih claimed that the Facebook post was "hurting religious sentiments of Muslims and desecrating the religious place."
The Pakistani news site The Nation reports that the child has been "charged under sections 295/295A under the Pakistan Penal Code."
The BPCA reports that it is not known whether Masih placed the image on Facebook himself or if he was tagged into the post by another Facebook user. BPCA also claims that it is unclear as to whether the allegation is entirely made up, since blasphemy allegations in Pakistan are often used by Muslims to settle personal scores with religious minorities.
Local police told BPCA officer Naveed Aziz that they have since deleted the Facebook post, which makes it impossible to know if Masih had actually placed the alleged picture on Facebook.
"This incident again underlines the worthlessness of Christians in Pakistan. A 16-year-old boy who has been accused of a blasphemy has been placed in a prison without any proper investigation," BPCA President Wilson Chowdhry said in a statement. "Social media can be a force for good or for bad and we are all too aware of trolling in the West. However, few understand the blasphemy entrapment Christians can face in Pakistan and often on flimsiest evidence, for which I can see social media becoming an ever more prolific weapon."
As blasphemy is an offense punishable by death in Pakistan. Asia Bibi, a Christian mother of five, has been held for over six years on death row after being accused of blasphemy, and now Masih is in danger of facing a similar fate.
Additionally, accusations of blasphemy in Pakistan tend to cause enraged Muslims to persecute Christian villagers.
It was reported earlier this year that a blasphemy accusation against a Christian man in the Punjab town of Mandi Bahaudin led a large Muslim mob to descend on his Christian neighborhood to threaten the community. Fortunately, police were able to prevent the mob from hurting any of the villagers.
Following the accusation against Masih, many of his family members and other Christians have fled their village after threats were made against the local Christian community, BPCA reports.
The allegations against Masih come after another Christian man by the name of Nadeem James was accused in July of sending a blasphemous poem to his Muslim friend through the WhatsApp messaging service. As James went into hiding, it was reported that his sister and sister-in-law were beaten and tortured by police in hopes that they would turn over their brother and brother-in-law.
Chowdhry warns that past blasphemy accusations should cause Pakistani Christians to think twice about befriending Muslims on social media.
"Pakistani Christians try to be active parts of society and will have friends from the local Muslim community but it is hard to be part of the local community when you exclude diversity," Chowdhry asserted. "Perhaps in future, Christians in Pakistan should observe a more standoffish approach when adding Muslims to their social media. Clearly, even long term friends will [call] for your blood if they feel that you have slighted their faith. Perhaps, it would be wise to prevent such hatred by more aloofness in future."
As Open Doors USA ranks Pakistan as the sixth worst country in the world when it comes to Christian persecution, BPCA has an ongoing online petition calling for the Pakistani government to repeal its blasphemy laws.