Christian Couple in UK Supreme Court 'Gay Cake' Fight Declare: 'Jesus Has Been With Us Every Step'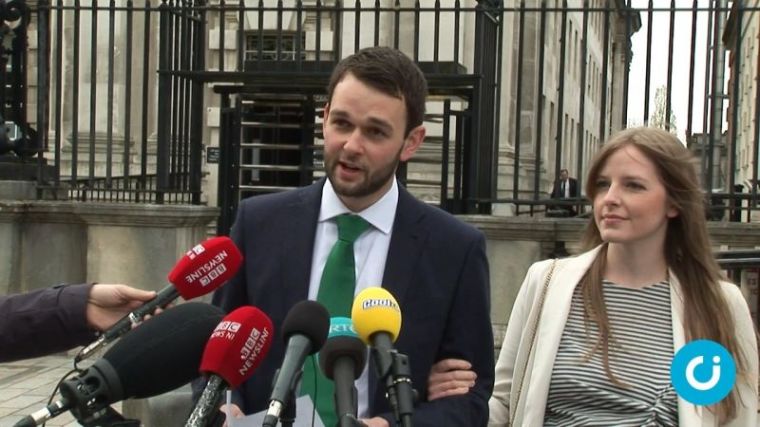 A Christian couple who have been found guilty in Northern Ireland of discriminating against gay people for refusing to bake a pro-gay marriage cake have said that Jesus is with them, as their high-profile case continued at the U.K. Supreme Court.
Daniel McArthur and his wife Amy of Ashers Bakery attended a hearing before the Supreme Court on Tuesday in Belfast, with barrister David Scoffield QC arguing that the couple were being forced to go against their religious beliefs that marriage is solely between one man and one woman.
The Christian Institute in the U.K. shared Daniel McArthur's statement in full before the hearing, where the baker stated that his family have been targeted for living by their convictions.
"We were asked to use our creative skills to endorse a message at odds with everything we believe — and were sued because we said we couldn't do that," McArthur said.
"We didn't say no because of the customer; we'd served him before, we'd gladly serve him again. It was because of the message. This has always been about the message."
He later said that the case has been hard on his family, but said that they are "not alone."
"Jesus Christ has been with us every step, sustaining us with His grace and His peace," he stated.
"We know that through His coming to die for us, we can find forgiveness and we can be saved, and that He has done far more for us than we can ever do for Him."
The case began in May 2014, when gay rights activist Gareth Lee asked Ashers to make him a cake with Sesame Street characters Bert and Ernie reading "Support Gay Marriage."
When Lee was refused the cake, he argued that the baker's decision had made him feel like a lesser person, BBC News noted.
The McArthurs were found guilty of discrimination by a County Court judgment, before the Court of Appeal in Belfast ruled in December 2016 to uphold that decision.
In May 2017 it was revealed that the Christian couple will take their case to the U.K. Supreme Court, having incurred $258,000 in legal bills at the time, and forced to pay $657 in damages to Lee.
Scoffield told the five Supreme Court justices on Tuesday: "Mr. and Mrs. McArthur have been penalized by the state, in the form of the judgment, for failing to create and provide a product bearing an explicit slogan 'Support Gay Marriage' to which they have an objection of conscience."
Scoffield added that the reason the couple did not fulfill the original order was because of their religious belief.
"Notwithstanding that, the appellants have been held liable and ordered to pay damages. In our submission that's plainly a case of compelled speech," he argued, according to the Belfast Telegraph.
Robin Allen QC, representing Lee, said that the Christian couple are entitled to their views, but not if that results in discriminating against others.
"It's not our case they are not entitled to those views, it's not our case that they are not serious from their point of view, and its not our case that they are not worthy of respect," Allen positioned.
"It's concerned partly with the separation of roles within the State, partly with how democratically laws are constructed to deal with difficult issues, and how the effect of these laws and individual circumstances bend or do not bend to human rights ... and the role of the court in dealing with them," he added about the importance of the case.
Watch Daniel McArthur's video statement below: