'Christian Disneyland' Theme Park Features Crucifixion Reenactments, Robotic Jesus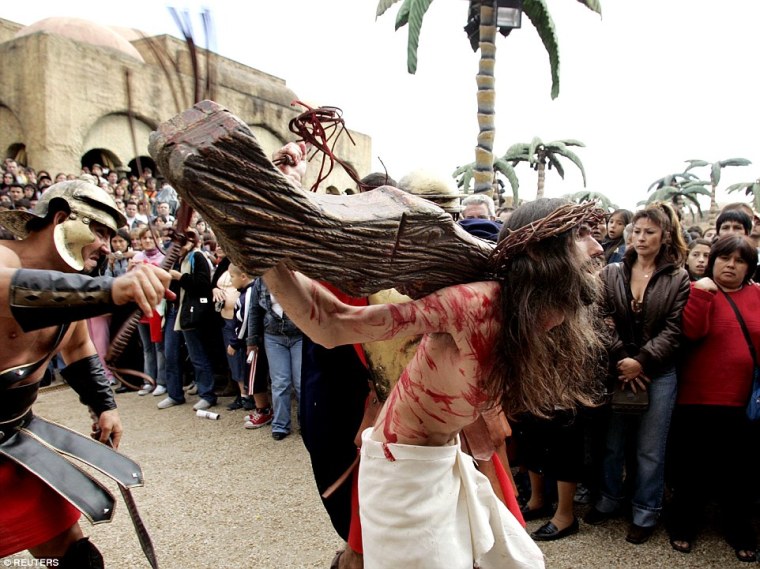 A Bible-based theme park in Buenos Aires, Argentina, which some have labeled "Christianity's answer to Disneyland," features reenactments of the crucifixion portrayed by an actor and a robotic version of Jesus.
MailOnline reported that the Tierra Santa park in Buenos Aires does not have roller coasters, but instead has numerous attractions that depict important scenes from the Bible, starting from the Creation account in Genesis all the way to the Resurrection of Christ.
The park opened back in 2000 and has grown in popularity and now features 37 different simulations, including a live reenactment of the crucifixion, where an actor playing Jesus carries the cross as he is beaten by Roman soldiers.
A robotic version of Jesus is then used to depict the Resurrection, where Jesus returns to speak to his disciples. The Daily Star added that the Resurrection scene features a giant 12-meter statue of Jesus rising from a mountain as chants of "Hallelujah!" play in the air.
Staff around the park are shown dressed in costumes from the Roman era, and some perform Arabic dances or work as carpenters.
The Thrillist website calls the park "Christianity's answer to Disneyland," and describes the attractions:
"Replete with fake shepherds, apostles, wise men, and Romans, an hourly resurrection of a robotic Jesus, and staff in period costumes who you might spot on their iPhones, Tierra Santa stages live performances of Bible excerpts."
"Mapped out like a Little Jerusalem, Tierra Santa's a playground scattered with fake temples and dwellings where you'll rub shoulders with the biblical elite," it adds.
While there have been several other Bible-themed parks popping up around the world, a major attraction set to open its doors in July in Kentucky is a life-size replica of Noah's Ark, dubbed the "Ark Encounter."
Earlier this week, Young Earth Creationist Ken Ham explained that the "awe-inspiring massive exhibit," will seek to answer some of the biggest questions people have about the story of Noah.
"The Ark structure itself is a teaching exhibit. But that's a huge understatement. At more than one-and-a-half times the length of a football field, plus half the width of a football field, built 15 feet off the ground and standing nearly eight stories high, this huge teaching exhibit is a totally immersive experience where guests actually step inside this enormous wooden ship, our depiction of what is described in Genesis," Ham described.