Police Threaten to Arrest Christian Family If Daughter Isn't Returned to Muslim Abductor in Pakistan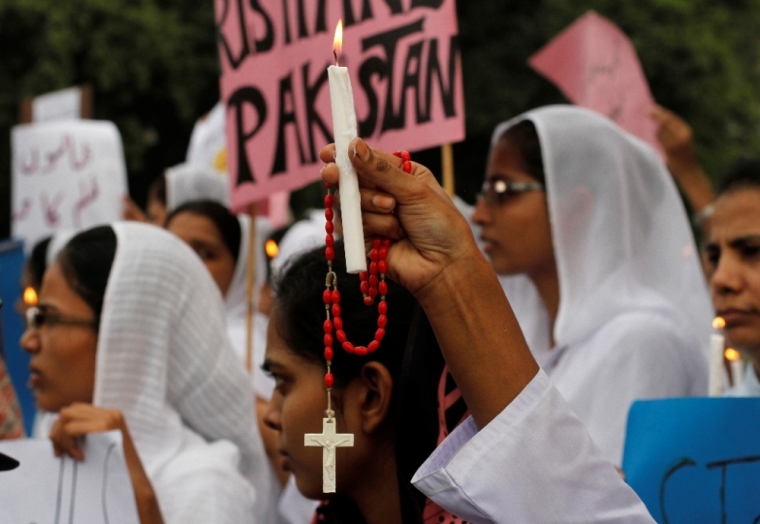 A Pakistani Christian mother of three who was kidnapped and forced into an Islamic marriage with her Muslim landlord last summer has escaped from her captor and is now in hiding, as local authorities have threatened to arrest members of her family if she is not returned to her abductor.
Thirty-year-old Fouzia Sadiq, whose entire family works as bonded laborers at a brick kiln in Pattoki owned by 60-year-old Muslim Muhammed Nazir, was called to come to Nazir's home on one of her off days last July to provide cleaning services because he was expecting guests.
Although Fouzia's family was expecting her to return home later that day, she never returned. As previously reported, Fouzia's brother went to Nazir's home to inquire about his sister and was told that she would return the next day. When Fouzia did not return the next day, her brother went back to the landlord and was told not to return to the home because Fouzia committed to a marriage with Nazir and was now considered to be his property.
The family then went to the police and requested that the department to investigate the abduction. According to the British Pakistani Christian Association, the police initially failed to lodge an incident report on Fouzia's kidnapping. It wasn't until BPCA officer Mehwish Bhatti challenged the police officials on their refusal to register the case that the department finally lodged a report.
BPCA hired a Muslim lawyer who was referred to them to handle the case. After the lawyer met with a local imam, he attempted to delay the judicial process because he came to the conclusion that Fouzia's marriage to Nazir was legitimate.
As Fouzia has spent over half a year in the clutches of Nazir, the family was able to devise a plan with her, through a secret phone to help her escape.
With the help of her family, Fouzia was able to escape earlier this week and is now hiding out in a BPCA safe house.
"God has worked a miracle. I never thought I would see my sister again! Our whole family has grieved her loss as if she was dead," Fouzia's brother told BPCA. "Now, she is free [and] we will do whatever we can to make sure she is not forced backed into the depravity her Muslim captor subjected her to."
Nazir's family responded to Fouzia's escape by accusing Fouzia of stealing gold jewelry. BPCA, however, maintains that the accusation of theft is false.
After Nazir accused Fouzia of theft, police officers went to Fouzia's family home on the same day she escaped and told her disabled and elderly father that they will arrest a member of Fouzia's family if she is not returned to Nazir.
According to BPCA, if Fouzia's youngest unmarried sister had been home at the time, she could have been taken to Nazir in place of Fouzia. Luckily, she was out of the house with her brother at the time.
If Fouzia's brother had been home when the police arrived, BPCA states that the police would have likely arrested and tortured him.
"If an adult son had been at home this would have been usual practice," BPCA Chairman Wilson Chowdhry told The Christian Post. "Fortunately, Paris was away with his sister and the father is seriously ill and disabled. It seems police left the father as there would be a serious risk of him dying under torture or false imprisonment. Fathers have been arrested previously when police are trying to capture sons."
BPCA has also moved Fouzia's brother and youngest sister to safety by having them join Fouzia at the BPCA safe house.
The Christian organization has written to the British Embassy and the United Nations High Commissioner for Refugees requesting humanitarian visas for Fouzia, her brother and sister in order to get them to the safety of the Western world. Chowdhry will write a letter to the U.S. Embassy on Friday.
As for Fouzia's three children, they are in the custody of their father, who separated from Fouzia before she was abducted.
BPCA is raising funds to help support Fouzia and her family, along with other Christians who are severely persecuted in Pakistan.
Over 1,000 women and girls are abducted, sexually assaulted and forced into Islamic marriages every year in Pakistan, a 2014 report by "Movement of Solidarity and Peace in Pakistan" states. An estimated 700 of those girls are Christians.
"We ask for the prayers and support from Christians everywhere," Fouzia's brother said. "There is a huge injustice happening in Pakistan and if you do not protect us and ignore our plight, one day it could be your daughters and sisters that are trapped. I pray Christians respond to our pain and offer help as we are desperate and need your assistance."