Christian Gold Medalist Sanya Richards-Ross Reveals She Aborted Baby Weeks Before Winning Olympic Gold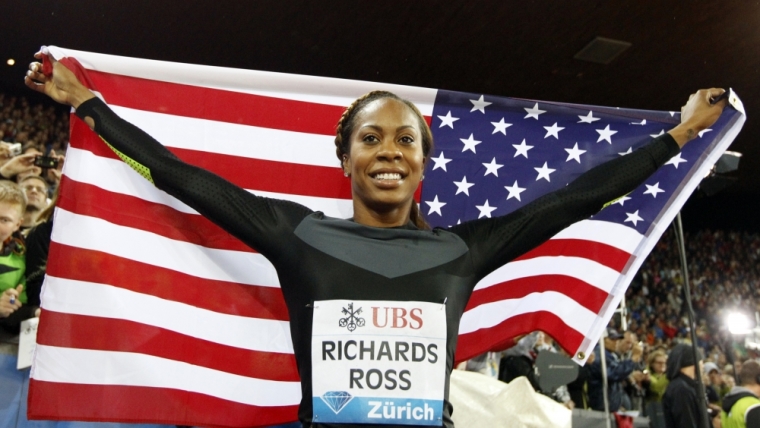 Christian athlete Sanya Richards-Ross has opened up about her decision to abort her baby weeks before the 2008 Summer Olympic Games, stating that despite the medals she won, she fell into a "depth of despair" and felt "broken."
Richards-Ross, a U.S. track and field athlete who has won numerous gold medals throughout her career, and has described herself as a God-believing, "avid Christian" in previous interviews with The Christian Post, told People Magazine on Tuesday that she aborted her baby just weeks before the start of the 2008 Games.
The 32-year-old athlete details her experiences in her newly released memoir, Chasing Grace: What the Quarter Mile Has Taught Me About God and Life, where she said she and fiancé (now husband) Aaron Ross, cornerback for the New York Giants, decided to opt for abortion, as they were both beginning their professional athletic careers.
"Everything I ever wanted seemed to be within reach," she noted of her thinking ahead of the 2008 Olympics.
"The culmination of a lifetime of work was right before me. In that moment, it seemed like no choice at all. The debate of when life begins swirled through my head, and the veil of a child out of wedlock at the prime of my career seemed unbearable. What would my sponsors, my family, my church, and my fans think of me?"
Richards-Ross said that the abortion procedure was carried out "quickly," but the emotional pain has lingered on for a long time.
"I made a decision that broke me, and one from which I would not immediately heal," she revealed.
"Abortion would now forever be a part of my life. A scarlet letter I never thought I'd wear. I was a champion — and not just an ordinary one, but a world-class, record-breaking champion. From the heights of that reality I fell into a depth of despair."
She told ESPN in another interview that as the title of her book goes, she has been "chasing" something all her life.
"I'm chasing gold medals; I'm chasing records, and chasing the best version of myself. So, for me, if I didn't share the toughest moment in my life where I felt God's grace the most, it would be disingenuous to this journey. I think there are lots of young girls who experience this especially female athletes. I look forward to having more discussions about it and helping young women heal from it," she explained.
Richards-Ross has four gold medals in total from the Olympic games, including the 4×400 meter relay she and her teammates won in Beijing in 2008. Despite the toll of her abortion, she went on to become the IAAF Female Athlete of the Year in 2009.
Still, she shares in her book that she initially felt abandoned in the abortion decision by her husband, who neither agreed nor opposed the pregnancy termination.
In one conversation, the NFL athlete told his wife that "he was just as burdened by the decision as I was. He believed that our child in 2008 was a blessing we had rejected by always wanting to be in control."
The couple announced in February that they are having a new baby, which they said was their "biggest blessing" yet.
Richards-Ross said that her book is her "personal anthem," and that she hopes "readers realize they have greatness within to outlast the challenging stretches of every journey."
"I hope to encourage people to stay the course and achieve their highest potential," she said.