Christian Group Forces Lowe's to Pull Ads From TLC's 'All-American Muslim' Show
After hearing complaints from a Christian evangelical group, retail giant Lowe's has decided to pull its advertising from a reality show about American Muslims living in Michigan, causing many to call for a boycott against the retailer, and others to express their support for what they fear is a growing Islamic influence in America that will result in Shariah law.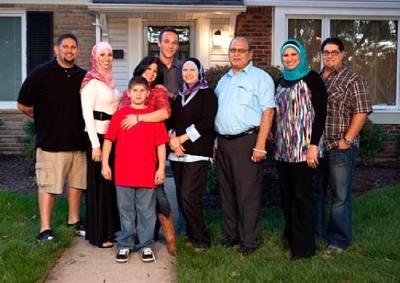 The Learning Channel's (TLC) "All-American Muslim" profiles five Muslim families living in Deerborn, Mich., a Detroit suburb well-known for its large Arab-American population. The show "offers an intimate look at the customs and celebrations, misconceptions and conflicts these families face outside and within their own community," according to the TLC website.
However, Florida Family Association (FFA), a Christian evangelical group based in Florida, argues that the show is "propaganda clearly designed to counter legitimate and present-day concerns about many Muslims who are advancing Islamic fundamentalism and Sharia law," according to the group's website.
The FFA also complained that the show only shows Muslims who "appear to be ordinary folks" while excluding terrorists who pose a threat to the nation.
The outrage prompted Lowe's to send a letter to FFA stating it will pull ads from the show.
The move by Lowe's has caused some to call for a boycott against the retailer, including California state Senator Ted Lieu, who called Lowe's reaction "bigoted, shameful and un-American," according to the Redondo Beach Patch.
"The show is about what it's like to be a Muslim in America, and it touches on the discrimination they sometimes face. And that kind of discrimination is exactly what's happening here with Lowe's," Lieu said, reported The Associated Press.
Suehaila Amen, whose family is featured on "All-American Muslim," said Lowe's actions help spread a bigoted stereotype of Muslims.
"I'm saddened that any place of business would succumb to bigots and people trying to perpetuate their negative views on an entire community," Amen, 32, told The Detroit News on Sunday. "This can happen to any member of a minority group. This country was not founded on hatred or racism. It was founded on inclusion and diversity."
Lowes Pulls ads of TLC's All American Muslim
Following the strong reaction over Lowe's decision, the company issued a statement on its Facebook page, apologizing for making people "unhappy."
"It appears that we managed to step into a hotly contested debate with strong views from virtually every angle and perspective – social, political and otherwise – and we've managed to make some people very unhappy," the statement said. "We are sincerely sorry. We have a strong commitment to diversity and inclusion, across our workforce and our customers, and we're proud of that longstanding commitment."
The apology did little to quell matters, with nearly 7,000 comments appearing on Lowe's Facebook post in approximately 24 hours.
Many comments promised to participate in a boycott against Lowe's.
"I can not believe this kind of bigotry still lives in the USA and a national company that seems to be "All American" would stoop to such a low. I will never shop here," read one comment.
However, many comments also represented the viewpoint of the FFA, which is that America is in danger of being overtaken by Shariah law.
"This Nation WAS founded on Judeo-Christian Principles. Period," said another comment. "Everyone does NOT have to be a Christan, BUT...we are NOT going to be an Islamic THEOCRACY either, which is absolutely the GOAL of Islam and Muslims here in America. Creeping Sharia."
This is not the first time the FFA has caused controversy. Earlier this year, the group started a campaign against Marvel comics after its Editor-in-Chief said in an interview that the company might one day unveil a gay Spiderman.
"It is truly heartbreaking that two companies like Marvel and Disney would deliberately create a homosexual super hero for our children to embrace," FFA said on its website.