Christian groups deploy relief teams to states hit by tornadoes as death toll grows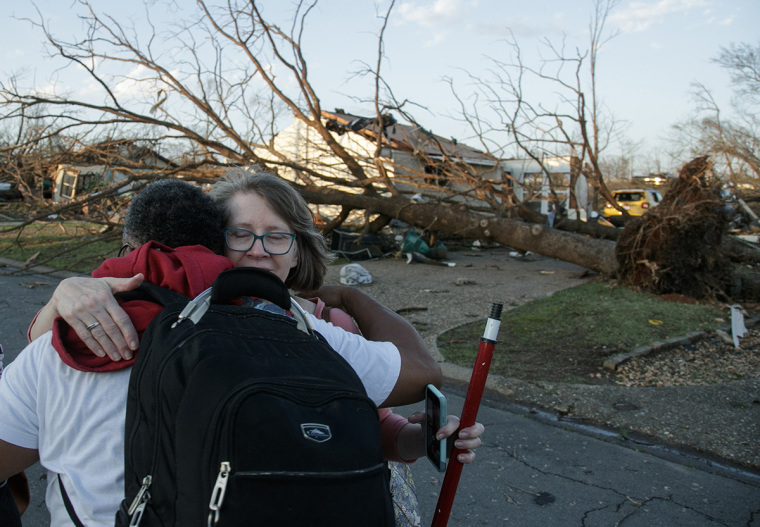 Christian groups, including Samaritan's Purse and Convoy of Hope, have deployed disaster relief teams to help survivors after a violent storm system spawning as many as 60 tornadoes tore across the United States from Friday to Saturday, resulting in at least 26 deaths.
Although the Mississippi River Valley bore the brunt of the extreme weather, the two-day storm left a trail of destruction from Wisconsin to Delaware, according to media reports, which said Little Rock, Arkansas, suffered significant damage on Friday.
Samaritan's Purse said Saturday it had deployed staff members to the area, and a Disaster Relief Unit from their Southwest Ministry Center in Texas is also en route. The unit is transporting one of their tractor-trailers filled with vital supplies and equipment, scheduled to arrive early Sunday.
Tornadoes, either confirmed or suspected, wreaked havoc in at least eight states, demolishing homes and businesses, shattering trees, and devastating neighborhoods across a vast region of the nation, The Associated Press reported, putting the death toll at 26.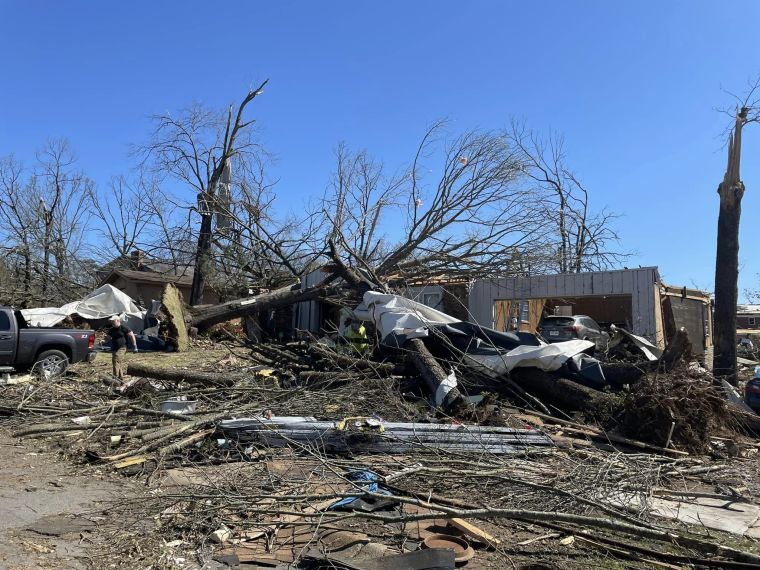 The fatalities included at least nine in a single Tennessee county, four in the small town of Wynne, Arkansas, three in Sullivan, Indiana, and four in Illinois, the newswire said, adding that more fatalities resulting from the storms were reported in Alabama and Mississippi.
Near Little Rock, Arkansas, one death was reported, with city officials stating that over 2,600 buildings were in the path of a tornado.
Ashley Macmillan, a resident of Wynne, recounted how she, her husband, their children and their dogs took shelter in a small bathroom while a tornado passed by, praying and bidding farewell to one another as they believed they wouldn't survive. Although a falling tree caused significant damage to their home, the family remained unharmed.
"We could feel the house shaking, we could hear loud noises, dishes rattling. And then it just got calm," Macmillan told The Associated Press.
In a Facebook post, Samaritan's Purse President Franklin Graham shared photos from staff members on the ground in Little Rock and asked for prayers for those who had lost homes, businesses and loved ones.
Martin McAvoy, a resident of the Kingwood neighborhood in west Little Rock, shared his harrowing experience during the storm.
Speaking to Arkansas Democrat-Gazette, he recalled, "My wife had just looked out the window and she said, 'Oh, my God.' She then quickly moved across the bed and pushed me down into the closet. I pulled the door shut, and everything just ... burst. Windows burst out. It was a vacuum; I had to hold the closet doors shut."
The storm damaged the roof of their house, he said. "We were standing at my wife's closet door, in her closet when the bedroom windows blew out, and ... yeah. It knocked down the largest tree in Pine Valley, in my backyard, and uprooted every other tree as far as I can see."
Starting Monday, volunteer teams in Arkansas will begin work, tarping roofs, cutting downed trees and searching through debris to help homeowners find salvageable items, the Evangelical relief agency said, adding that while working, they will offer encouragement and share the Good News of Jesus Christ with First Baptist Church of Sherwood as the host church.
Samaritan's Purse said it is also evaluating the needs of other storm-hit areas in the South and Midwest.
Currently, the group said, they are operating from two locations in Mississippi, Amory in the east and Rolling Fork/Silver City in the west, where deadly tornadoes struck the previous weekend. The eastern U.S. has experienced two consecutive weekends of lethal weather.
Another Christian organization, Convoy of Hope, has also dispatched teams to multiple locations in Arkansas.
Team members are on the ground in the greater Little Rock area, and another team is being deployed to Wynne, Arkansas, the group said, adding that trucks carrying food, water and relief supplies are also on their way to various locations throughout the state, with distribution set to begin upon arrival.
As of Saturday evening, 81,000 people in Arkansas were without power, Convoy of Hope said, adding that it remains on standby to respond as severe weather threats persist across the Midwest.
At a news conference Saturday, Arkansas Gov. Sarah Huckabee Sanders and Little Rock Mayor Frank Scott Jr. said they had been in touch with President Joe Biden, who offered federal resources. Gov. Huckabee Sanders had declared a state of emergency Friday, ensuring access to statewide assistance, including the National Guard.
Mayor Scott urged patience as officials work to respond as swiftly as possible. He made the statement outside a fire station that had been severely damaged by the tornado.