Samaritan's Purse opens field hospital in Turkey as earthquake death toll surpasses 40K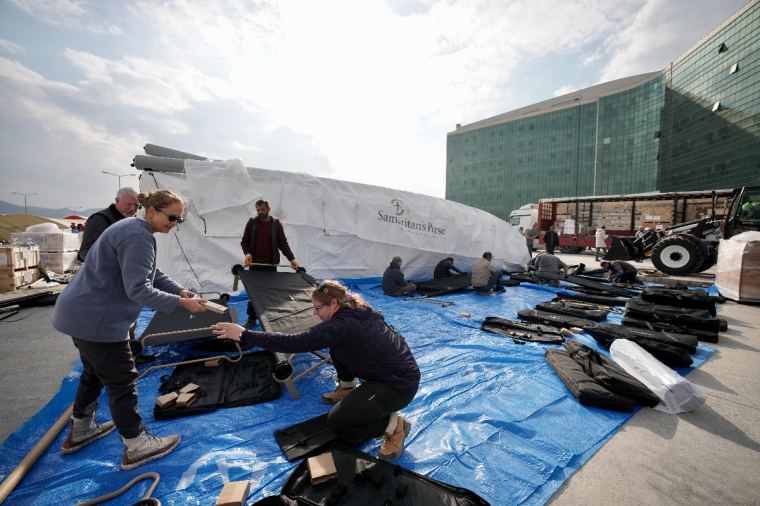 International Christian aid charities have bolted into action to support those impacted by last week's 7.8-magnitude earthquake that struck Turkey and Syria last week and killed tens of thousands of people, with a leading Evangelical aid agency establishing a field hospital. 
The North Carolina-based Samaritan's Purse deployed a 52-bed emergency field hospital near Antakya in southern Turkey to help fill the void after a major hospital in the region was damaged by the Feb. 6 earthquake. Over 40,000 people were killed, and tens of thousands need medical care.
The field hospital is equipped with a pharmacy and two operating rooms and is located in the parking lot of the 1,100-bed hospital that is longer in operation after the earthquake. On Monday, Samaritan's Purse said doctors and nurses had treated dozens of patients in the first hours of the field hospital's opening. 
"Our Emergency Field Hospital is now open, and our medical team has already treated earthquake injuries like broken bones, wounds and infections," said Samaritan's Purse President Franklin Graham, the son of the late legendary evangelist Billy Graham.
"People are suffering, and we are there to meet their physical needs in Jesus' Name. Please pray for everyone affected and for our Disaster Assistance Response Team as they meet these emergency needs."
Samaritan's Purse will also bring supplies to the most-impacted areas, including tarps, blankets, and solar lights. The charity plans to have more than 100 Disaster Assistance Response Team (DART) specialists on the ground, helping at hospitals or other areas where there's a need.
Charles Franzen, director of humanitarian and disaster response at the Evangelical humanitarian organization World Relief, said his organization offers relief to the region through longstanding partnerships with local churches and organizations. World Relief is the humanitarian arm of the National Association of Evangelicals. 
While World Relief is not on the ground in Turkey or Syria, the organization has mobilized relief efforts through its close partnerships with other agencies, according to Franzen. World Relief has partnered with some of these local agencies for over a decade.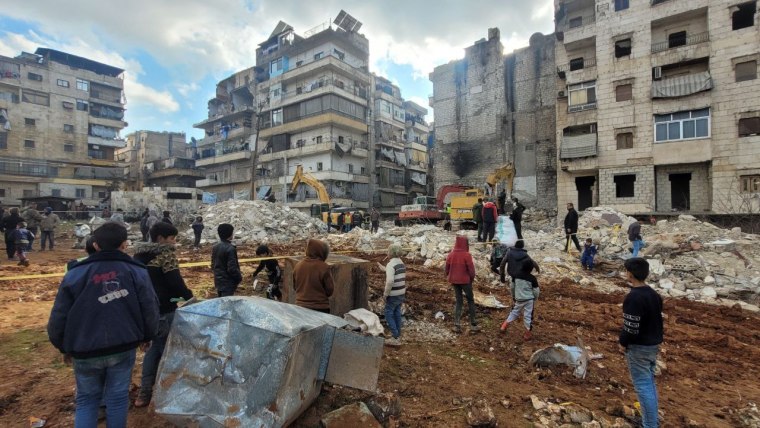 One of those partnerships is with Tearfund Germany, formally World Relief Germany, which partners with churches in more than 50 countries to deliver emergency aid.
When World Relief Germany became Tearfund Germany, Franzen said the newly named organization took over those partnerships. But World Relief still maintains close relationships with those partnerships.
Another route World Relief is taking to get aid into the needed areas is through longstanding membership in the Integral Alliance, a coalition of 21 Christian humanitarian and development organizations. Four agencies out of the 21 are actively involved in the immediate aftermath of the disaster, he said. 
"They're involved in all the different issues that are involved, their shelter and recovery, cash, food support washes, all of the different things that they can do in the immediate aftermath of the disaster," he continued. 
Gülsüm's, the deputy director of the Christian media ministry SAT-7 on the ground in Turkey who didn't want her last name identified, said the network has been helping survivors of the earthquake since the tragedy began.
She said the people there are "shocked, sad and angry." 
"We started to actually give numbers to emergency services, bank accounts of emergency services in Turkey," she told CP in an interview. "And if people want to send help, we just try to give them information." 
SAT-7 directs people to municipalities to help them obtain resources such as clothes, food and water, Gülsüm's said. In addition to information, the media ministry invites people to call with prayer requests, and the staff prays for them. 
SAT-7 also provides parents with the name of a trauma psychologist featured on the network who counsels kids experiencing mental health issues due to the earthquake. 
"We are a holistic TV channel," Gülsüm's said. "We are not only talking about God, but we also try to help the society, the parents, and the kids."
The death toll from the earthquake has surpassed 40,000 — 35,418 in Turkey and more than 5,800 in Syria.  
The earthquake's impact has also extended beyond Syria and Turkey. 
Residents of Lebanon felt the aftershocks of the earthquake in Turkey and Syria, with municipalities asking people in Beirut and neighboring cities to evacuate homes and buildings, especially those already damaged by the Beirut explosion of August 2020.
According to a statement from St. Rafka Mission of Hope and Mercy, a Christian charity, residents have been forced to evacuate their homes in the midst of a devastating snowstorm in the region. 
Father Andre YS Mahanna, who heads up the organization, expressed gratitude for a team of U.S. doctors who will fly to Lebanon to help the group's relief efforts from Feb. 16 to Feb. 23. 
"This historical visit also comes as a response to the economic disasters and medical crises that have severely affected millions of people in the region," he said. 
"The real disaster in Lebanon remains that people have no fuel for warmth or electricity, meagre food supplies, no medical supplies or access to affordable healthcare, and over one million children have not returned to school since the Christmas Break," Mahanna said. "Help from US doctors is critical if we are to address the crisis in Lebanon and the Middle East." 
The group has also opened a relief fund to help people in Lebanon and the Middle East by providing food, medications, tents and temporary housing, blankets, fuel for warming homes, emergency surgeries if needed and school education. 
St. Rafka Mission of Hope and Mercy is also inviting people in the U.S. to join them this week for a week of prayer, solidarity and acts of charity for Lebanon, Turkey, Syria and Iraq.