Dozens help Samaritan's Purse meet the physical, spiritual needs of Mississippi tornado victims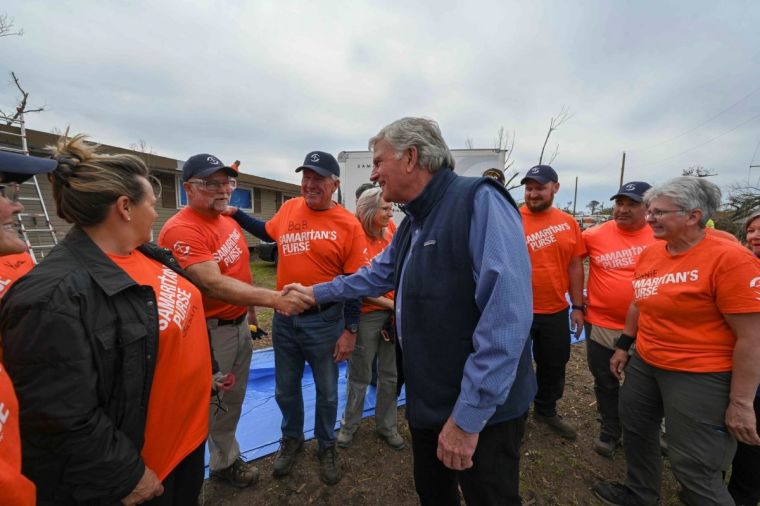 Over 100 volunteers serving with the Evangelical humanitarian charity Samaritan's Purse are meeting the physical and spiritual needs of those impacted by the series of deadly tornadoes that tore through a 100-mile swath of Mississippi last Friday, taking over two dozen lives. 
Sending tractor trailers filled with relief supplies and equipment, Samaritan's Purse has set up bases in Rolling Fork in the Delta region of Mississippi, and Amory, located near the Alabama border. 
With operational bases set up at local churches, Samaritan's Purse volunteers have been helping to tarp damaged roofs, clearing debris from damaged properties and praying with the people whose homes are lost or in need of repair.
In an interview with The Christian Post, Samaritan's Purse President Franklin Graham, the son of legendary evangelist Billy Graham, said that 16 chaplains with the Billy Graham Evangelistic Association's Rapid Response Team have been deployed to the region. 
The 70-year-old Graham emphasized the spiritual aspect of the relief efforts, stressing that the goal is to help people by repairing or cleaning up their homes and ministering to them.
"A lot of times, after a tragedy like this, people think that God is mad at them or maybe God is judging them," Graham said. "And I want to know God isn't mad at us and is not judging us." 
"We all go through storms in life; Jesus had storms in his life," Graham continued. "And how do we handle those storms? If we put our faith and trust in Christ, He will take us through that storm and get us to the other side."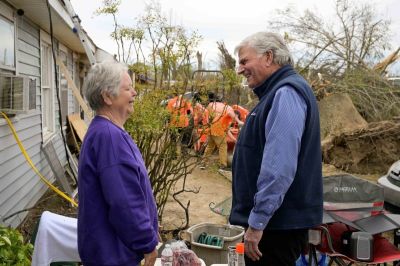 Graham visited residents of Rolling Fork on Wednesday, including Liz Estes, a widow and caregiver to a son with Parkinson's disease. Samaritan's Purse volunteers helped Estes place tarps on her damaged roof and helped clear away tree limbs and debris. 
"My granddaughter called me and said, 'the tornado is coming,'" Liz told the Grahams, according to a post on the Samaritan's Purse website. "I didn't know what to do. The next thing I knew, stuff started flying around. Glass and debris blew all through the house."
Samaritan's Purse's operational base for the Rolling Fork area is based out of Lake Washington Baptist Church, led by Pastor Jimmy Mclendon.
"God's just provided in tremendous ways," Mclendon told the Grahams. "We're grateful for you all. I was one of those kids that grew up watching Billy Graham on TV. So many of us have been impacted by your ministry."
Graham told CP that Samaritan's Purse is looking to deploy 100 mobile vans to help house people left without a home due to the storm. The number of vans could even go up to 1,000.  
Jason Kimak, senior director of North American Ministries for Samaritan's Purse, said he had seen houses nearly split in two by fallen giant oak trees. Kimak remembered seeing only the "footprint" of where a mobile home once stood. 
Kimak said that 12 Samaritan's Purse staff members are split between the two sites in Rolling Fork and Armory, with dozens of volunteers. When he spoke with CP on Monday, Kimk said there were 70 volunteers, noting that people who live in the community have also stepped up to help with relief efforts along with people from across the country.  
But the number of volunteers has about doubled since then as the organization shared Wednesday that over 130 volunteers have joined in to help clean up debris at more than a dozen homes.
"We have, and they have a heart to be the hands and feet of Jesus," Kimak said. "And they want to just come and love all of these people in Mississippi by helping them get their homes back to where they can get back in them or to just help get them cleaned up so they move on from there." 
"We're here to take care of the physical, but we also do this because of the goodness of the Gospel," he added.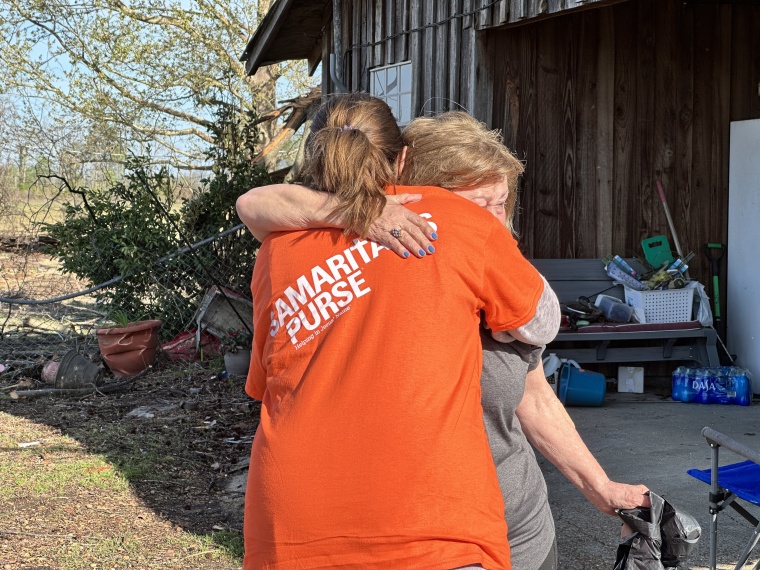 Volunteers can sign up to help through the Samaritan Purse website. The organization has partnered with local churches to provide volunteers with housing and food. 
In terms of the cost of the relief efforts, Kimak said that's is difficult to say at this point, but he added that the organization is working on calculating an exact number. 
"That'll be determined as we're taking work orders and helping people," he said, adding that Samaritan's Purse has "very generous donors," who he believes fully understand why the organization brings relief to areas left devastated by disasters.
"We go in the name of Jesus Christ," he said. "We go because the Bible compels us to share the Gospel. And we go to help people just like the Good Samaritan. Our donors believe in what we do and that we are going to go and help with the physical, but also to share the Gospel as well." 
According to a Sunday statement from the office of Mississippi Gov. Tate Reeves, the EF-4 tornado that swept through the state killed 25 people, in addition to destroying hundreds of homes and injuring dozens. The statement also announced that the White House had approved Reeves' request for Individual and Public Assistance for the counties impacted by the tornado.
On Friday, Reeves issued a State of Emergency in all counties affected by, or that may have been affected by, the storm. The document instructed all agencies in the state to discharge their emergency responsibilities as deemed necessary "as set forth in the State of Mississippi's Comprehensive Emergency Management Plan."