Christian Hip Hop Group Sues Katy Perry Over Song 'Dark Horse'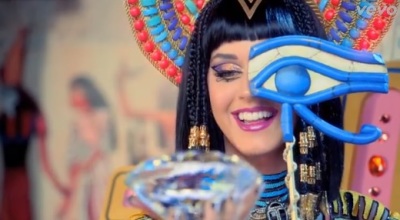 Christian hip hop artists from St. Louis, Missouri, have filed a federal lawsuit against pop artist Katy Perry, arguing her song "Dark Horse" is a copyright infringement of their 2008 gospel song "Joyful Noise."
The Christian group filing the lawsuit includes Marcus Gray, who goes by the stage name "Flame," and his producers Chike Ojukwu, Lecrae Moore and Emanuel Lambert. The plaintiffs argue that Katy Perry, along with Capitol Records, rapper Juicy J, and the producers and songwriters behind the 2013 pop hit are guilty of copyright infringement.
Along with profiting off of the original song, the lawsuit accuses Perry and her production team of changing the reputation of the gospel song. "Dark Horse's" lyrics have been criticized by some as referencing dark magic.
"By any measure, the devoutly religious message of 'Joyful Noise' has been irreparably tarnished by its association with the witchcraft, paganism, black magic, and Illuminati imagery evoked by the same music in 'Dark Horse,'" states the lawsuit that was filed in Michigan's federal court on Tuesday. "Indeed, the music video of 'Dark Horse' generated widespread accusations of blasphemy and an online petition signed by more than 60,000 demanding removal of an offensive religious image from the video."
The lawsuit's reference to the "Dark Horse" music video regards use of the word "Allah" written in Arabic on a pendant shown briefly in the video. Use of the word "Allah" prompted the circulation of a petition to have the music video removed from YouTube, with many Muslims arguing such religious imagery was "blasphemous."
According to the St. Louis Post-Dispatch, the musicians behind the gospel song "Joyful Noise" won a nomination in 2008 for the Gospel Music Association Dove Awards' best hip hop song, and their album, "Our World: Redeemed" garnered a Grammy award nomination for best gospel rap/rock album. The lawsuit argues that such publicity caused "Joyful Noise" to circulate on the internet and eventually reach the ears of Perry, her songwriters and her producers.
The lawsuit against Perry is seeking an injunction against the playing of "Dark Horse," as well as statutory damages and profits earned from the song, which appears on Perry's most recent album "Prism."