Pope Benedict XVI remembered as a 'global bulwark' and 'consequential theologian'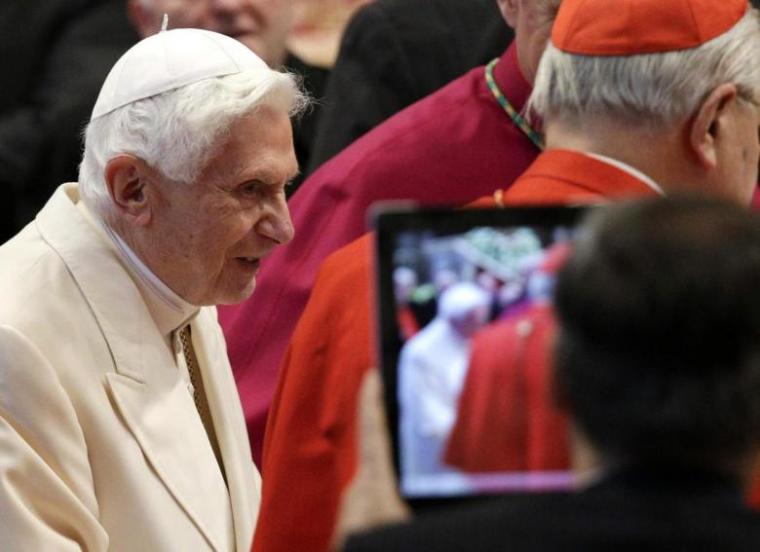 Christian leaders across different denominations remember Pope Emeritus Benedict XVI, the German-born Roman Catholic Church leader who served as pope from 2005 until 2013, as a "global bulwark" against moral relativism and "one of the greatest theologians of his age."
During his New Year's Eve Vespers service in St. Peter's Basilica at the Vatican, Pope Francis remembered his predecessor as "noble" and "gentile," saying he is grateful to "God for having given him to the Church and to the world."
"Gratitude to him, for all the good he did, and above all for his witness of faith and of prayer, especially in these last years of withdrawn life," Francis said, according to The Associated Press. "Only God knows the value and the strength of his intercession, of his sacrifices offered for the good of the Church."
Many religious and world leaders have issued their thoughts about the legacy of Benedict, born Joseph Aloisius Ratzinger, following his death Saturday at his residence at the Vatican's Mater Ecclesiae Monastery. Benedict made history in 2013 when he became the first pope in over 600 years to resign. He resigned at age 85, paving the way for Pope Francis, born Jorge Mario Bergoglio of Argentina. 
"Protestants have their strong disagreements with the Papacy, but Pope Benedict XVI was a global bulwark who stood heroically and prophetically against moral relativism," Andrew T. Walker, associate professor of Christian ethics at The Southern Baptist Theological Seminary, wrote on Twitter.
Walker, who also serves as a fellow at the United States-based conservative think tank Ethics and Public Policy Center, said Benedict "understood in, almost unrivaled ways, the moral nihilism and human carnage that secularism creates."
In a statement, the Archbishop of Canterbury Justin Welby, who leads the Church of England, said the pope is one of the greatest theologians of his time.
"Pope Benedict was one of the greatest theologians of his age — committed to the faith of the Church and stalwart in its defense," Welby wrote. "In all things, not least in his writing and his preaching, he looked to Jesus Christ, the image of the invisible God. It was abundantly clear that Christ was the root of his thought and the basis of his prayer."
The archbishop called Pope Benedict's historic decision to resign from the papacy in 2013 a "courageous and humble step" as he was the first pontiff to do so since the 15th century.
"In making this choice freely, he acknowledged the human frailty that affects us all," Welby said.
Bill Donohue, president of the New York-based Catholic League for Religious and Civil Rights, contends that neither Benedict's predecessor, St. John Paul II, nor his successor, Francis, did as much to stop sexual abuse by the clergy as he did.
"His actions were as pivotal as were his words. He made it clear that men with 'deep-seated homosexual tendencies' should not become priests. He was very aware of the 'homosexual cliques' and the 'homosexual subculture' within the Church," Donohue said in a statement.
"It was his courageous comments on the scandal, caused largely by homosexual priests, that earned him the ire of secularists outside the Church and dissenters within."
In February, Benedict issued a "heartfelt request for forgiveness" to survivors of sexual abuse by Catholic priests after a report chronicling hundreds of victims of abuse in the archdiocese he used to lead.
Donohue said that in 2005, the day before Benedict assumed his duties as pontiff, he addressed the cardinals in Rome.
"He spoke about the 'doctrine of relativism,' the popular and pernicious notion that there are no moral absolutes, and no moral hierarchy of virtues," Donohue said. "In the same historic Good Friday homily, he unloaded on abusive priests. 'How much filth there is in the Church, even among those who, in the priesthood, ought to belong entirely to him!'"
Bishop Robert Barron of the Diocese of Winona–Rochester in Minnesota calls Pope Benedict "one of the most consequential theologians of the 20th and 21st centuries."
"He was influential as a prolific author, theologian, and university professor, truly one of the brightest minds the Church has seen in centuries," the bishop wrote in a statement. "Happiest surrounded by books and immersed in prayer, he did not seek leadership and power but rather simply listened to God's calling and the movement of the Holy Spirit."
While serving as pope, Benedict XVI restored the traditional Latin Mass, created an ordinariate system for Anglican churches to join the Catholic Church, and made a historic visit to a Roman synagogue.
Benedict XVI also sparked widespread outrage in the Muslim world over a 2006 speech at the University of Regensburg in Germany by quoting anti-Islamic Medieval text. He later apologized, saying the words of the text "do not in any way express my personal thought."
Pope Francis will preside over Benedict XVI's funeral on Thursday at St. Peter's Square. Benedict will lie in state at the basilica starting Monday. He is now lying in state at his residence. 
U.S. President Joe Biden, a Catholic, said in a statement that Benedict will be remembered as a "renowned theologian with a lifetime of devotion to the Church, guided by his principles and faith."
German Chancellor Olaf Scholz said Benedict is a "formative figure of the Catholic Church."
"As a 'German' pope, Benedict XVI was a special church leader for many, not only this country," Scholz wrote on Twitter, according to AFP.
United Nations Secretary-General António Guterres said Benedict was "principled in his faith, tireless in his pursuit of peace, and determined in his defense of human rights."
"He was a spiritual guide to millions across the world and one of the leading academic theologians of our time," Guterres said in a statement.