Christian Mom Drowns 'Saying Prayers' to Save Daughter Found Clinging to Her Lifeless Body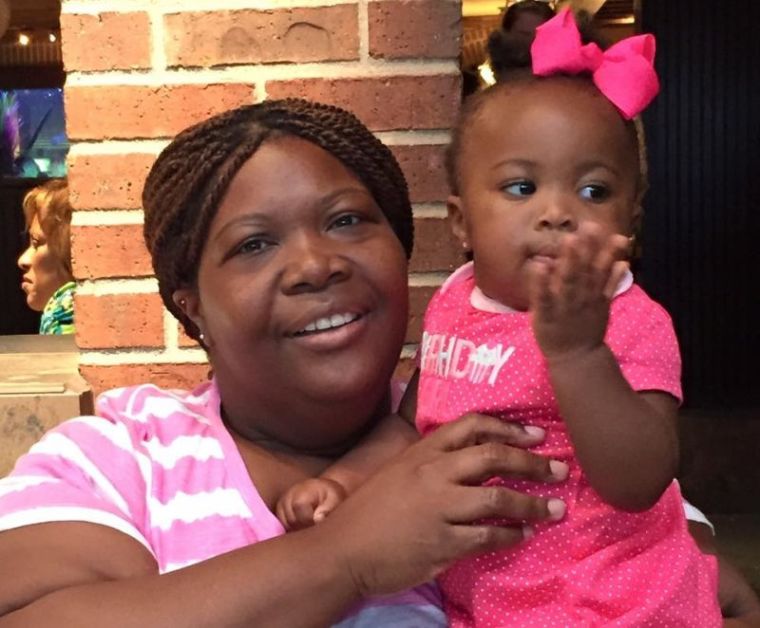 Collette Sulcer, an unashamed Christian mother and nurse who drowned Tuesday after "saying her prayers" while trapped with her 3-year-old daughter, Jordyn, in floodwaters from Tropical Storm Harvey in Beaumont, Texas, is now being hailed as an "American hero" after Jordyn was rescued alive in a canal clinging to her mother's lifeless body.
"Mama was saying her prayers," the 3-year-old told a relative, Antionette Logan, 38, while recovering in a Beaumont hospital Wednesday, according to The New York Times.
"Jordyn told me they were in the yucky water for quite a while," Logan said. "It's a tragedy that her mama died, but it's a miracle that Jordyn survived."
Beaumont Police confirmed Wednesday that Sulcer, 41, was driving along the south bound service road of 50 IH10 N, with her young daughter when she got into high water. She then pulled her vehicle into the Plaza 10 parking lot where the vehicle got stuck.
She eventually exited the car with her daughter and got swept away by the floodwaters.
"At some point she was swept into the canal and ended up floating about ½ mile from her vehicle. Two Beaumont Police Officers and two Beaumont Fire Rescue divers in a Zodiac boat, spotted the mother floating with the small child. The child was holding on to her mother," a police statement said.
"The first responders got to the mother and child just before they went under a trestle. Water was up to the trestle and first responders would not have been able to save the child if they had floated under it. Officers pulled the child and the mother into the boat and got them to the area of the 3700 block of Bayou," the statement explained.
Collette Sulcer is an American hero. Please ref and retweet if you agree https://t.co/tzwTfrkNqf

— Sam Witt (@sambrownwitt) August 30, 2017
While Sulcer was unresponsive, Jordyn, was alive but was suffering from hypothermia. Sulcer was pronounced dead but Jordyn is in stable condition.
"They were in the water for quite some time," Officer Carol Riley, a spokeswoman for the Beaumont Police Department, told People magazine while noting that Sulcer "absolutely saved the child's life."
"When the baby was found the baby was clinging to her. The mother did the best she could to keep her child up over the water," Riley said. "The baby also had a backpack that was helping her float on her back and she was holding on to her mom."
In a Facebook post in January 2016, Sulcer proudly declared her faith in Jesus.
"My name is Collette Sulcer and I believe in Jesus Christ ... He said deny me in front of your peers and I will deny you in front of my Father. If you are not ashamed put your name in place of mine and make it your status. #facebookchallenge,' she wrote.
Sulcer's large family of nurses, pastors and military veterans have been left in shock by her death. She was described as a dedicated nurse who joined the profession after her mother, also a nurse, died several years ago.
"We're in absolute shock," Vanessa Jackson, 58, a cousin who is a retiree in Beaumont told the Times. "You hear about stories like this in other places, other people's lives. Not here, not us."
They are now working hard to care for Jordyn who has been traumatized by the loss of her mother.
"We just need to be focused now on little Jordyn, who experienced something none of us should," Jackson said.
Sulcer, who was affectionately known as "Nan Nan" by relatives, was praised by another cousin, Sylvia Allison, for fighting to save Jordyn.
"We always thought, Damn Nan Nan never having kids. Then here she is Ms Jordyn Grace. The only girl in our family of all boys, our lil tomboy at its finest. Our special little miracle, you survived all that water for hours holding on to my cousin, my godsister, my dairy of all the accomplishment, the only who actually showed she was proud of me. Your mother! On my last breath you won't want for anything. I love you babygirl," Allison wrote in a post on Facebook Tuesday.
Michael Skolnik, a civil rights activists as well as co-founder of @WeAreSoze was so brokenhearted by the Sulcer's story he started a GoFundMe campaign for her family Wednesday night and it had almost reached its goal of $100,000 as of Thursday morning.