Christian Mom Glennon Doyle Melton Marries Soccer Star Girlfriend Abby Wambach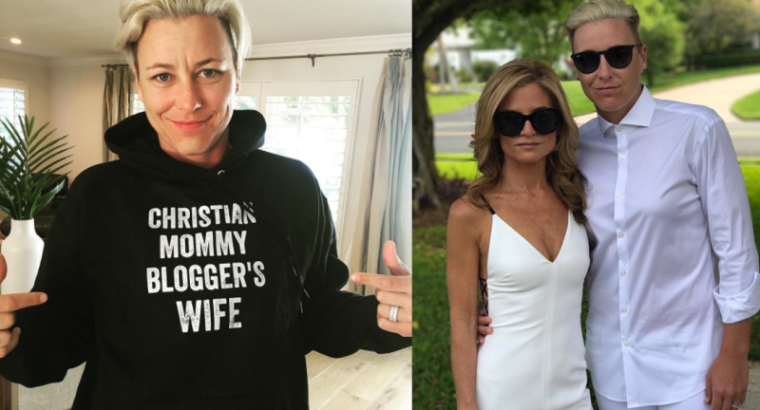 Months after revealing she had divorced her longtime husband Craig Melton and found love in the arms of retired female U.S. soccer star Abby Wambach, popular Christian mom and blogger Glennon Doyle Melton revealed she got married to Wambach on Mother's Day.
"Future's so bright....morning ya'll! Happy mamas day!" the 41-year-old Melton declared in a post on her Facebook page at 8:01 a.m. Sunday morning. The post included a photo of her and Wambach, 36, dressed in white outfits sporting sunglasses.
She later followed up that post on Monday with a photo of her and Wambach kissing with the date "5.14.17."
In her announcement on Instagram Monday, Wambach revealed the news on a hooded sweatshirt that said "Christian mommy blogger's wife."
Melton later shared the post with the message: "My beloveds - please never give up on love. Life could surprise the hell out of you. Trust me - you might just wake up one morning and find yourself smack dab in the middle of heaven. I love my wife. LOVE WINS."
The popular Christian mom of three shocked many of her fans last August when she revealed her separation from her then husband. A month later, she published Love Warrior: A Memoir about her marriage to Craig and how she was able to heal after discovering he had been unfaithful to her.
Wambach, 36, and Melton, 41, announced their engagement in February, just a few months after they went public with their same-sex relationship. This is the second marriage for both.
Wambach was previously married to former professional soccer player Sarah Huffman, until they split in September. Melton had been married to Craig Melton for 14 years before she announced their separation in August.
Then last November, Melton who lived through an abortion and struggled with drug abuse and mental illness, confessed to her followers that she had found true love in Wambach.
"She loves me for all the things I've always wanted to be loved for. She's just my favorite. My person. Remember in Love Warrior how hard I struggled to understand what being in love meant?
"I get it now. I get it. I am in love. And I'm really, deeply happy," she said.
Melton, who still teaches Sunday school, said her ex-husband is also dating and is supportive of her relationship with the soccer icon.
"How is Craig? He's his beautiful, kind, brave self. He's dating too — and we are both supportive of each other's relationships. After I told Craig, the first thing he said was: Holy s---. Is this what all the Indigo Girls has been about? I said, WHOA. I DON'T KNOW ... MAYBE," she added.
The popular blogger recently shared more details about her life in an appearance on Oprah's SuperSoul Sessions, where she explained why there is no easy way out when it comes to life's challenges.
While many of Melton's fans on social media celebrated when she announced her engagement to Wambach earlier this year, more conservative Christians like David Hunter, called her a "false prophet" for promoting the gay lifestyle.
"This is a perfect example of the prophetic Bible verse Scripture (Isaiah 5:20) that says, in referring to the last days; 'good will be called evil and evil will be called good.' Glennon, you are what the Bible refers to as a false prophet. Jesus never touched on homosexuality or same sex marriage directly, but there are plenty of scriptures that do. You are leading so many astray by calling sin, love. Please see Luke 17:2. Please, I beg you, stop claiming a relationship with Jesus, while claiming a homosexual relationship with another woman. The Word is clear, the Word is TRUTH. Praying for you and many others like you," he wrote.
In a post on Instagram on Tuesday, Melton, who previously noted that she doesn't view her relationship as a sin, explained that she believes God wants her to be happy and choosing to be in a relationship with Wambach makes her happy.
"When I fell in love with Abby, I was scared. I thought that my fear might be bigger than my courage, and that because of that size difference, I might miss out on my chance at happiness. This was so painful," she wrote.
"One day, I was talking to my dear friend Martha Beck. I told her that losing this love would be painful, but that I was used to learning from pain. And Martha said: 'Honey. It's true that God teaches us through pain. But it is also true that God tries to teach us through joy first. You can keep choosing heartbreak and pain, Glennon. But you can also choose joy. God can use that choice too. And I actually believe that God prefers to use joy to teach us.' And so, for once, I chose joy. I have lived a long while learning from pain and God, it's been a good teacher," she said. "I'm forty one, now. And I'm graduating to joy."