Christian Parents Lose Custody of Child Because They Oppose Gender Transition Hormone Treatments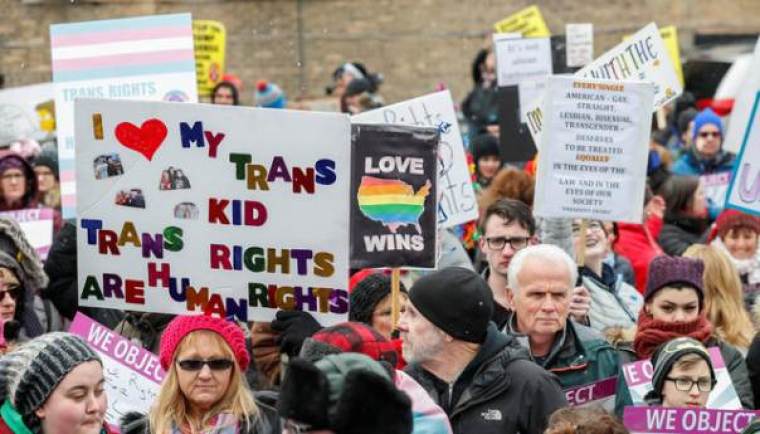 A judge in Ohio has legally permitted a 17-year-old teen girl, who identifies as a boy, to undergo hormone therapy despite opposition from her Christian parents, sparking criticism from conservatives.
On Friday, Sylvia Hendon, a visiting Juvenile Court judge in Hamilton County, Ohio, issued a ruling granting legal custody to the teen's grandparents, who according to a prosecutor "accept their grandson for who he is" and support the teen's desire to transition in gender, CNN reports.
Hendon said hormone therapy can begin at Cincinnati Children's Hospital Medical Center, and the grandparents can petition to change the child's name in probate court. The teen will now be covered by the grandparents' insurance, allowing them, rather than parents, to help make future medical decisions for the child.
The case stems from November 2016, when the unnamed teen emailed a crisis hotline claiming that one of her parents had told her to kill herself and made her listen to Bible passages for more than six hours.
At the time, the teen was receiving psychiatric treatment from Children's Hospital for depression and anxiety until the parents decided they wanted their child to receive counseling from a Christian therapist. While the therapy later resumed, the teen's parents were "still opposed to the transition issue," according to court documents.
Based on what the teen told doctors, the hospital refused to return her to the custody of her parents and contacted Hamilton County Job and Family Services, who subsequently placed the teen in the custody of her maternal grandparents.
Speaking on Friday, Hendon said that before the teen is permitted to transition, she must be evaluated by a psychologist not affiliated with the hospital to look at "the issue of consistency in the child's gender presentation and feelings of nonconformity."
Hendon pointed out that when the teen's Christian parents took her to Children's Hospital, the "diagnosis rather quickly became one of gender dysphoria."
She expressed concern that the director of the hospital's Transgender Health Clinic said 100% of patients seen by the clinic "who present for care are considered to be appropriate candidates for continued gender treatment."
Hendon said it was understandable that the teen's parents "were legitimately surprised and confused when the child's anxiety and depression symptoms became the basis for the diagnosis of gender dysphoria."
"The family would have been best served if this could have been settled within the family after all parties had ample exposure to the reality of the fact that the child truly may be gender nonconforming and has a legitimate right to pursue life with a different gender identity than the one assigned at birth," she said.
A number of conservative leaders have expressed concern over the long-term implications of the case.
Andrew T. Walker, author and Director of Policy Studies for the Ethics & Religious Liberty Commission of the Southern Baptist Convention, said that in most circumstances, parents should have the right to make medical decisions for their kids.
"This case ought to send a chill down the spine of every parent in observing what the state can do to tamper with parental rights in order to further the Sexual Revolution," he tweeted. "This is a *major* setback for parental rights and religious liberty."
Dr. Ryan T. Anderson, the William E. Simon Senior Research Fellow in American Principles and Public Policy at The Heritage Foundation, warned that "at stake are not only parental rights, but the well-being of children who suffer from gender dysphoria." He argued that most children (80 to 95 percent of children) grow out of gender dysphoria, but hormone blockers — which, he points out, are not FDA approved for that particular diagnosis due to their negative long-term effects — interfere with this process.
"Starting a young child on a process of 'social transitioning' followed by puberty-blocking drugs was virtually unthinkable not long ago, and the treatment is still experimental. Unfortunately, many activists have given up on caution, let alone skepticism, about drastic treatments," he said.
"A more cautious therapeutic approach begins by acknowledging that the vast majority of children with gender dysphoria will grow out of it naturally," he continued. "An effective therapy looks into the reasons for the child's mistaken beliefs about gender, and addresses the problems that the child believes will be solved if the body is altered."
Karen Brinkman, the parents' attorney, had argued that the child was not "even close to being able to make such a life-altering decision at this time" due to her age and mental state.
Brinkman contended that the parents "have done their due diligence contacting medical professionals, collecting thousands of hours of research," and believe that the administration of hormones are not a "medically necessary form of treatment" and that it "would do more harm than good."
In the custody decision, Hendon said the parents will have visitation rights and are "encouraged to work toward a reintegration of the child into the extended family."
She also said that because such a case will appear again, Ohio lawmakers must create legislation giving judges a framework in which they can evaluate a patient's right to gender therapy.
"What is clear from the testimony presented in this case and the increasing worldwide interest in transgender care is that there is certainly a reasonable expectation that circumstances similar to the one at bar are likely to repeat themselves," she wrote. "That type of legislation would give a voice and a pathway to youth similarly situated as (the teen) without attributing fault to the parents and involving them in protracted litigation which can and does destroy a family unit."
According to the hospital website, the Transgender Health Clinic at Cincinnati Children's "provides an accepting atmosphere and services for patients 5-24 years old," including "puberty blockers, gender-affirming hormones, assistance navigating transition needs," and more.
Transgender children and teens have been the focus of considerable media attention in recent years and have seen an increased visibility in film and television. It's estimated that 0.7 percent of youth ages 13 to 17, or 150,000 youth, identify as transgender in the United States, according to a new study released by The Williams Institute at the UCLA School of Law.