Christian Pastor Says Having Bible in North Korean Labor Camp Gave Him Strength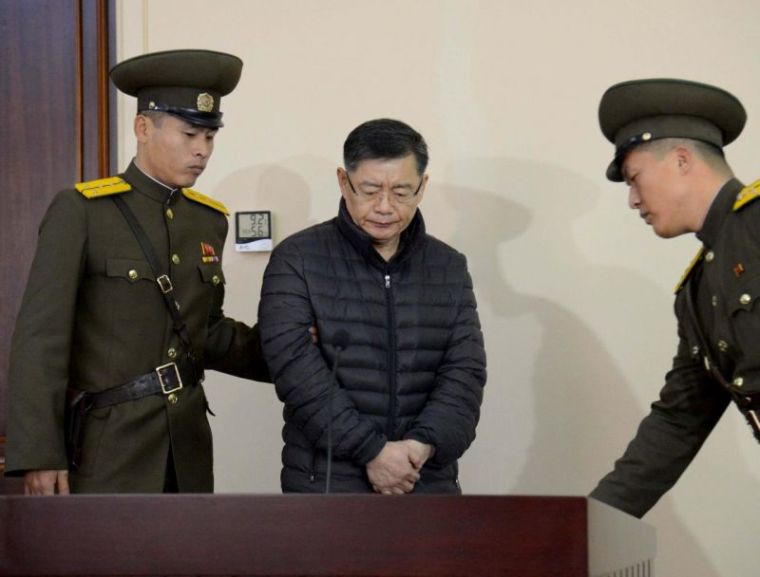 The Rev. Hyeon Soo Lim, the Christian pastor who was freed and returned home to Canada earlier this month, said he derived strength from a copy of the Bible that was given to him during his isolation at the North Korean labor camp where he was held.
Being alone and isolated was one of the hardest things about the punishment, the 62-year-old pastor said Saturday at the Light Korean Presbyterian Church in Mississauga, Ontario, according to CTV News.
Lim, who spoke through his translator and family spokesperson Lisa Pak, added that he could survive only because of his faith and belief in God. "You fight to overcome the sense of loneliness."
"They had isolated me from everybody else. So being separated from family, being alone for all of my meals, being away from human contact — that was one of the most difficult things. 
"One of the core strengths for me was my relationship with God. So even while I was in hard labor, just consistently continually praying. And also the Bible that was provided to me, just havig that nearby was a real strength."
The Canadian pastor who was born in South Korea also said he didn't learn about his release on Aug. 9 until 15 minutes before, although he believed that one day he would be released.
As Reuters earlier reported, Lim was held for more than two years in North Korea after being sentenced to hard labor for life in December 2015, accused of attempting to overthrow Kim Jon Un's regime.
Lim is the pastor of the 3,000-member Light Korean Presbyterian Church.
Although he was visiting North Korea for a humanitarian purpose, state prosecutors accused him of using the "false pretense" of humanitarian aid to enter into North Korea to use religion to attempt to overthrow the Kim regime.
The state-owned Korean Central News Agency said at the time that Lim was guilty of "[committing] anti-DPRK religious activities, [conducting] false propaganda among overseas Koreans, and [taking] active part in the operation of the U.S. and (a South Korean) conservative group to lure and abduct DPRK citizens [...] in their programs for 'aiding defectors from the North.'"
After his release, Pastor Lim thanked the Canadian government for its assistance, including National Security Adviser Daniel Jean, who visited North Korea to ask for his freedom.
"It's a miracle for me to be here today," the pastor said in his church. "I always knew Canada was a very warm and compassionate nation, but through my ordeal I really began to grasp that very deeply."
The pastor also shared what he had to suffer.
"During the winter, I had to dig holes that measured one meter wide and one meter deep," he said. "The ground was frozen. The mud was so hard that it took two days to dig one hole. It was incredibly challenging. My upper body was sweating. My fingers and toes were frostbitten."
According to Open Doors, anywhere from 50,000 to 70,000 Christians are suffering in labor camps in North Korea.