Christian Pastor Says Many Indonesians Are Realizing Islam Is False, Finding Christ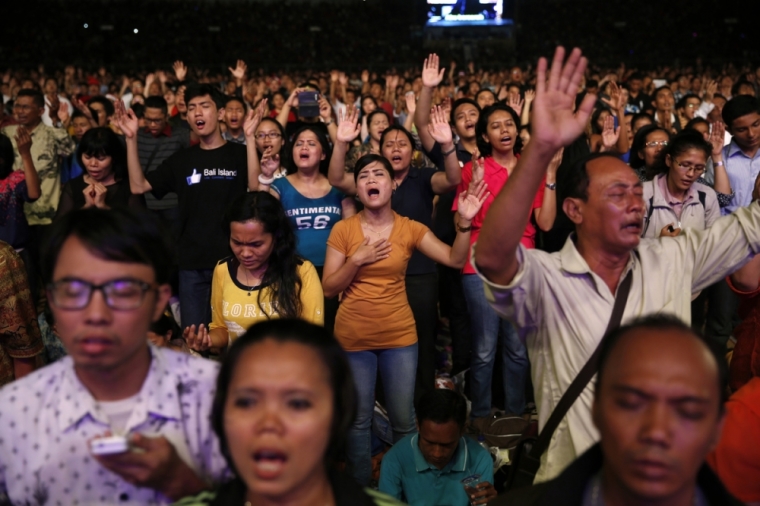 Christianity is growing in Indonesia, according to a Baptist pastor from Jakarta. But at the same time, the influence of radical Islam is also being felt, with some districts in the country adapting highly restrictive bylaws.
The pastor, going by the name Kongkin, told The Christian Post in a phone interview on Thursday that his ministry in Jakarta helps persecuted Christians and makes sure their stories are heard across the country and abroad.
"When one part of the body suffers, every part suffers with it," Kongkin said.
He told CP that he is a former Muslim, and that it was the Gospel message itself that convinced him to start following Jesus Christ.
"The call of Salvation by Christ," he described as the main reason for his decision to convert. "The message of forgiveness, which extends to sinners. I realized I was without hope" while part of the Islamic faith, he explained.
"I heard the Gospel from my friend and I saw his family's testimony, [his] walk as a Christian," and the "peace and joy" that came with it, and thought "that's what I want."
"I started searching for the Lord, and accepted Jesus Christ as my Savior," he said.
Kongkin noted that his Muslim family "thought I was crazy" at first, that his conversion to Christianity was "part of my rebellious spirit," and even though they first hoped that he would go back to Islam, eventually they realized he was committed to his new faith.
The pastor explained that he did not suffer beatings and was not cast out by his family, who he described as more "modern Muslim," but he was treated differently by other relatives who follow a stricter version of Islam.
He said that while they still wanted to have a relationship with him, they would do things such as refuse to greet him at Christmas, and made it clear that "we are on different sides."
Indonesia is the world's largest Muslim nation, and though Christianity only makes up seven percent of the population, according to the CIA Factbook, Kongkin said that more people are embracing Jesus.
He insisted that he doesn't say that "because I am a Christian, just to excite the Christian body, but this is what I personally see happening."
The pastor noted that as part of his ministry working in the field, he has heard many stories of former Muslims who have decided to come to Jesus.
"The numbers are getting bigger and bigger in many parts of Indonesia. There is steady growth," he said, while noting that there is concern among some parts of the Islamic community over the rise of Christianity.
"Yes, the number is growing. I think a lot of Muslims are realizing that Islam is false; they see the bombings and terrorist attacks done in the name of Islam, and they wonder 'Is this it? Is this what I want?'" he stated.
"They realize there has to be a better way, and then they find Christ."
As Christian watchdog group Open Doors points out, persecution remains high in Indonesia, listing it at number 46 on its World Watch List of countries where believers are most targeted for their faith. Though it has long been considered a model of Muslim democracy and interreligious coexistence, the influence of radical Islam is growing.
Kongkin said that the biggest threat to Christians in Indonesia comes both from the government's laws and from radical Islamic elements, which are influencing and pressing into local government.
"They have more and more influence on policy, not so much the central government, but the provincial government," he explained, noting that hardliners are pressuring local representative bodies to produce bylaws that reflect Sharia law.
One example he pointed to is the Tanara district in the province of Banten, which has issued bylaws that forbid women from walking on the streets alone or with someone who is not their husband or part of their family past 10 p.m.
Kongkin noted that any woman like that "who is found on the streets is considered a prostitute or having moral problems." He said that such women who break the curfew "are taken by the local provincial police and brought to a rehabilitation center," due to suspicions that they are doing something not acceptable in Islamic society.
The women are usually held for an entire month at such rehabilitation centers before they are released.
Other troubling bylaw applications have been the prohibition on drinking alcohol. Even though Sharia law is only supposed to apply to Muslims, in order to seem fair, police have also been punishing Christians and other non-Muslims who drink.
Most recently, what has caught international attention is the blasphemy conviction of Jakarta's former Christian governor, Basuki Tjahaja Purnama, also known as Ahok.
The politician, who in April lost his re-election bid, was found guilty of insulting the Islamic faith, stemming from an incident last September where he referenced passages in the Quran, arguing that opponents were trying to use the holy book to deceive people into voting against him.
Although Ahok has maintained that he meant to cause no offense, earlier this week he dropped his appeal against his two-year prison sentence, explaining that he is making the decision "for the sake of our people and nation," World Watch Monitor reported.
Kongkin believes that Ahok dropped his appeal because of his Christian faith, letting God be the judge at the end.
"I respect his decision," the pastor said, noting that it is between him and God.
"He also wants to make the people see that 'I am experiencing this because of injustice. And I am not going to make any appeal, so that everyone can learn from what has happened to me,'" Kongkin said of Ahok.
He claimed that more and more people in Indonesia are indeed seeing the case as an injustice carried out by the court, which has been "influenced by people who have agendas."
Kongkin shared his hopes that this realization will eventually push for the courts to be reformed, as Ahok "didn't do anything to deserve punishment."
"[Ahok] did so many good things for the people — he eradicated corruption, stopped people who like to steal money from government projects; [he] built infrastructure that beautified the city," he said.
"Across the country of Indonesia people are supporting Ahok and are crying that something is done," he added. "We do not want the radical Muslims to eventually take the whole country."