Christian Psychological Thriller 'Wildflower' Tackles Taboo Topics: Sexual Abuse, Murder, Depression (Interview)
Christian Psychological Thriller 'Wildflower' Tackles Taboo Topics: Sexual Abuse, Murder, Depression (Interview)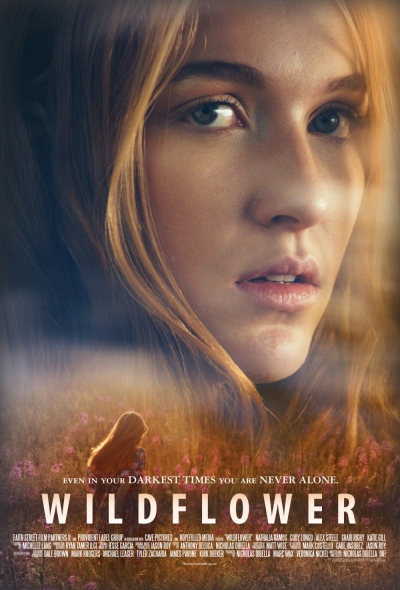 NEW YORK – The haunting new Christian thriller "Wildflower" tackles topics not often talked about in churches – how to deal with traumas, including sexual abuse. But actress Shari Rigby says God certainly wants His people talking about dark times they go through.
"Wildflower," from Faith Street Films, is a psychological thriller about the power of the mind and of the human spirit. It releases on DVD and Blu-Ray April 5th, and will be featured on the Lifetime movie network in June.
From writer and director Nicholas DiBella (King's Faith), "Wildflower" explores the mind of a young art student as she pieces together clues in the mystery of a missing girl. In the search for truth, her mind begins to unlock memories of her own painful past, which have been blocked for many years.
The movie was filmed near Rochester, New York, and stars Nathalia Ramos (Nickelodeon's "House of Anubis," ABC Family's "Switched at Birth"); Shari Rigby ("October Baby," "The Young and the Restless"); and Cody Longo ("Piranha 3D," "Not Today").
"I'm so excited about this new the movie, 'Wildflower.' I love playing this part of her mother and I love that you don't really know what's going on," Rigby told The Christian Post.
The actress said the level of mystery leading up until the end is what intrigued her the most and it's why she wanted to be involved in the film.
"It's very 'Sixth Sense'-ish, but it's done with such an incredible heart for Christ. I love bringing the faith element to a psychological thriller," she said.
The California resident stated that as they traveled and conducted panels for the film, it was evident that the movie's message of psychological distress is resonating with viewers.
"It's something that's so prevalent [but] that we don't really talk about, the hidden traumas that have gone on in childhood. It can be from a car accident, or from something that's much worse," Rigby explained.
The film tackles sexual abuse, murder and depression amongst other things and Rigby said she is happy to now be a part of such a real dialogue in the Christian community.
"People are understanding that it's not a topic that has been really addressed in our churches and in our circles of influence. So I think that is another part of it, that makes it very special, because there's something that is now starting to be revealed that we are discussing more of, and God wants that. I believe He uses every single thing in our lives for His glory and for His good and I believe that the oppression part of it and the depression part of it, all comes from an enemy and God saying, 'No no no, let me use this, let me use this,'" she said.
She added, "So often we forget that even in the darkest of times, most negative of times, anything that we've gone through, that it has some of the most powerful positive impact. Not only on our own life but on others because we can honestly step up and say, 'That's something I went through, I faced that.'"
Rigby hopes that the film will bring awareness to the issue of hope after traumatic events and she noted that she hopes more films will be made dealing with past traumas.
"I loved every part of it (Wildflower) and I think that's what really happens when we look at what God is calling us to tell. I think he uses every part of my life. I have an opportunity to bring to life these stories, in a way that are really just ordinary people. It's something that God has placed in my heart and I hope to be able to tell that and it comes across on screen," she concluded.
To see the DVD or more information visit www.wildflowerthemovie.com.
jeannie.law@christianpost.com