Christian Rapper Andy Mineo Announces New Album 'Uncomfortable' by Posing With Eye of Providence
Christian Rapper Andy Mineo Announces New Album 'Uncomfortable' by Posing With Eye of Providence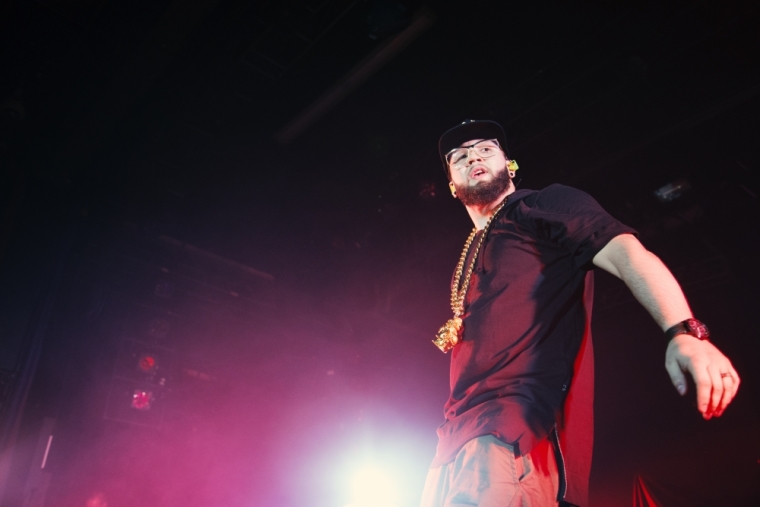 Reach Records rapper and Lecrae protégé Andy Mineo announced the title and release date for his new album Uncomfortable by posting a picture of himself by posing with the Eye of Providence to promote his new record.
The rapper released a promo video Wednesday announcing the title of the album which ends with what appears to be a scan of his face with and him posing with the Eye of Providence, a symbol many conspiracy theorists believe is related to the occult.
Fans left comments on the screenshot of him posing with the hand gesture expressing their frustration with it.
Lecrae has also been questioned by fans for his use of so-called occult symbols. During an appearance in rapper KB's "Sideways" video, Lecrae holds a triangle above his head, and fans immediately accused him of occult affiliation for using the symbol.
All this criticism from fans prompted a written response from Reach Records regarding the use of these signs by artists on the label.
"The drawing of an eye, a skill, etc., are all good things that God is ultimately responsible for designing and are not made evil because of their association to evil," Reach Records noted in January 2014 statement. "The world's perversion of these things does not overcome the good intent of God's craftsmanship. They work off of borrowed capital and should not have the final say on the things God has made."

Symbols such as the Eye of Providence, which is sometimes referred to as the Eye or Horus, are often affiliated with the secret society the Freemasons. The Christian Post spoke with a Freemason in May to learn more about the origin of the Eye of Providence which is found on the U.S. $1 bill.
"[The Eye of Horus], that's not what the designers called it, and that's not what the State Department calls it — that's what ignorant people call it. The proceedings of the Continental Congress where they debated the design of the dollar bill is public information," said Brent Morris, director of communications at the Scottish Rite of Freemasonry for the Southern Jurisdiction of the United States to CP.
"Now, you can assume the people that described it were lying; you can assume that the people wrote it down were lying. But what they said and what was written down — it's the Eye of Providence. [Its meaning is in the book of] Proverbs. The eye of God is on the wicked and the just. God is overlooking all of our actions," he said.
Exclusive Op-eds from the Presidential Campaigns
Aside from his releasing some of his album art which might be deemed controversial by some, Mineo also announced that Uncomfortable will be released on Sept. 18.
Lecrae also took to Twitter to celebrate the announcement of Uncomfortable yesterday.
"I'm telling you … this new @AndyMineo is gonna be a problem. #Uncomfortable," wrote Lecrae on Twitter Wednesday.
Even artists and writers who work in secular hip-hop gave Mineo and the album a shout out.
"The homie @AndyMineo is back at it. Trust when I say we not playing this time!#uncomfortable," wrote hip-hop producer !llmind on Twitter.
MTV hip-hop writer Rob Markman wrote "@AndyMineo is back to work!" on his Twitter.
After posting details on the album, Mineo directed fans to his website AndyMineo.com and said he will announce a tour soon.
Mineo's received a great deal of support from both the Christian and secular music industry during the past few years.
Legendary hip-hop host Sway Calloway featured Mineo on his radio show in February 2014 in an episode titled "Is Andy Mineo the Future of Rap?" and praised him for his rapping abilities he displayed on MTV's "Rapfix."
"The first time I officially met this young man was at RapFix," said Calloway in introducing Mineo. "It was the end of the year and we wanted to do a special episode, finale and bring by emcees that we respect and think that have talent. And we had maybe 15-20 emcees up there, but there were a few that stood out, a few that let their light shine, a few that were lyrical, that came ready that were there to impress. And [Andy Mineo] is one of [those] few emcees that came up and really impressed me, as well as the rest of the RapFix staff."