Christian Responses to #Ferguson Focus on Fear, Injustice and White Privilege
As the eyes of the nation and the world continue to focus on the St. Louis County suburb of Ferguson, where unarmed 18-year-old Michael Brown was killed by a police officer, Christians continue engaging the many issues raised by the controversial case in attempts to bring clarification, understanding and open dialogue.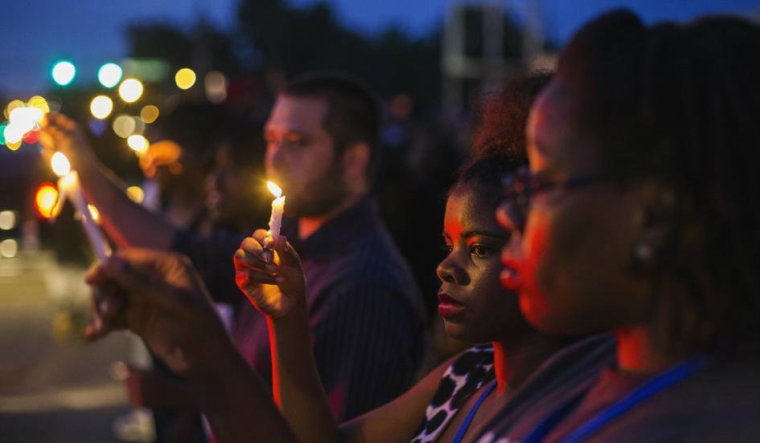 The Christian Post previously highlighted tweets from Christians commenting on the ongoing protests in Ferguson. Below is a roundup of diverse reflections regarding Ferguson from some members of the Christian community.
Pastor Leonce Crump, leader of Renovation Church in Atlanta, was featured as a guest on the Georgia radio program, "All Things Considered." He was first asked: What is the role of the faith community in what's happening in Ferguson?
"Well, I think the role of the faith community is primarily to see the injustice and connect this injustice to the gospel, and realize that every word that Jesus spoke and even the actions that he did when he walked this earth were not just to get us to heaven, but to give us a preview of the reality that should be," said Crump. "The reality that should be is never one where a teenager can be gunned down in the street despite what he did. We're a nation of laws, and those laws are meant to protect us."
Listen to more of Pastor Crump's response in the audio player below or read the transcript at gpb.org:
Phillip Holmes, itinerant preacher, executive assistant to Pastor Voddie Baucham, and co-founder of the Reformed African American Network, shares his thoughts on John Piper's Desiring God blog.
"As a Christian, even if you can't relate, you have an opportunity. As a black man, I don't connect with the situation as easily as some might assume," writes Holmes. "I'm not from the city or suburb. I've never had a negative encounter with the police. It's unlikely I would ever be bold enough to run from the police or resist arrest. It also helps that what many have ignorantly profiled as 'suspicious clothing' isn't a part of my wardrobe these days. Therefore, the chances of me getting gunned down by the police are slim. From what I've read, the most obvious thing Mr. Brown and I have in common is that we're both young black men."
Read more of Holmes commentary: http://www.desiringgod.org/blog/posts/you-can-pray-for-ferguson
Jemar Tisby, president and co-founder of the Reformed African American Network, has written an essay considering the various images of 18-year-old Brown that have emerged since his shooting death on Saturday, Aug. 9, 2014.
"Those who want to point out the injustice of yet another unarmed black youth being killed by a white cop post pictures of Mike Brown that show him smiling, young, and tender. Their aim is to craft a narrative that young Mr. Brown wasn't doing anything wrong and, in fact, was just a regular old neighborhood kid," writes Tisby.
"Then the video tape of him robbing a liquor store for cigars and manhandling the store clerk appears. Now that 'nice young man' narrative becomes much less believable. And now writing a more negative story about Mike Brown becomes a lot easier. Some were already looking for the pictures of the young man looking imposing and flashing what appear to be gang signs. Now they have stills from a robbery in progress to add to their story."
Read more from Tisby: http://www.raanetwork.org/keepin-real-mike-brown-ferguson/
Eugene Cho, pastor of Quest Church in Seattle and author of Overrated, pleads in a blog post with fellow Christians not to ignore Ferguson. He suggests "Five ways that Christians and churches must engage Michael Brown's death."
Cho writes:
"To be blunt and I say this respectfully,
The integrity of the church is at stake because when it's all said and done, it's not a race issue for me, it's a Gospel issue. It's a Kingdom issue. We shouldn't even let isolated issues in themselves hijack the purpose of the church. The Gospel of Christ is so extraordinary that it begins to inform (and we pray, transform) all aspects of our lives. So, in other words, we talk about race and racism because we believe in the Gospel.
Read his five suggestions: eugenecho.com/2014/08/16/please-dont-ignore-it-five-ways-that-christians-and-churches-must-engage-michael-browns-death/
Christena Cleveland, a social psychologist and author of Disunity in Christ, penned a post titled "The Cross and the Molotov Cocktail."
"As someone who has walked alongside black men, witnessed their suffering firsthand, lamented with them and fought for justice with them, I can see why black men who have lived under the oppressive boot of society for their entire lives would decide to stop turning the other cheek, refuse to see the police as anything other than the Red Coats, and reject 'respectability,'" writes Cleveland.
"Can you see the suffering Christ in the oppressed, even the ones who aren't responding perfectly to society's oppression? Christ doesn't just suffer for the innocent, the ones who don't have the energy to fight back, or the ones who perfectly respond to injustice. He suffers for the ones who suffer now and sin in their suffering.
"And make no mistake, our God is a God of justice. The young black men who launch Molotov cocktails at the police are misappropriating God's justice by taking it into their own hands, but the rage they feel is the rage that God feels towards injustice. In a sense, they are imaging forth God's justice to an unjust world."
Read more of Cleveland: www.christenacleveland.com/2014/08/the-cross-and-the-molotov-cocktail/
Austin C. Brown, a self-described racial reconciler, spoke with The Christian Post last August about helping Willow Creek Community Church with its diversity efforts. Brown's essay in response to the Ferguson case is titled "Black Bodies White Souls."
"I've read too much, been at this too long to sincerely claim that I expected the white church to finally get it right in this present moment of Trayvon Martin, Jordan Davis, John Crawford and Michael Brown. The white church doesn't have a great track record on racial justice, and what's worse, displays very little shame on the matter. (As a quick caveat I will say that I am grateful for the friends of all races, including white who sent messages, wrote posts, shared in the outrage and amplified the voices of black folks — I just wish there were many, many more of you). On the whole the story of Michael Brown and the assault on Ferguson didn't gather the same level of attention of ISIS or Driscoll. Many of the white Christians who changed their profile pictures to stand in solidarity with Christians on the other side of the world, were absolutely silent while black Christians right here in America were in turmoil," writes Brown.
"I am quite used to there not being enough room in the soul of the white church to care about black bodies. There is not enough room in the service, not enough room in the prayers, not enough room in the leadership, not enough room in the values, not enough room in the mission statement, not enough room in political stances, not enough room for lived experiences of African Americans."
Read more of Brown's essay: http://austinchanning.com/blog/2014/8/bodies-souls
Matt Chandler, pastor of The Village Church in Texas and president of the Acts 29 Network, took to his blog to clarify comments he initially made on Twitter that resulted in varied responses from followers.
Pastor Chandler initially tweeted: "My son Reid has blonde hair and blue eyes & will more than likely never be seen as 'suspicious' by police #WhitePrivilege #Ferguson"
"The challenge with white privilege is that most white people cannot see it. We assume that the experiences and opportunities afforded to us are the same afforded to others. Sadly, this simply isn't true. Privileged people can fall into the trap of universalizing experiences and laying them across other people's experiences as an interpretive lens. For instance, a privileged person may not understand why anyone would mistrust a public servant simply because they have never had a viable reason to mistrust a public servant. The list goes on," writes Chandler.