Christian Rocker Oz Fox Suffers Seizure on Stage, Has 2 Tumors; Family 'Trusting God'
Christian Rocker Oz Fox Suffers Seizure on Stage, Has 2 Tumors; Family 'Trusting God'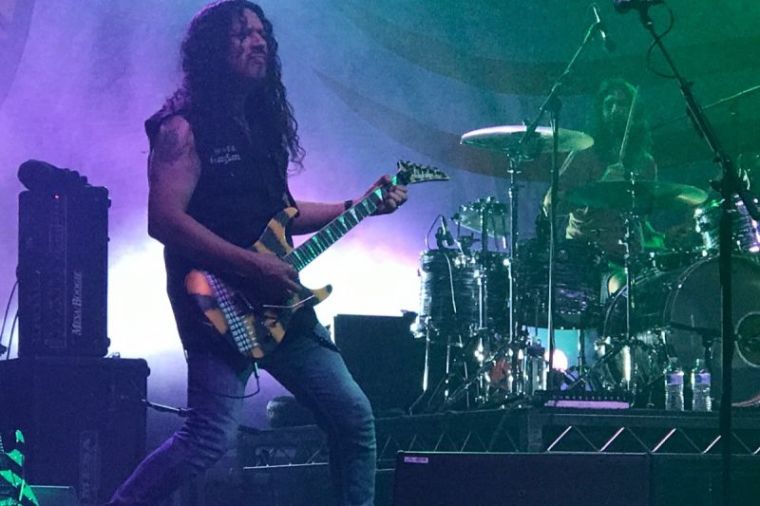 Christian rocker Oz Fox from the band Stryper collapsed on stage during a concert in Las Vegas, Nevada, on Sunday. 
Fox took the stage with his band at around 12:30 a.m. when he had a seizure. According to a GoFundMe campaign set up two days ago to help with medical expenses, Fox was taken to the hospital and a CAT scan and MRI showed that he has two masses (tumors) in his head, one by his ear and the other located in the back of his head.
"After performing an MRI, doctors discovered an area of concern near his brain on which they will perform a biopsy. The doctors have instructed him not to drive or fly for 90 days," the band said of the guitarist in an official statement.
Fox's wife, Annie Lobert, a former call-girl who started the nonprofit group Hookers for Jesus, took to social media Monday while they were in the hospital to reassure fans, saying, "We trust God more than anything." 
On Wednesday, Lobert shared a new medical update on Fox's GoFundMe page.
"The tumor by the ear is not as much concern as the one by the back of the right [side of the] brain. They are both inoperable," she said, adding that the doctor recommended not removing them.
Fox was given two options: have a biopsy performed on the tumor located in the back of his head or wait it out.
"Please pray for this mass to NOT be cancerous, and that he will recover quickly!" Lobert wrote in the GoFundMe update. "Pray for the doctors' hands to be steady and her mind to be sharp with wisdom and precision skill."
"We don't want to be in fear ... we believe that God has a plan for this even though this is a serious and life altering trial!" the post continued.
The fundraising account says Fox won't be able to drive, fly or work for three months because of the risk of potential seizures. As a result of the tumors, Stryper has also had to cancel some of their upcoming shows out of the country.
The popular Christian metal band has been around for 30 years. Fox is a founding member of Stryper and his bandmates have rallied around him during this time.
"The important thing right now is Oz's health and well-being. Please continue to pray for him at this time. Pray for Annie and his family as well," bandmate Michael Sweet wrote on Facebook Tuesday.
Fox and his family are seeking to raise $100,000 to help cover medical expenses that aren't covered by his insurance. The family says they're in the process "attempting to get him coverage but in the meantime, his hospital bills are piling up at an enormous rate."