Christian university cancels Promise Keeper's event over LGBT pride month statement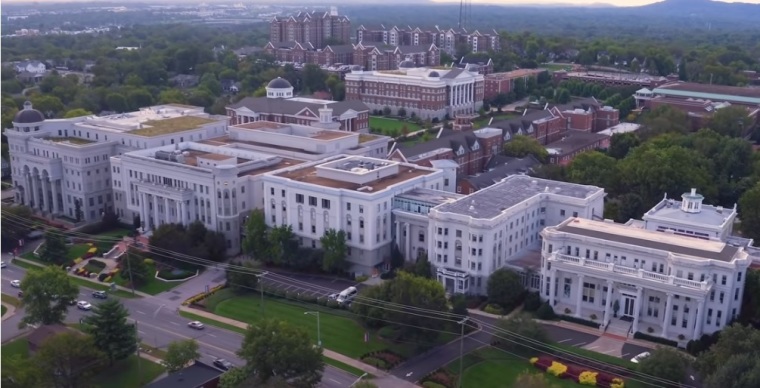 A private Christian university in Tennessee has canceled a Promise Keepers event after the national Christian men's ministry posted a blog criticizing LGBT pride month. The university accused the organization of "unnecessarily fan the flames of culture wars."
Promise Keepers, a male Evangelical parachurch organization founded in 1990 that holds men's rallies in stadiums nationwide, released a statement this week stating that Belmont University in Nashville canceled an event it was to host at the university's Fisher Center in late September even though the group claims that it had already begun promoting the event.
The event was part of Promise Keepers' "Daring Faith" event series, which will occur in Houston, Memphis, New York City, and other cities. The events will focus on "Biblical manhood and the difficulties of navigating the tension between our Christian identity and the often antithetical identities of the culture in which we live," according to the statement released by Promise Keepers.
The reason for the move, according to the statement, is because Promise Keepers released a statement for pride month warning about what it calls the "dangers of gender ideology" and reaffirming its stance on biblical marriage between one man and one woman. 
"We will not stand on the sidelines and remain quiet. As fathers, husbands, grandfathers, and young men — we see the dangers of gender ideology and the harm it causes," the organization's pride month statement reads.
"At Promise Keepers, we believe it is more important than ever to stand up boldly for what we believe as Christians. God's Word is very clear on this topic — and we also see the way gender ideology has damaged lives, mutilated bodies, and torn apart families in our own communities."
In an interview with the Edifi Podcast Network, Promise Keepers CEO Ken Harrison confirmed that the ministry signed a contract with the university and advertised for the event. 
Roughly two days before tickets went on sale, Harrison said he was sent an email from the campus stating: "due to recent information, we realize our values don't align with your values or something to that effect so we can't do the event here."
Harrison said he contacted the university's vice president to understand the reason for the cancellation better, and he was informed that it was because of "the statement we put out a week before Pride week."
The Christian Post reached out to Belmont University for comment. A response was not received by press time. 
Belmont University Office of Communications pushed back against Promise Keeper's claims, telling CBN News in a statement that the organization's press release "incorrectly states why Belmont University decided to withdraw the campus' Fisher Center as the potential venue for an event anticipated for late September in Nashville."
"Belmont informed Promise Keepers leadership that the event could not be held on our campus because a blog the organization posted, 'In Light of June Being Designated as 'Pride Month,' includes comments that we believe unnecessarily fan the flames of culture wars and are harmful to members of our community," the statement reads.
"The Promise Keepers press release also falsely asserts that Belmont had not responded, when in fact University leaders have had multiple conversations with senior leaders at Promise Keepers, including CEO Ken Harrison. In these phone calls our reasoning was thoroughly and respectfully discussed, and we believed we reached mutual understanding."
The university's statement adds that it welcomes the opportunity to work with "a variety of groups that hold disparate opinions, and we encourage the exchange of dialogue."
"Yet as an ecumenical, Christ-centered institution we are also unequivocal in our belief in the value of each human being, and we are committed to engaging in constructive conversations that demonstrate kindness and seek understanding," the school asserts. "We will not knowingly provide a space for any group whose language we believe to lack that same respect."
In addition to calling gender ideology "dangerous," Promise Keepers' pride month post also called gender ideology an "idol of our culture" and a "sin" that is "poisonous." 
Belmont, which averages over 8,500 students from each state and more than 33 countries, was once tied to the Tennessee Baptist Convention. A lawsuit in 2007 put an end to its relationship with the convention after about 56 years. The university now identifies itself as "the largest ecumenical Christian university in the United States" with no denominational ties. 
Harrison said people should beware of "Christian schools who are not teaching Christ."
"The state of Christian colleges today is really concerning and people need to know this, that Belmont is by no way unique in this way," Harrison told Edifi. "If you go on their homepage, it is all Christian this and Christian that and training people for Christ. What does that mean when you deny the basic tenets of scripture?"
The saga with Promise Keepers comes as the Belmont University student newspaper, The Belmont Vision, published a "Nashville Pride Guide" in early June. 
In 2015, Belmont University made headlines when it began offering employment benefits to legally recognized same-sex spouses of school employees following the Supreme Court's ruling overturning state bans against same-sex marriage.