Christian Woman in Hiding Amid Death, Rape Threats for Anti-Abortion Tweet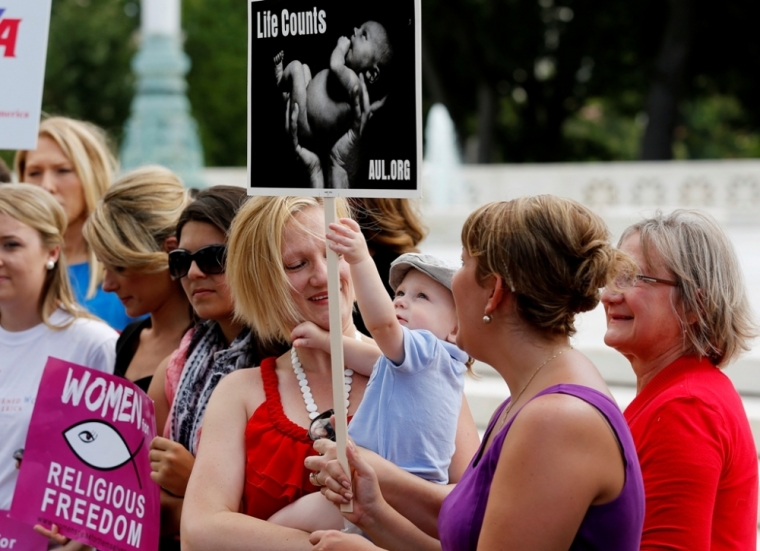 A Christian columnist is now in hiding due to multiple rape and death threats following a tweet she posted about abortion.
Denise "D.C." McAllister, who writes for PJ Media and previously for The Federalist, tweeted Thursday during the confirmation hearings for U.S. Supreme Court nominee Judge Brett Kavanaugh that Planned Parenthood and Code Pink abortion activists were protesting because "at the root of #abortion hysteria is women's unhinged desire for irresponsible sex."
"Sex is their god. Abortion is their sacrament. It's abhorrent as women have flung themselves from the heights of being the world's civilizing force to the muck and mire of dehumanizing depravity," she said.
Her words elicited anger from many abortion activists on social media and soon violent threats started coming in.
"They are threats outside of Twitter, stating they know where I live," McAllister told PJ Media Tuesday.
"Threats of rape and strangling. I spoke to the police. I am on home watch."
She tweeted about the nature of the threats on Sunday.
"These threats aren't lame Twitter threats. Anyone who says we're not in a culture war is deluded. It's important for us to have each other's backs," tweeted McAllister, who is a rape survivor. She also told PJ Media that her children were scared.
At the request of her family she noted Monday that she would be staying off social media for a while, adding that she hoped to return soon. She tweeted Tuesday that she has been working with the police and that they are monitoring her house.
"I think the hatred for pro-life women is that they expect us to act in solidarity. When we don't, they attack," McAllister said.
"I also think it goes deeper. Women have the legitimacy to criticize other women in a way men don't. When we speak honestly like I have, they hate it because they know what I'm saying is true."
McAllister isn't the only person to receive rape threats from abortion rights activists. 
Newsweek reported Tuesday that both the Washington, D.C. and state district offices of Sen. Susan Collins, R-Maine, who is supportive of abortion rights and has not yet announced how she plans to vote on the Kavanaugh nomination, has been fielding profane phone calls and violent threats.
A 25-year-old female staffer for Collins received a call from someone telling her he hoped she would be raped and impregnated, according to a voicemail recording obtained by The New York Times.
Collins' office has also reportedly received over 3,000 coat hangers from protesters, symbolizing how abortions were sometimes done prior to Roe v. Wade, the landmark Supreme Court ruling in 1973 that legalized abortion nationwide.
Kaeley Triller, former communications director of the Just Want Privacy campaign in Washington state who has also spoken out against transgender activists' demands to allow men into women's restrooms, told The Christian Post that the nature of what was leveled at McCallister is all too familiar. Yet, she adds, it's not only conservative, pro-life women who face serious rape and death threats when they speak out against evil.
"As a Christian, I've always believed in spiritual warfare, in the existence of angels and demons, and in our responsibility to armor up Ephesians 6-style as we engage the battle in the world," she said.
"But I've never seen such brazen and visible demonic activity as what I experienced on the frontlines against transgender ideology. There really aren't words to adequately describe the depravity of some of the attacks that women, in particular, receive on a regular basis when they oppose transactivism."
Triller has personally received many serious rape and death threats from transactivists. Individuals have hijacked her social media accounts and flooded her message inboxes with detailed descriptions of how she should kill herself, along with reminders that they had purchased voodoo dolls to inflict curses upon her family. Transactivists also sent an actual hex to their campaign office and sent Triller pornographic pictures of demons performing lewd sexual acts on Jesus Christ, she recounted.
"And I'm far from the only one who has received this kind of hatred. As I began to network with other women, including radical feminists, from across the globe who openly opposed the transgender agenda, I was stunned at the similarity in the way we were all treated."
"These are not the actions or behaviors of people who are motivated solely by political opposition. This is overtly demonic behavior, and it's meant to scare people into silence, which is precisely the reason we should collectively be shouting truth all the louder," Triller said.
"For as often as we say we believe in taking up our cross and fighting with the knowledge that if God is for us, we cannot lose, when the rubber meets the road, our actions and responses to scare tactics like these will ultimately prove whether or not we believe what we are saying," she added. "Darkness is blinding to those who are committed to living in it. Sunlight is the best disinfectant, and Christians were called to shine. But we need more warriors in the fray."