Lebanese Christian Women Take Up Arms to Send Jihadis 'Straight to Hell' After String of Suicide Attacks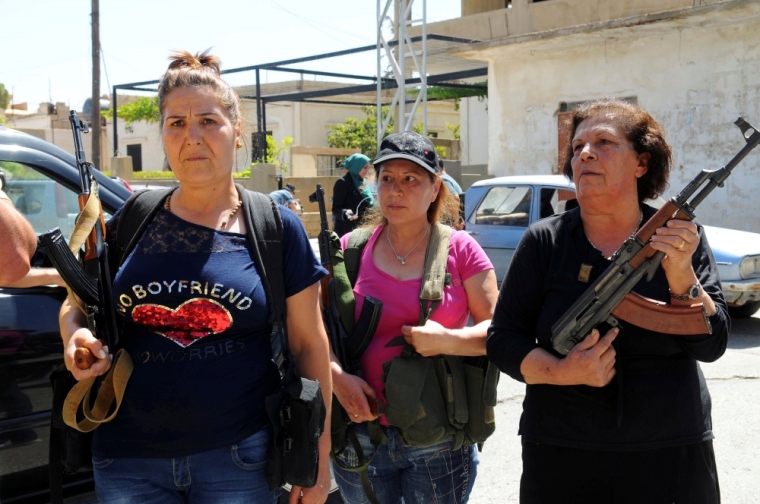 Christian women in a Lebanese village rattled by two waves of deadly suicide attacks earlier this week are taking up arms, vowing to protect their homes and threatening to send any future jihadis who attack "straight to Hell."
The day after eight Islamic terrorists killed five and wounded many others in suicide attacks in the predominantly Christian border village of Qaa, Christian women in the town were photographed patrolling the streets armed with assault rifles.
Although the village is just miles from Lebanon's border with conflict-stricken Syria, Christians in Qaa are refusing to bow to the fear of violence and terror and will not flee from their homes like hundreds of thousands of other religious minorities in the terrorized region have done.
On Tuesday, Reuters published photographs taken by Hassan Abdallah that featured three Christian women brandishing assault weapons and talking with journalists while walking down the streets of Qaa with Lebanese lawmaker Marwan Fares.
In an interview with the organization A Demand For Action, which advocates for the protection of Assyrian, Chaldean and Syriac Christians, an anonymous Christian woman living in Qaa asserted that she and others in the village are not going anywhere despite the dangers and close proximity to the Syrian civil conflict, the Islamic State and other terrorist groups.
"We will not allow Lebanon to become a new Iraq," the woman was quoted as saying. "We will not flee, we have weapons and are ready to protect ourselves."
The woman referenced a notion that Islamic jihadis believe that they will be sent to Hell and won't be granted 72 virgins if they are killed by a woman. She promised to make the terrorists' worst fears come true if they plan to come to her town again.
"Jihadists think they go to Hell if they are killed by women," she said. "We will send them straight to Hell."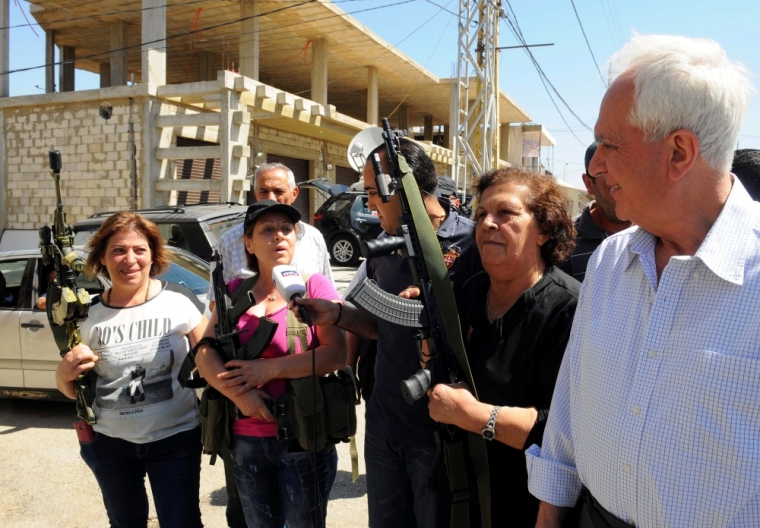 The president of the Syriac League of Lebanon and a prominent advocate for Middle Eastern Christians, Habib Afram, told The Christian Post on Thursday that it wasn't just the women of Qaa who had taken up arms. He said "all" of the villagers in Qaa had expressed a willingness to stay and had taken up arms.
Afram stressed, however, that the phenomenon of Christian villagers taking up arms in Lebanon is not new.
"The tradition is that arms are a part of what we call the furniture of Lebanese houses," Afram said. " On a personal level, most of the families in Lebanon, especially in villages in urban places, they have arms. It's local, it's not yet a militia-like style, it is not very well organized as a militia style but it is in all Lebanon that most of the population has arms inside the houses."
Afram added that Christians, especially, have more of a need to take up arms to protect their lands because Muslim security forces usually will not protect Christian communities.
"There is an extra fear from the Christian population because of what we have seen happening in the Middle East, they are the weak link in this part of the world where there is a big fight between the two big Muslim groups," Afram explained. "The Christians are not backed by anyone and they don't have power and they are victims."
"On a daily basis, Christians are leaving this part of the world because they don't see any hope," he continued. "They don't see any political regime where diversity is accepted, their equal rights are accepted."
A Demand For Action executive director Steve Oshana told CP that although Christians in the Middle East have historically been peaceful people, there is a true need for Christians in Lebanon, Iraq and Syria to do what they can to defend their communities because "institutional security forces have either abandoned [Christians] or aren't going to protect them."
"It is 100 percent out of necessity," Oshana said. "It took, in a lot of cases, getting to the point of genocide. I think that is both a reflection of how bad the situation is and a reflection of how profoundly and deeply peaceful our people are."
The fact that Christian villagers are having to take up arms shows how the world has failed Middle Eastern religious minorities, Oshana concluded.
"The reality is for us that this has turned into an all-hands-on-deck situation," Oshana added. "The fact that it has come to this and come to where, in a lot of places, everyone has to pick up arms is a reflection of how systematically they have been failed by the world, by the U.S. and other governments. This is systematic failure of institutional power to protect minorities."