John Kerry Slammed for ISIS Is 'Desperate,' 'Losing' Comment After Istanbul Airport Bombing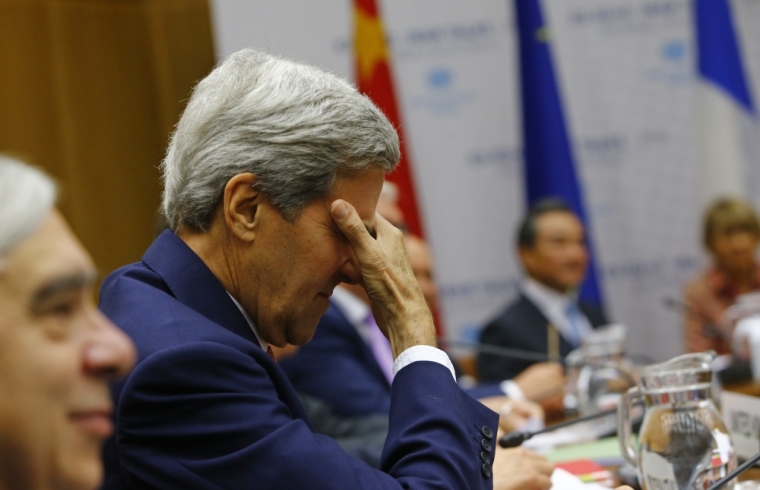 Secretary of State John Kerry has been slammed by several political commentators for "defying reality" in his claims that the Islamic State terror group attacked Istanbul's Ataturk Airport and killed 41 people because it is getting "desperate" and is "losing."
"Now, yes, you can bomb an airport, you can blow yourself up. That's the tragedy. Daesh and others like it know that we have to get it right 24/7/365. They have to get it right for ten minutes or one hour. So it's a very different scale," Kerry said on Tuesday following the attack.
"And if you're desperate and if you know you're losing, and you know you want to give up your life, then obviously you can do some harm."
While no one has claimed responsibility for the bombing yet, Turkish authorities strongly suspect that the terror group is behind the three militants who opened fire and blew themselves up at Istanbul's main airport on Tuesday, in an attack that wounded at least another 239 people.
Turkey has suffered several IS attacks on a smaller scale throughout the past year, but has not yet fully joined the U.S.-led air strikes offensive on the Islamic radical group in Syria and Iraq.
House Homeland Security Committee Chairman Mike McCaul, R-Texas, said that Kerry, along with President Barack Obama's administration, are failing to convey the truth of the IS threat to the American people.
"They've said they're on the run for many years, and they're not," McCaul told Fox News on Wednesday. "I think the airstrikes have ramped up external operations … This is an unprecedented pace of terror in modern times. And so to say they're on the run … absolutely defies reality."
Former New York City Mayor Rudy Giuliani added that the extremists are "following their plan," and compared the Istanbul bombing to IS-linked massacres in Paris, Brussels, and most recently in Orlando, Florida.
"This isn't accidental," Giuliani said, and argued that "something's wrong" with Kerry's analysis.
In his own comments, Obama said the suspected IS attack on Tuesday was "an indication of how little these vicious organizations have to offer" to society.
"I had a chance to speak to President Erdogan earlier today to discuss with him not only how heartbroken we have been by the images of the injured and those killed but also to reaffirm our strong commitment to partner with Turkey, with NATO, with the broad-based alliance that we've structured around the world to fight ISIL," Obama said.
CIA Director John Brennan testified on Capitol Hill earlier in June, however, and warned that the the U.S. government is failing to contain the spread of the jihadists.
"Unfortunately, despite all of our progress against ISIL on the battlefield and in the financial realm, our efforts have not reduced the group's terrorism capability and global reach. The resources needed for terrorism are modest. The group would have to suffer even heavier losses on territory, manpower and money for the terrorist capacity to decline significantly," Brennan said, grading the two-year anti-IS effort an "F" so far.
He added: "Moreover the group's foreign branches and global networks can help preserve the capacity for terrorism regardless of events in Iraq and Syria. In fact, as the pressure mounts on ISIL we judge it will intensify its global terror campaign to maintain its dominance of the global terrorism agenda."