Christians Arrested in Nepal for Spreading the Gospel
Christians Arrested in Nepal for Spreading the Gospel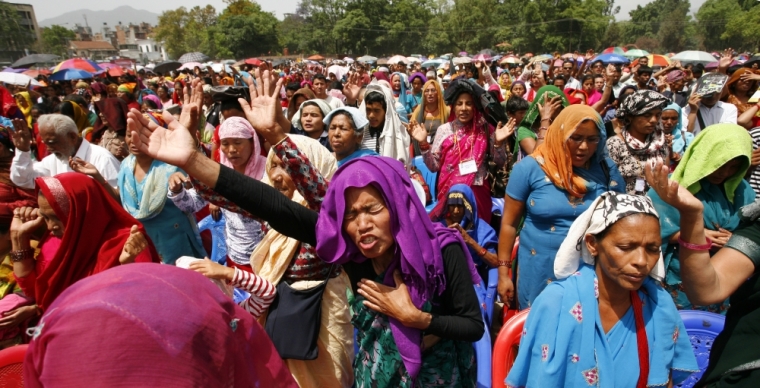 Seven Christians have been arrested in Nepal for spreading the Gospel by handing out Bible handbooks to as many as 885 students in the Dolakha district.
International Christian Concern said the Christians have been charged with attempting to convert people to Christianity in the Hindu-majority nation, which has been illegal since 2015.
The arrested Christians include principles from two schools, along with five staff members from Teach Nepal, a Christian organization.
ICC, which reports on Christian persecution around the world, revealed that a relative of one of the arrested said police officers are cracking down hard on Christians.
"The police treated them as if they were criminals, placing everyone in handcuffs. The officer who is in charge of this arrest refuses to listen to anyone and is making the Christians' lives hell," the relative said.
The Christians were then asked to sign a document admitting that the distribution of Bible-material is a violation of the law, and pledging that they will never do it again, but they all refused to sign the paper.
Christians in the country have spoken out against the 2015 law, stating that it can be used to oppress religious freedom and the growth of Christianity in the South Asian nation.
"The Christian community in Nepal believes that this is a very serious case," a Christian pastor from Nepal, who wasn't named, told ICC. "Although we are working hard to release the prisoners, the people here are nervous after hearing about this case. We feel that we have to be careful about everything that we do."
Tensions have been high between government authorities and Christians ever since the 2015 law. Last September Hindu extremists warned all foreign Christian missionaries to leave the country, accusing them of "corrupting" the nation.
"From today, the Morcha declares Nepal a Christian-free Hindu nation. We warn all the Christian religious leaders to leave Nepal, and appeal to all those who converted to Christianity to return home [convert back to Hinduism]," the statement from the radical Hindu group read at the time.
Fides News Agency noted that Christian missionaries defied those warnings, however, and pledged to continue "their mission of dialogue and proclamation of the Gospel of charity toward all."
ICC's Regional Manager for South Asia, William Stark, said that the latest arrests are concerning for all Christians in the country.
"Last year, many were concerned when Nepal adopted its new constitution that included the controversial Article 26. Christians feared that this article would be a weapon used to stop the growth of the Christian community," Stark explained.
"Today, Nepalese Christians have seen their fears realized with seven Christians being put through 'hell' simply for sharing their faith. No one should fear arrest and imprisonment for sharing their faith. ICC calls for the immediate release of these seven Christians and for Nepal to review and amend Article 26 of their constitution as it clearly violates the religious liberty of all citizens of Nepal."