Christians Blast Trump for Saying Murderous North Korea Dictator 'Loves His People'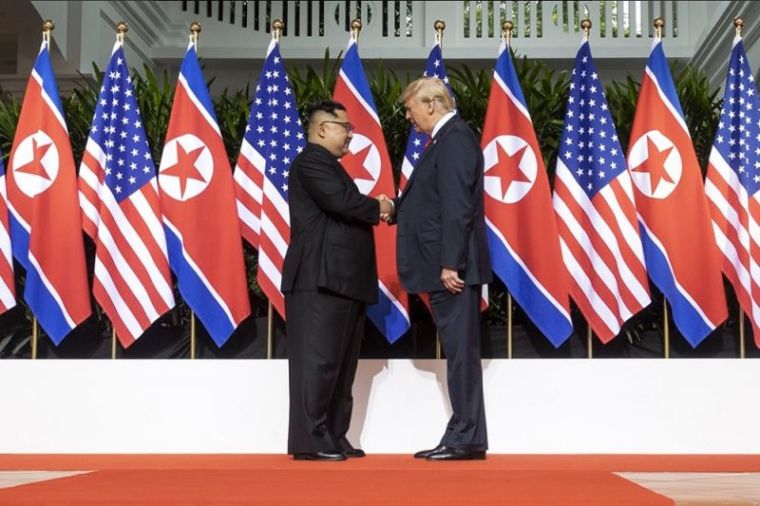 President Trump is receiving massive pushback for his recent comment that North Korean dictator Kim Jong Un "loves his people," given how thousands of North Koreans continue to be tortured, enslaved, murdered, and held in concentration camps.
His comments were uttered in a conversation with journalist Greta Van Susteren following the historic summit in Singapore Tuesday.
"He's got a great personality. He's a funny guy, he's very smart, he's a great negotiator. He loves his people, not that I'm surprised by that," Trump said of Kim.
"I think that we have the start of an amazing deal. We're going to denuke North Korea."
But the idea that the North Korean leader in any way "loves" the people in the nation under his regime, which is widely considered the most repressive in the world and is known for extreme human rights violations and brutal persecution of Christians, elicited outrage from many people spanning the political spectrum.
"This statement by Trump is one of the most inane, insensitive, cowardly, and despicable remarks in modern presidential history," said Joe Carter, editor of The Gospel Coalition, in a tweet Tuesday. "But it's also a litmus test. How you react to it speaks volumes about your values and character."
Likewise, Joe Walsh, a former Republican Congressman and radio host, argued that Trump's remark was 1,000 times worse than President Barack Obama bowing before the King of Saudi Arabia, and might be the most ignorant and offensive thing he has ever said.
"Kim terrorizes, imprisons & kills his own people. He purposely keeps them impoverished. He purposely denies them basic human freedoms. That's love?"
He added: "The next time a Democrat president meets with or makes a deal with an evil dictator, Republicans better not say a darn thing. You've just applauded the normalization of an evil tyrant who kills hundreds of thousands of his own people."
Kirsten Powers, a Democratic pundit and author, also noted the North Korean regime's atrocities and their incongruence with "love."
"[Kim Jong Un] keeps them in prison camps for offending him. There are people who are born and die in prison camps (b/c their parents upset Kim) where their 'food' is eating rats," she said Tuesday.
Bishop Talbert Swan, who pastors at Spring of Hope Church Of God In Christ in Springfield, Massachusetts, did not hold back his disgust, calling the president a "white supremacist demagogue" and the North Korean leader "a murderous self-serving tyrant."
"The media is complicit in hyping up this farce of a summit," Swan said Wednesday.
"Doltish and racist people gave us Trump as POTUS."
Longtime neverTrump conservative Peter Wehner, senior fellow at the Washington-based Ethics & Public Policy Center, also expressed his irritation Wednesday with evangelicals who back the president.
"A note to evangelical Christians who support Trump: NK is listed as the world's main persecutor of Christians. No matter; they'll still defend Trump to the end."
Senator Lindsey Graham, R-South Carolina, took issue with the President's comments about Kim loving his people, yet defended the administration's foreign policy tack, telling CNN's Anderson Cooper that he is "not under any illusion about who this guy [Kim Jong Un] is."
"I don't think he loves his people, I think he loves himself," Graham explained in the interview.
"The difference between Kim Jong Un and a radical Islamist is they want to die for their cause — Kim Jong Un doesn't. He wants to live a good life, he wants security. Above all else, he wants to be secure."
Graham tweeted Tuesday that Trump gave the North Korean leader "a way out that is good for him and the world."
"I hope Kim is smart enough to take it."