Christians' Freedom Is Being Challenged by Homosexuality and Islam, Says NRB Head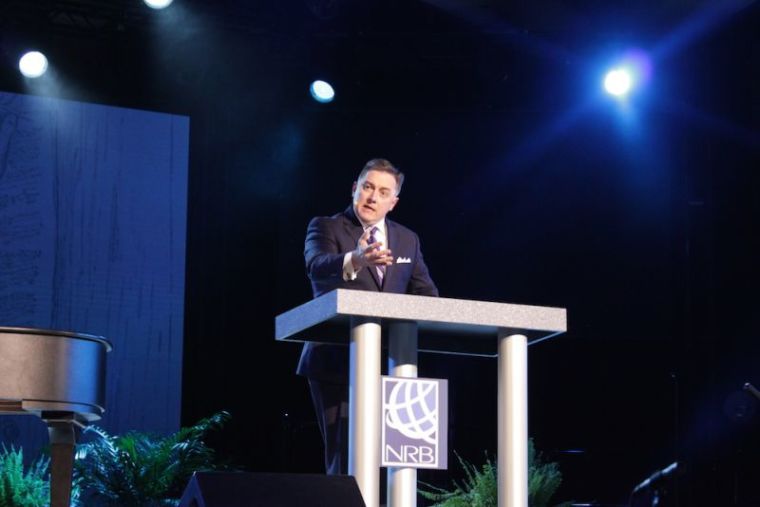 ORLANDO — The National Religious Broadcasters Christian Media Convention kicked off in Orlando, Florida, Monday with NRB President Jerry Johnson stating that the two major concerns Christians in America have are homosexuality and Islam.
"Our mission is threefold: Advancing Biblical truth, promoting media excellence, and defending free speech," Johnson said Monday night during the opening session of the annual convention.
"Religion, that's NRB. Speech, that's NRB. Press, that's NRB. I don't know another group that does all three. Some do religion, some do speech, and some do press."
Citing the Declaration of Independence — what he called America's "birth certificate" — Johnson highlighted one phrase: "We hold these truths to be self-evident, that all men are created equal, that they are endowed by their Creator with certain unalienable rights, that among these are life, liberty and the pursuit of happiness."
"We speak frankly here, the liberty and the freedom [part] is being challenged for us as broadcasters on two fronts — sexuality and Islam," he told Christian leaders, broadcasters and people from all different forms of media who gathered in Orlando to connect, discover and advance the future of Christian content.
"For now," he noted, the U.S. government has decided that same-sex marriage is legal. President Donald Trump also recently endorsed the legalization when he told CBS' "60 Minutes" that "these cases have gone to the Supreme Court; they've been settled" and he's "fine with that."
The problem with same-sex marriage being permissible by law, however, is that Christian artists should not be forced to "make the cake, provide flowers, do the pictures, and sing the songs," Johnson stressed.
The NRB head went on to reference the stories of some of this year's NRB guests He highlighted the case of Kelvin J. Cochran, who was fired as Atlanta Fire Chief for his Christian beliefs, and also the Benham Brothers, who lost the chance to host their own HGTV show in 2014 for supposed "anti-gay" remarks.
"People are penalized for this," Johnson lamented.
Addressing the concern over Islam, Johnson noted that terrorism and violence are not the only issues.
"But it's the intolerance. It's the sharia. It's the blasphemy codes," he stressed.
"Is there any country where the majority is Islam [and] it's safe for someone to convert from Islam to Christianity? Is there any culture dominated by this worldview, where you can critique Muhammad or the Quran? It is absolutely antithetic to freedom of speech, freedom of religion or freedom of the press, and we must be aware of this and alert to this."
As stated on the conference schedule, NRB will hold a few discussions in which the threat of Islam is addressed.
"It is a fact, that in Canada and in the U.K. you can be censored, you can be fined [and] your license can be pulled," he pointed out.
Johnson went on to say that one of the members of NRB had his license pulled and was fined in Canada because instead of using the word "Islam" he used "Muslim" during a show.
"I'd say the quickest way to lose freedom of speech is to not use freedom of speech, use-it-or-lose-it!" he said. "We will make NRB for the First Amendment, what the NRA is for the Second Amendment."
"If you're taking away these freedoms, NRB is a fight club and you better get used to it. Nixon wasn't paranoid they were really out to get him. Wake up. They are really out to get you," he concluded.
NRB is celebrating the 500th anniversary of the Protestant Reformation at this year's convention, which is featuring such speakers as Devon Franklin, R.C. Sproul, Lee Strobel and Eric Metaxas. The theme verse for NRB's Proclaim 17 conference comes from Leviticus 25:10, which says, "Proclaim liberty throughout the land to all its inhabitants."
Follow Jeannie Law on Twitter:
@jlawcp