Same-Sex Attracted Pastor Says He's Bullied by the Church for Opposing Gay Marriage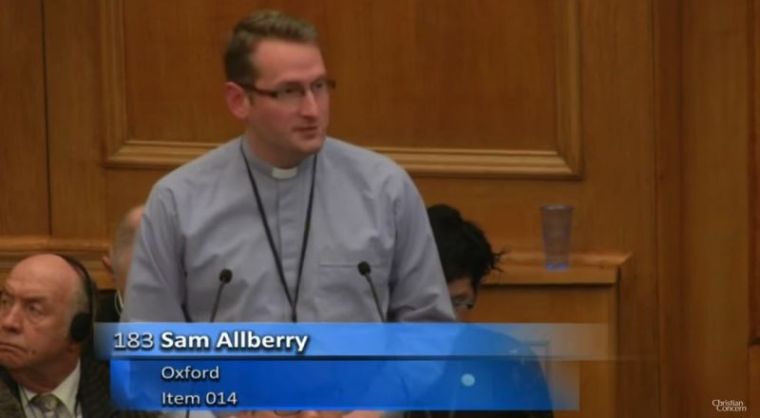 A British pastor who describes himself as "same-sex attracted," but who affirms the biblical definition of marriage between one man and one woman, has revealed that while he was bullied in school for being gay, he now feels bullied by those within the Church who support gay marriage.
"I am same-sex attracted and have been my entire life. By that, I mean that I have sexual, romantic and deep emotional attractions to people of the same sex. I choose to describe myself this way because sexuality is not a matter of identity for me, and that has become good news," said Sam Allberry, a pastor in Maidenhead who has authored books such as Is God Anti-Gay? speaking at the Church of England's General Synod.
"My primary sense of worth and fulfillment as a human being is not contingent on being romantically or sexually fulfilled, and this is liberating," Allberry said in his speech, with the video uploaded online by Christian Concern.
The pastor pointed out that Jesus Christ was never married or had romantic relationships, and so it would be wrong to call romantic pursuits intrinsic to human fulfillment.
"I have met literally hundreds of Christians in my situation, and know of thousands more, who are same-sex attracted, and who joyfully affirm the traditional understanding of marriage being between a man and a woman, and the only Godly context for sex. If you do not hear from more of us, it is because it is really hard to stand up and describe ourselves in this way," he continued.
Allberry pointed out, however, that the Church is no longer a "safe place" for him.
"By Church I do not mean my congregation, I mean this Synod," he clarified.
"I was bullied at school for being gay. I now feel I'm being bullied at Synod for being same-sex attracted and faithful to the teaching of Jesus on marriage."
Allberry praised a recent report by the Church of England that reaffirmed the traditional teachings on marriage, even as the Anglican Communion as a whole continues to face bitter division and a growing split regarding doctrine and attitudes toward homosexuality.
Evangelical leaders in the U.S., such as Russell Moore, president of the Ethics & Religious Liberty Commission of the Southern Baptist Convention, have praised the pastor for his convictions.
"I don't know many people with the courage and conviction of @SamAllberry," Moore wrote on Twitter, while linking to the video in question.
Justin Welby and John Sentamu, the archbishops of Canterbury and York — the two most senior figures in the CofE, said that despite affirming traditional marriage, the Church is not looking to exclude gay people.
"We want to be clear about some underlying principles. In these discussions, no person is a problem, or an issue. People are made in the image of God. All of us, without exception, are loved and called in Christ. There are no 'problems,' there are simply people called to redeemed humanity in Christ," they said in a joint statement, as reported by The Guardian.
They added that the church will have to continue to "deal with the real and profound disagreement — put so passionately and so clearly by many at the debate."