Christians, Muslims Unite to Protest Against Myanmar's Rohingya Crisis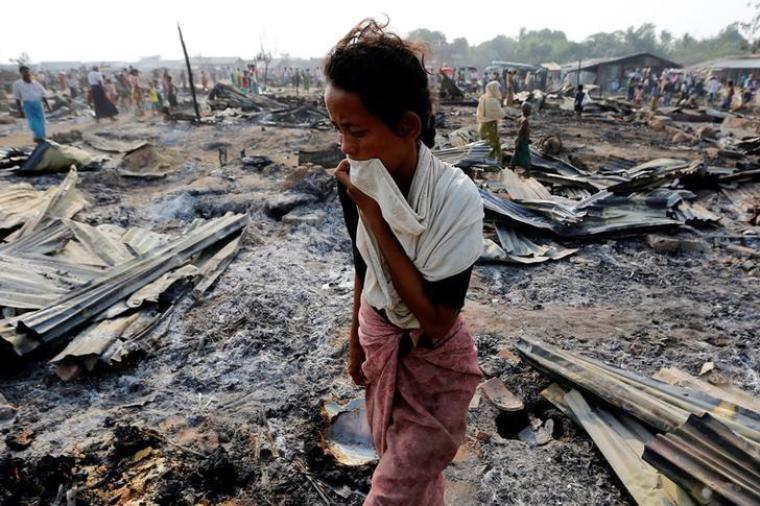 As thousands of civilian Rohingya Muslims are fleeing what the United Nations has called "ethnic cleansing" in northern Myanmar, India's Christians and Muslims and people of other faiths got together in the central Indian city of Lucknow on Friday to protest and call for an end to the ongoing "genocide."
The protesters, who gathered after Friday prayers at the Aishbagh Eidgah mosque in Lucknow, the capital of Uttar Pradesh state, used strong language on placards, including "United Nations should boycott the Myanmar government" and "Those putting Hindus and Muslims of Rohingya to torture are terrorists," according to The Time of India.
The ethnic Rohingya Muslims have faced discrimination and statelessness in Buddhist-majority Myanmar for decades, and torture and killings in recent years. About 400,000 Rohingya Muslims have fled to Bangladesh due to Myanmar's military attacks on them in Rakhine state since since Aug. 25, when the Arakan Rohingya Salvation Army, allegedly a "separatist" group, launched an attack on police posts and a military base in Rakhine state.
Those fleeing are having to walk for more than a week to cross the border.
At least 62 Rohingya villages have been burned down, according to Human Rights Watch.
"It is appalling that the country's own government is conducting atrocities on the innocent Hindus and Muslims of Rohingya area that only proves systematic ethnic cleansing," Maulana Khalid Rasheed Farangi Mahali, the imam of the mosque, was quoted as saying after the protest. "Officials responsible for such heinous crime against the communities, should be booked and tried under the international criminal law."
More than half of the Rohingya refugees who have fled Myanmar in the past three weeks are children, including hundreds who traveled without family members, putting them at particular risk in cramped, muddy camps in Bangladesh, The New York Times reports, quoting aid workers.
Muhammad Yunus, the 2006 Peace Prize laureate, has sent a letter with the signatures of 12 Nobel laureates to the U.N. Security Council, urging it to take immediate action to stop the military attacks on civilians. "The arguments that the Myanmar government is using to deny Rohingyas their citizenship are ludicrous," the letter said.
While Nobel Laureate Aung San Suu Kyi is the de facto leader of the country, its the generals who continue to control national security policy.
Suu Kyi has also been widely condemned by the international community for not speaking out against the ongoing violence.
Elsewhere along Myanmar's borders, where ethnic rebel groups and government troops have been fighting, civilians from other ethnic and religious minorities have also been forced to flee for safety over the last few monhts.
Tens of thousands of Christians took refuge in Malaysia earlier this years.