Christians Must Choose Civility After Trump Supporters Told They're 'Not Welcome': Karen Swallow Prior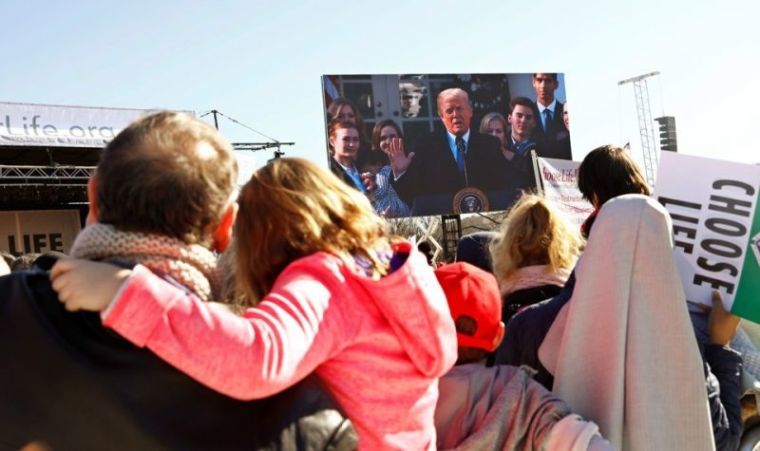 Liberty University English professor Karen Swallow Prior has reflected on the breakdown of civility in America, urging Christians to choose hospitality in an age where some, such as supporters of President Donald Trump, are being told that they are "not welcome" anymore.
Writing in The Gospel Coalition on Wednesday, Prior recalled an incident years ago when she was in her local convenience store and saw there a notorious abortionist, who she had been protesting at his abortion clinic.
"I knew what my role was when I was at the clinic protesting at the site where his hands did their dirty work," she wrote, without revealing his name.
"But I had no idea what I was supposed to do when I faced him in the clean, well-lighted convenience store, where citizens of all walks of life come together, bonded by our common need to buy gas, milk, bread, coffee, and water."
She says that without "forethought or plan," she went ahead and asked him, "When are you going to stop killing babies?"
The man "wheeled around so fast that my heart began beating impossibly faster than it had been before. His voice exploded into a torrent of angry words, aimed like bullets at my impassive face. I stood still and didn't say another word."
The abortionist stormed out of the store after the incident.
She reflected that the exchange is on her mind now after the recent news that Trump's White House Press Secretary Sarah Sanders was forced to leave a Virginia restaurant while she was dining with her family. Following that, her family members (excluding her and her husband who went home), decided to dine at a restaurant across the street, where the Red Hen's owner followed them and organized a protest. 
Sanders revealed that the Red Hen's owner in Lexington, Virginia, had asked her to leave specifically because she works for Trump.
"Healthy debate on ideas and political philosophy is important, but the calls for harassment and push for any Trump supporter to avoid the public is unacceptable," Sanders said earlier this week.
"America is a great country and our ability to find solutions despite those disagreements is what makes us unique," she added.
Separately, Rep. Maxine Waters, D-Calif., also said that Trump officials should be opposed anywhere they go in public.
"If you see anybody from that [Trump] Cabinet in a restaurant, in a department store, at a gasoline station, you get out and you create a crowd and you push back on them, and you tell them they're not welcome anymore, anywhere," Waters said, as reported by NPR.
Swallow noted on her blog that she "understands the impulse" of confronting people one disagrees with, but admitted that it "frightens" her to see where the country is heading.
"In a free society, we are called both to live peaceably with one another and to hold one another accountable for violating principles that we believe undermine a free society. As citizens, sometimes we should offer hospitality to our enemies," she wrote.
"Other times, we must rebuke them. It takes wisdom to know which situations call for which response."
She suggested that Christians need to "err on the side of hospitality," and wondered what would happen if Americans start choosing to have conversations instead.
"I wonder what might have happened if one of the restaurant waiters who wanted Sanders kicked out had instead served her with food and kindness, the sort that leads to conversation and sometimes even the chance to offer a plea or a soft admonition?" she asked.
"We can find inspiration for even more radical acts of hospitality in the story of Daryl Davis, a black man who has spent the past 30 years befriending KKK members — resulting in hundreds of them renouncing their past ways," she added.
Prior said that she would still speak out against the abortionist at the convenience store should she be given the chance today.
However, she explained that what she would "do more often — and did, in fact, do — is dine with the executive director of the local Planned Parenthood, speak at conferences with abortion providers, co-author a paper with an abortion clinic director, and even befriend one of the clinic escorts who assaulted a fellow pro-lifer."
"A blessing might be truthful words spoken in love. But it's even more likely to be hospitality in the form of a good meal," she concluded.