Christians Who Fight for Truth, Stand for Christ, Will Be Hated, Persecuted, Rick Santorum Says
Christians Who Fight for Truth, Stand for Christ, Will Be Hated, Persecuted, Rick Santorum Says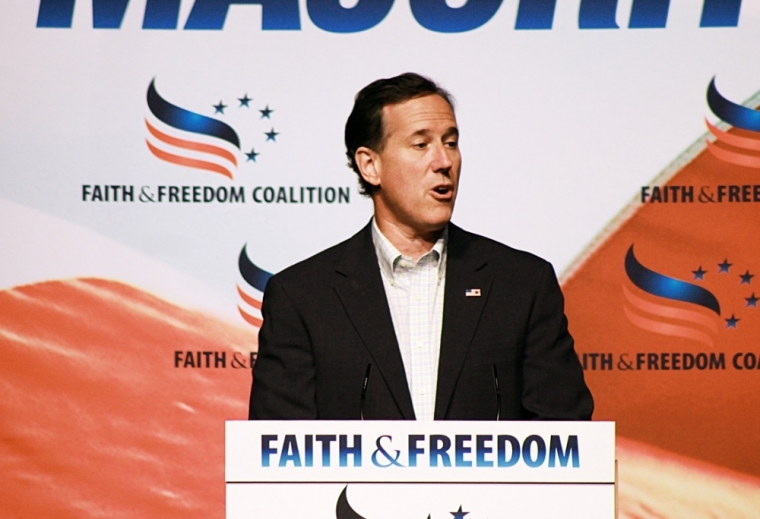 Former Senator Rick Santorum, who is exploring a run for president in 2016, gave a rousing interview on Wednesday, warning Christians that they will face persecution for standing up for Christ.
Santorum gave the interview after the screening of "One Generation Away," a new docudrama that suggests Americans may be only one generation away from facing religious persecution. In it, he addressed the situation future American Christians may be dealing with for living their lives for Christ.
"I know how these stories end," Santorum told CNS News, "and if you're a believer you all know how it ends. And we know the good guys win, truth wins. And so your job is to just focus on being faithful, standing by the truth, fighting for the truth, understanding the world is broken, and that they will hate you and persecute you because you stand for Him and what He taught. And that's a great blessing, not something to be avoided but something to be embraced."
In a separate interview with The Christian Post, Santorum spoke more in-depth, and clarified his definition of persecution in the United States.
"If we don't nip it here, things get a lot worse. I used the term earlier in our conversation to describe what's going on in America is persecution but when I say that, I usually step back and say, you know, persecution here in America is fairly mild compared to what's going on in the Middle East … You've gotta use that term very advisably. Nothing like that is happening here in America, thanks be to God, but things weren't always that way in other parts of the world, either. It starts with a gradual erosion," Santorum explained.
Santorum is CEO of EchoLight Studios, which worked with the Family Research Council to produce the film, which is titled after a quote from former president Ronald Reagan, who said, "Freedom is never more than one generation away from extinction." It is available on DVD now.