Rick Santorum: Traditional Marriage Advocates 'Need to Fight Back' (Video Interview)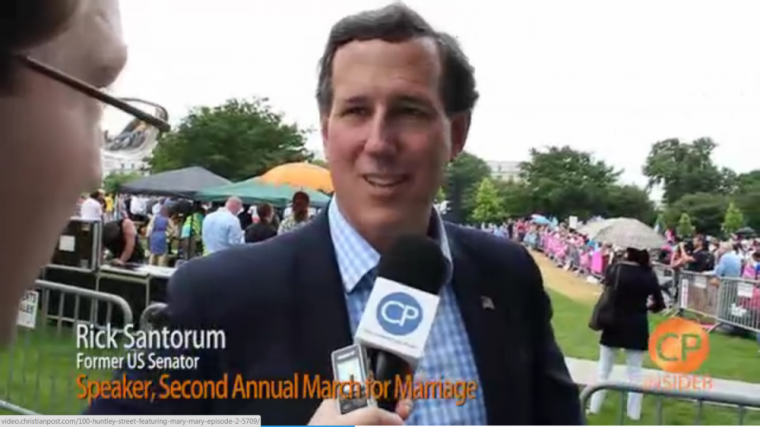 WASHINGTON - Former United States Senator Rick Santorum has stated that supporters of traditional marriage "need to fight back" against the current momentum of the same-sex marriage legalization movement.
In an interview with The Christian Post at the Second Annual March for Marriage, Santorum stated that despite claims by some "this movement is still very much alive."
"This is a very important fight that we have on our hands to reclaim this issue of marriage for the public good that this is and we got to continue to give this message," said Santorum.
"We need to fight back with the tools that we know work, which is love and compassion and doing what's best for society."
Santorum was one of several prominent speakers at the March for Marriage, which held its initial rally before thousands of attendees outside of the U.S. Capitol Building.
Other speakers for the Thursday event included former Arkansas Governor Mike Huckabee, New York State Senator Ruben Diaz, and National Organization for Marriage President Brian Brown.
Santorum, who spoke Thursday morning before attendees marched to the Supreme Court building, compared the debate to a "sporting event," noting that momentum can go either way at any time.
"Momentum doesn't always stay the same and so this could swing back the other way," said Santorum to CP, adding that "it doesn't swing back if the other team just sits back and takes it. We've got to fight back."