Christians With College Degrees Are Not Less Religious: Pew Study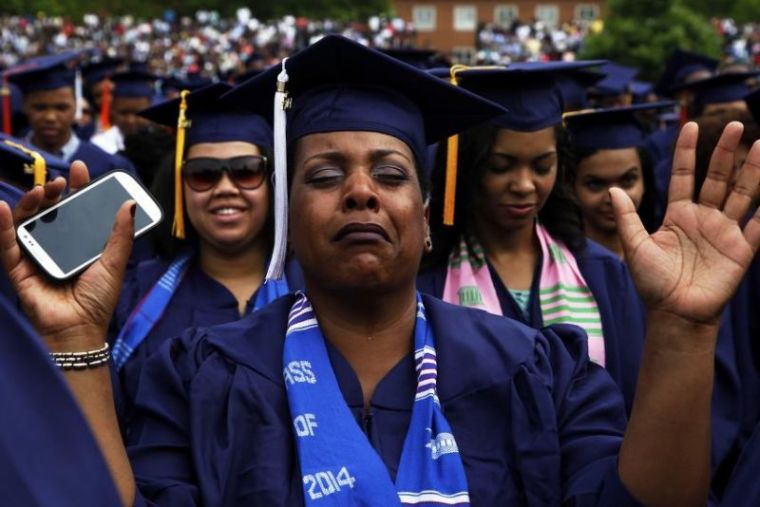 Detailed analysis by the Pew Research Center has challenged the long-held belief that Americans with higher education are less religious than those without, at least when it comes to Christianity.
Pew positioned in its analysis on Wednesday that the idea that more education means less religious belief "has been a part of the public discourse for decades," and said that while that may be true for other faith groups, it's not true for Christians.
It noted that 71 percent of American adults identify as Christians, and said that those "with higher levels of education appear to be just as religious as those with less schooling, on average. In fact, highly educated Christians are more likely than less-educated Christians to say they are weekly churchgoers."
On one hand, statistics that have been drawn up from different surveys show that fewer than half, or 46 percent, of all college graduates find religion "very important" in their lives, compared to 58 percent of those with only a high school education.
What is more, 11 percent of college graduates described themselves as atheists or agnostics, compared to 4 percent of adults with a high school education or less.
When looking specifically at Christians, however, college graduates were found to be as religiously observant as those with less education, and in some areas, such as weekly religious service attendance, they fared better than Christians with less education.
"Overall, 70 percent of Christians with college degrees have a high level of religious commitment on a scale incorporating four common measures of religious observance (worship attendance, frequency of prayer, belief in God and the self-described importance of religion in one's life), as do 73 percent of those with some college and 71 percent of those with no college experience," Pew pointed out.
The claim held true also when looking at the various denominations within Christianity.
Statistics from a U.S. Religious Landscape Study, conducted June 4–Sept. 30, 2014, used a four-item index of religious commitment that included religious attendance, daily prayer, certainty of belief in God, and whether religion is considered very important.
The study found that 87 percent of evangelical Protestants had a high religious commitment based on the four-item index of religious commitment, compared to 83 percent of those with some college and 82 percent with a high school diploma or less schooling.
As a whole, the differences in religious commitment between highly educated and less educated believers among Mainline Protestants, Historically black Protestants, and Roman Catholics were not great either, the research showed.
Although the Pew study did not get into such specifics, sociologist Philip Schwadel from the University of Nebraska-Lincoln said back in 2011 that the question of whether Christians who go to college are less religious highly depends on the definition of the phrase.
"If it's simply attending religious services, then no, highly educated people are not less religious. In fact, they're more religious," Schwadel said at the time.
"If it's saying the Bible is the literal Word of God and saying that only one religion is the true religion, then they are less religious," he suggested.