Pastor charged with attempted murder of wife and kids lost triplets in 2008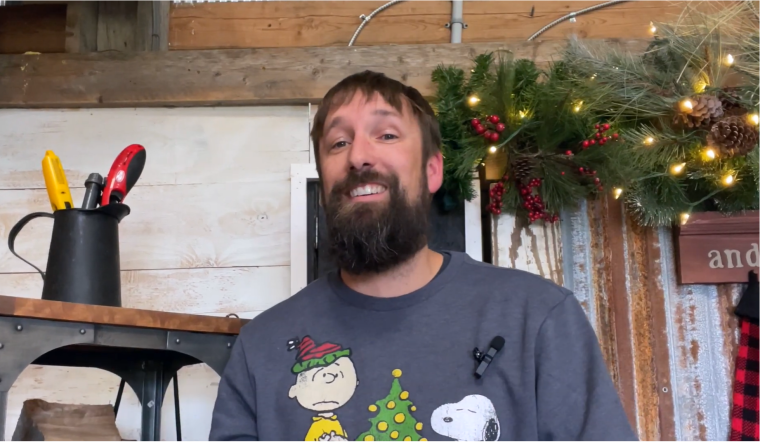 On the 15th anniversary of their wedding on Aug. 9, 2018, former Crossroads Christian Church Children's Pastor Matthew Lee Richards thanked God for his wife, Stephanie, and the five children they share together.
"15 years ago we gathered with our friends and family to get married in Shelbina where I sit today. Some people search for a lifetime to find a wife like you and the marriage we have. I am truly blessed that God crossed our paths and that Natalie convinced you to go to dinner with me," Richards wrote in a post on Facebook. "I would never have dreamed of having 5 kids, being a pastor without your love, support, and prayer. You give my life meaning and purpose and you show me all the beautiful possibilities that God can use me through. I thank God for every single day I have with you! Happy Anniversary."
Stephanie, who is the director of Crossroads Christian Preschool and Parents Day Out, also posted to Facebook about the hills and valleys of her relationship with her husband, including the time their triplets, Elisha James, Isaac Matthew and Micah Ray died in July 2008.
"15 years ago we held three of God's greatest blessings in our lives. Three miraculous blessings he gave, and all too quickly took away. Three blessings we held as they breathed their last breaths. We felt the pain of a heartbreak indescribable by words and prayed prayers full of grief, anger, doubt and questions from the lowest of valleys," Stephanie Richards wrote on Facebook on July 23.
She then shared how, as a couple, they weathered that grief of losing their triplets with God's grace.
"Yet even there in our deepest valley, His grace was enough, His love our only strength, and Heaven our only hope. We spent a long time in the valley of despair, our hearts broken, and our dreams shattered. Mountains no longer existed as we wandered the valley plains of grief, swallowed by unbearable loss. But. God never left us. His people loved us and prayed for us. And oh so slowly, God began to pull us out of the valley," Stephanie continued.
"While there have been many mountain tops in my journey over the past 15 years, the valley remains a familiar home to my heart. I have found time has not lessened my grief as I was so often told it would, but it has matured it," she explained.
"Today, fifteen years later, our grief is no less, but it has found some level of understanding as we have seen moments of purpose in our loss. And with each of these moments, we find a little more peace and gain a bit more of a heavenly perspective. You are always and forever in our hearts, your very beings woven into every moment of our lives. How we long for the day to hold you all once more. Happy 15th Birthday in heaven to our triplets, Elisha James, Isaac Matthew, and Micah Ray," Stephanie Richards ended.
The children's pastor's wife was looking forward to celebrating her wedding anniversary with her husband this year and even asked friends for recommendations of places that are in driving distance from Kansas City.
On social media, Pastor Matthew Lee Richards also appeared to be a doting father who fought hard to protect his children and raise them as Christians. He once had one of his sons help him preach on YouTube and he was a member of the dadtired.com community for Christian fathers which worked together to help grow and lead their families in faith.
So when he allegedly tried and failed to murder his wife and four of their five children and then attempted to burn their house to the ground with their bodies inside on Saturday, his now former employer explained in a statement on their website that they were in shock.
"The Crossroads Christian Church family is shocked, sickened, and saddened by Saturday morning's events involving our former children's pastor. This is a tragedy beyond what any of us could have imagined," the church said in their statement. "We give our full cooperation and support to the Shawnee Police Department and the Johnson County Sheriff's Department as they conduct their investigation."
The Shawnee Kansas Police Department announced in a statement Saturday that the 41-year-old Richards had been charged with five counts of attempted murder and one count of aggravated arson with risk of bodily harm.
Investigators say they were called along with the local fire department to the pastor's house located in the 6600 block of Goode Drive for a report of a disturbance and a house fire at 3:47 a.m. on Saturday.
They soon discovered that the pastor's children and wife suffered "laceration injuries of varying degrees." As of Saturday, his wife and two of his children remained hospitalized while his 19-year-old son, along with two of his other children, were released from the hospital.
At his arraignment in the Johnson County District Court on Monday afternoon, KCTV5 reported that Richards did not enter a plea because he did not yet have an attorney. He is now expected to be represented by a public defender who was appointed by a judge at the hearing.
As Crossroads Christian Church grapples with the shock of the former pastor's attack on his family, they are also offering grief counseling and other support to his wife and children and other members of their faith community.
"We are offering support and resources to the members of the Richards family who were victimized and their extended family. The road to recovery will be long — physically, mentally, emotionally, and spiritually. Please respect their privacy as they walk this incredibly challenging and painful road. Please join us as we continue to pray for and stand with them," they said in their statement.
"We also ask for your respect and prayers for the many children and families affected by this incident. We are all grieving with our dear friends who are deeply hurting in so many ways."
https://crossroads-christian.com/