Church of England begins review of marriage, sexuality; calls for honest discussion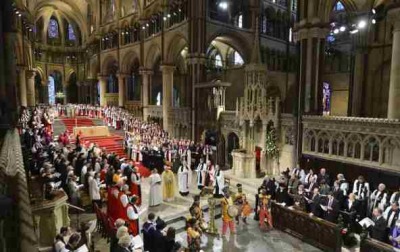 The Church of England announced that it is going to begin a formal "discernment and decision-making" process "about a way forward for the church" in regards to its teachings on sex, sexuality and marriage.
Church leaders are aiming to come to a conclusion on the long-debated issues by 2022.
The announcement came with the launch of the "Living in Love and Faith" resources, which more than 40 people, led by the Bishop of Coventry Christopher Cocksworth, worked on for three years to help people participate in honest discussions, listen to life stories and understand each other's views. Part of the resources include a 480-page book that is "thought to be the most extensive work in this area by any faith group in the world."
In the foreword of the book, Archbishop of Canterbury Justin Welby and Archbishop of York Stephen Cottrell acknowledged and apologized for the "huge damage and hurt" the church body has caused to LGBT people "where talk of truth, holiness and discipleship has been wielded harshly."
"The supreme and unique beauty of the person of Jesus of Nazareth is found not only in that he is the Truth, but also that his truth abounds in grace and love," they wrote as they called for repentance.
As part of the decision-making process, the bishops plan to present proposals before the Church of England's General Synod in 2022. 
"Most pressing among our differences are questions around same-sex relationships, and we recognise that here decisions in several interconnected areas need to be made with some urgency," the book says.
Cocksworth stated that whether the bishops would recommend a synod vote on allowing same-sex marriages within the church body for the first time is "only one question among many" that they would consider.
He also said some within the church body feel that its "doctrine of marriage is ripe for development."
The Rt. Rev. Julian Henderson, bishop of Blackburn and president of the Church of England Evangelical Council, responded to the new resources and said they will look closely at them to see if they align with Scripture.
"For us, this is about following Christ by submitting to what Scripture says, just as He did. So we will need to discern which of the materials in LLF do that by evaluating all of the various resources in the light of Scripture. While discussions about these issues are always welcome, the key question is not one of church procedure but whether we think that the teaching of Scripture is right. So we will engage, but this is actually about obedience to Scripture," he said in a statement.
He also offered support to those in the church body who are concerned that the Church of England will embrace same-sex marriage and "depart from historic orthodoxy."
"We will resource you, support you and lead you. We will contend unflaggingly for the faith once for all delivered to the saints. We will uphold what Christians have always believed through history and what the overwhelming majority of Christians globally still believe. These are not matters on which we can simply agree to differ, for reasons the New Testament makes clear."
Last January, an open letter signed by over 2,000 clergy had criticized the denomination's transgender affirmation guidance issued a month earlier.
The letter called on the House of Bishops to "revise, postpone or withdraw" its controversial pastoral guidance issued in December 2018 that allowed Anglican clergy to perform Affirmation of Baptismal Faith ceremonies during church services to symbolize a person's gender transition.
The guidance also encouraged clergy to refer to trans-identified people by their chosen name and preferred pronouns.
The letter explained that while gender dysphoria had been recognized for decades, "evidence from the medical and social sciences is often conflicting and poor quality." It stressed that "controversial new theories" regarding the relationship between biological sex and the meaning of gender had been linked to gender dysphoria.
Although the proponents of the guidance claimed that no new liturgy would be offered, those who opposed contended that it did create a new liturgy "since existing wording is now being put to a new purpose."
The Church of England responded to the letter by saying a major new set of teaching and learning resources on identity, relationships, marriage and sexuality, "Living in Love and Faith," would be published after "serious consideration" to their concerns.
Last July, the denomination said the marriage of worshipers who transition to a different gender would still be valid, and clarified that the position extended only to worshipers who were in an opposite-sex relationship at the time of their marriage.