Churchome employee allegedly sold home to meet church's compulsory tithing policy: lawsuit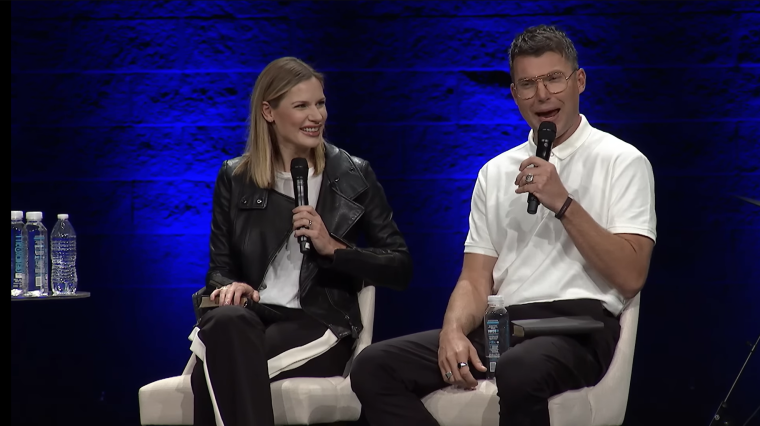 Churchome, the Washington state megachurch led by Judah Smith and his wife Chelsea, has been slapped with a class action lawsuit for allegedly imposing a tithing policy on employees, in violation of state law, that requires them to give back no less than 10% of their gross earnings to the church or face disciplinary action, including termination.
One employee allegedly claimed that he was so committed to abiding by the policy he chose to sell his house during a financially difficult period so that he could afford to keep up with Churchome's policy.
The lawsuit, a 44-page complaint filed last Tuesday in the King County Superior Court of Washington, was filed on behalf of Churchome employee Rachel Kellogg and at least 100 other employees affected by the policy during the last three years.
It names Judah Smith, Churchome's lead communicator, his wife Chelsea, the church's lead theologian, and Chief Executive Officer David Kroll as defendants.
"Defendants have engaged in a systemic scheme of wage and hour abuse against their employees, including the requirement that all employees rebate ten percent of their gross earned wages back to Defendants in the form of tithes on a monthly basis or face actual or threatened pressure, discipline, or termination," Kellogg's complaint says.
Churchome did not immediately respond to questions about the lawsuit from The Christian Post Monday. Kellogg's attorneys, Toby J. Marshall and Jasmin Rezaie‐Tirabadi of the Terrell Marshall Law Group PLLC, contend in the complaint that the conduct of the Smiths and Kroll violate Washington's Wage Rebate Act and the state's Consumer Protection Act.
"Plaintiff and Class members are current and former Churchome employees who have been victimized by Defendants' unlawful compensation practices, unfair or deceptive acts or practices, and unfair methods of competition," the complaint insists. "This lawsuit is brought as a class action under Washington law to recover unlawfully rebated wages, which must be returned to Plaintiff and those similarly situated."
The complaint also alleges that the defendants enacted the tithing policy "in pursuit of financial gain or livelihood" for themselves as well as their "marital community."
Kellogg, who has been working for Churchome since December 2019, is currently a post-production producer, a position she has held since July 2022 after serving in other capacities. She also works remotely from Greenville, South Carolina.
According to the complaint, Kellogg was not informed of Churchome's tithing policy in the job posting or during orientation when she was first hired.
It wasn't until April 2020, a month after the church had stopped in‐person church services due to COVID‐19, that she learned how serious the tithing policy is during a remote staff meeting with Judah Smith.
"Defendant Judah Smith reminded all employees of Defendants' policy that the employees were required to tithe ten percent of their paychecks back to Churchome, warning that former employees had been fired because they had failed to meet this company requirement," the complaint says.
"I'll be very honest: people have already been transitioned and moved on and fired because they were not tithing," Smith allegedly told the meeting.
The church's lead communicator further quoted a Bible verse he said was sent to him by former Seattle Seahawks quarterback and Churchome board member Russell Wilson to explain why employees "rebating ten percent of their paychecks back to Churchome was a 'black and white' issue and even more important than the religious rite of taking communion."
"Giving ten percent of a paycheck that comes from the tithe –– to not tithe off of a paycheck that comes from a tithe doesn't work for me. I'm just going to be real clear: it just doesn't work for me," Judah Smith reportedly said in the meeting, according to the lawsuit.
Afraid of losing her job, Kellogg began tithing 10% of her salary that month, which the church took from her checking account twice monthly via electronic funds transfer.
Two months later in August 2020, Kellogg was injured in a serious car accident and was forced to purchase a new car that came with higher expenses along with medical bills.
"Because of the unforeseen financial burdens related to the car accident, Ms. Kellogg could not afford to continue rebating ten percent of her earnings back to her employer, so she stopped tithing in or around December 2020," the complaint states.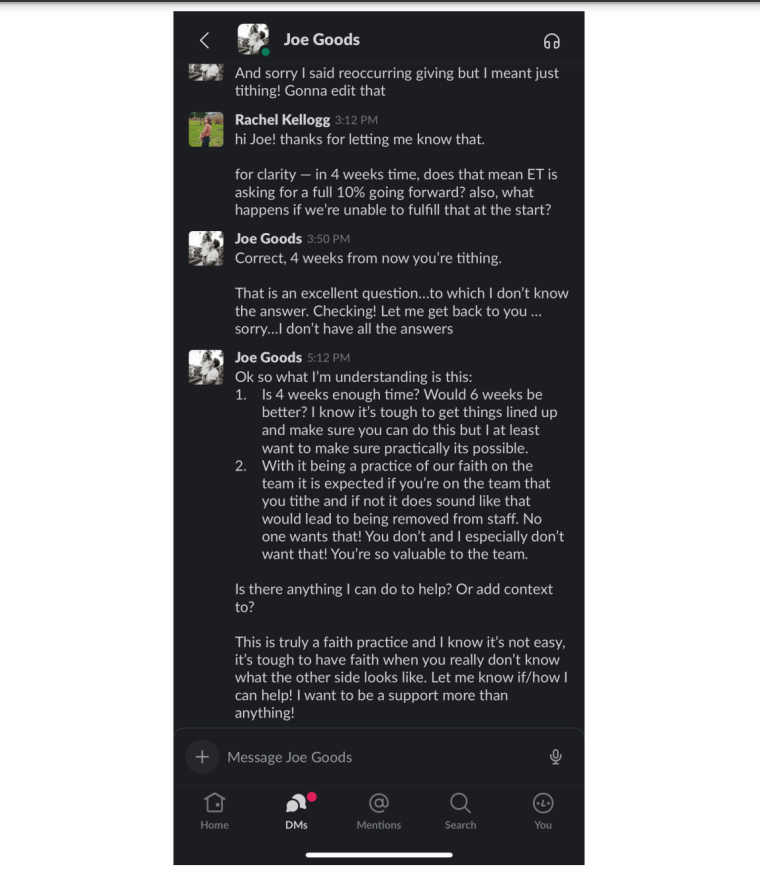 In November 2021, Kellogg was warned in a telephone meeting by Churchome's then‐Chief Creative Officer Wes Halliburton "that she needed to begin tithing the required ten percent of her wages back to Churchome every month."
She was also referred to Churchome's employee handbook, which notes, among other things, that "We believe in the Tithe (first ten percent of our income) that belongs to the Lord, offerings that are given willingly and alms that are given to the poor. We believe prosperity is the will of God for every believer and always to be associated with God's purpose. (Deuteronomy 8:18; 2 Corinthians 8:9; 9:6‐15)."
When she failed to resume tithing 10% of her income to Churchome after several other efforts by superiors to get her to comply, she was informed by Joe Goods, the church's content director, that he chose to sell his home to meet the tithing requirement when he hit hard times.
"On February 28, 2023, Ms. Kellogg had a meeting with Joe Goods, Churchome's Content Director and another of Ms. Kellogg's supervisors about tithing. Mr. Goods told Ms. Kellogg that he had looked at her record of tithes to Churchome and discovered she had only done so sporadically in 2022 in amounts that were less than ten percent of her wages," the complaint says.
"Ms. Kellogg told Mr. Goods that she simply could not afford to rebate ten percent of her wages back to Churchome every month. Mr. Goods relayed to Ms. Kellogg that when he had previously fallen on hard financial times, he chose to sell his house so that he could continue tithing to Churchome rather than not tithe."
Goods later informed Kellogg that the church would increase tithing audits to every six months to ensure that employees were compliant. And just this month, according to the complaint, Goods suggested that if she didn't start paying up, she could be "removed from staff."
"On March 7, 2023, Mr. Goods followed up with a Slack message to Ms. Kellogg informing her that the Churchome executive team expected her to begin tithing within four weeks of the date of the message," the complaint noted
"Mr. Goods further suggested that other Churchome employees were also being reprimanded for not tithing, saying the 'executive team is going through this with everyone that's having these talks and giving more clear direction on expectations.'
"Ms. Kellogg asked Mr. Goods if the executive team expected her to tithe the full ten percent starting in four weeks and to continue doing so moving forward. Mr. Goods replied, "Correct, 4 weeks from now you're tithing," the complaint notes.
"She also asked him what would happen if she was unable to meet that requirement. Mr. Goods responded by strongly suggesting that she would be terminated: 'With it being a practice of our faith on the team it is expected if you're on the team that you tithe and if not it does sound like that would lead to being removed from staff.'"
The lawsuit against Churchome comes as recent reports allege the church was among several churches worldwide that participated in an honorarium scheme run by Hillsong Church. Churchome paid up to $100,000 annually in membership fees to be part of a network called Hillsong Family. Whistleblower documents allege that pastors of churches in the Hillsong Family gain access to a preaching circuit where pastors travel and dine in luxury at the expense of host churches in the network while collecting tens of thousands in cash honorariums.