Citing 'infidelity,' Hillsong Church Montclair's creative director resigns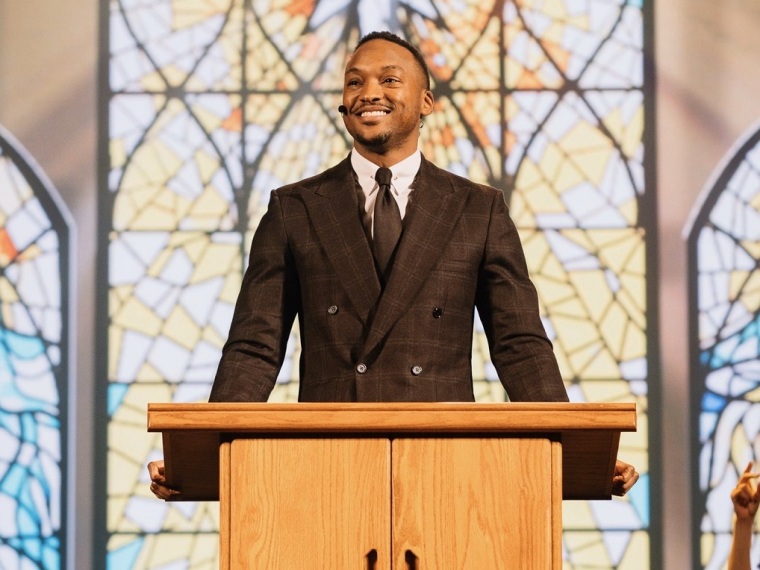 Scandal-ridden Hillsong Church took another hit to its U.S. arm Tuesday when Darnell Barrett, creative director of Hillsong Church Montclair in New Jersey, revealed he resigned from his position citing "infidelity" in his marriage.
The 32-year-old father and U.S. Navy veteran confirmed his resignation to DailyMail.com after he accidentally shared lewd workout photos of himself wearing nothing but tights in a message to a former volunteer on Instagram last month.
"We thought it was best for me to move on. I don't want to get into the details," Barrett told the publication.
The Christian Post reached out to Hillsong Church for comment Wednesday, but a response was not immediately available.
Barrett joined Hillsong Church as creative director in January 2019, according to his LinkedIn profile. This came shortly after he revealed to the church in December 2018 how he had reconnected with his biological father, Hampton Robinson, for the first time that year after searching for years to find him.
Barrett and his brother, Daniel, were given up for adoption because of their parents' drug addiction.
"I cared about drugs more than I cared about being a good father at that time in my life," Robinson told his son during a presentation at Hillsong. "It's hard to look you in the eyes and say that to you, but ... that's the truth."
The Hillsong staffer, who also preached at the church, said he struggled with that knowledge for most of his life and told Steve Harvey in 2019 that he was working through the abandonment by his father with prayer and therapy.
"He (father) was honest with me. He told me, he looked me in the eyes and said, 'I loved drugs more than I loved you.' Just hearing that, I still struggle with this idea of being enough for someone to stay in my life. So it's something I'm working on and I'm in therapy for and lots of prayer," he told Harvey.
Barrett said the controversial photos, which showed his manhood, were shared last month on Instagram with a "close friends" group in which he provides updates on his battle with depression and anxiety. He shared the photos, he said, as part of a "gym challenge" and the former Hillsong volunteer, who was not named, was included by accident.
"Yeah, it shows me with my leggings on," he admitted.
"This was something that was just an honest mistake and I informed my wife as soon as it happened," he explained to DailyMail.com. "I was not at all trying to lure her. I get that she, within the context of what's happening with Hillsong, that she would draw those conclusions. But I barely know her. That was not my intention."
The former volunteer said she barely knew Barrett when she volunteered for Hillsong from 2014 to 2016, yet he reached out to her earlier this year, saying he was heading to the state where she had moved.
She accused him of fishing for prey in messages shared with DailyMail.com, and said while she did not report him to Hillsong Church, another member did.
Earlier this month, Hillsong Church Global Senior Pastor Brian Houston announced a pause in the operation of Hillsong Dallas after an investigation of former Lead Pastor Reed Bogard and his wife, Jess. 
For months, Houston has also been struggling to repair the image of the U.S. arm of his church following a series of sex and financial scandals.
Since last November, the church has had to publicly address complaints about inappropriate sexual relations between staff and volunteers at Hillsong NYC, which led to the dismissal of its then-lead pastor Carl Lentz.
The embattled Australia-based denomination has also had to deal with an investigation of an assault on a Philadelphia pastor's daughter at its headquarters.
Anna Crenshaw, who is the daughter of Victory Church Senior Pastor Ed Crenshaw, revealed that Jason Mays, a Hillsong staff administrator, volunteer singer and the son of the church's head of human resources, assaulted her in a sexual manner at a social gathering while she attended Hillsong College in Australia.
"Jason grabbed me, putting his hand between my legs and his head on my stomach and began kissing my stomach. I felt his arms and hands wrapped around my legs making contact with my inner thigh, butt and crotch," Crenshaw wrote in a 2018 statement reviewed by The Christian Post.
It took a serious fight from Anna and her father to hold Mays accountable. He would later plead guilty to "assault with an act of indecency" in 2019. He is still listed as creative director and head of sync at Hillsong Music.