Clarkson's Photobomb Goes Viral: Singer Makes Wacky Face Behind Ellen Degeneres (VIDEO)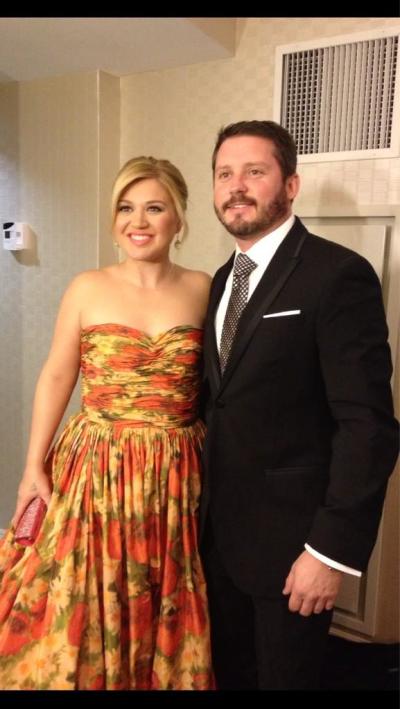 Kelly Clarkson's photobomb at the Grammys topped off the star-studded awards show Sunday, making its rounds across the internet very quickly. The 30-year-old pop singer made a wacky pose in the background of Ellen Degeneres and Portia De Rossi's picture.
Clarkson's photobomb came while photographers were taking pictures of celebrities while still in their seats. While Ellen and partner Portia De Rossi smiled and posed for the camera, Clarkson popped out to the right, pointed her finger in an "I'm with them" gesture, and made a big grin.
The moment went viral on the internet, with many saying they enjoyed the lighthearted joke.
"Kelly Clarkson's photobomb is just the best thing," tweeted @MichaelHayes.
"This is the best photobomb," @IamRyanBeene agreed. "Lololol at Kelly Clarkson."
Others referred to when Clarkson was on the receiving end of a photobomb, but by former president Bill Clinton during President Barack Obama's inauguration.
"So, Bill Clinton photobombed @kelly_clarkson at the Inauguration…now it's her turn to photobomb @TheEllenShow!" tweeted @keepinitblog.
Clarkson's photobomb wasn't the only time she made headlines for the night. The first "American Idol" winner won a Grammy Award for the Best Pop Vocal Album, making her the first and only artist to do so twice— last time she won in 2006.
While heading up to accept her award, Clarkson made sure to hug as many people as possible, including Miranda Lambert, which resulted in the two singers getting stuck together.
"I got stuck on Miranda Lambert. There's a story and a song. For later, after alcohol," she joked in her award acceptance speech. "I'm just kidding children. I get nervous speaking in front of people."
The "Stronger" singer made sure to mention her new fiancé Brandon Blackstock, the band Fun., and singer Miguel, who she said she wanted to perform with one day.
The First Audition of Kelly Clarkson