Environmentalism Deadly to Life, Freedom and Gospel of Jesus Christ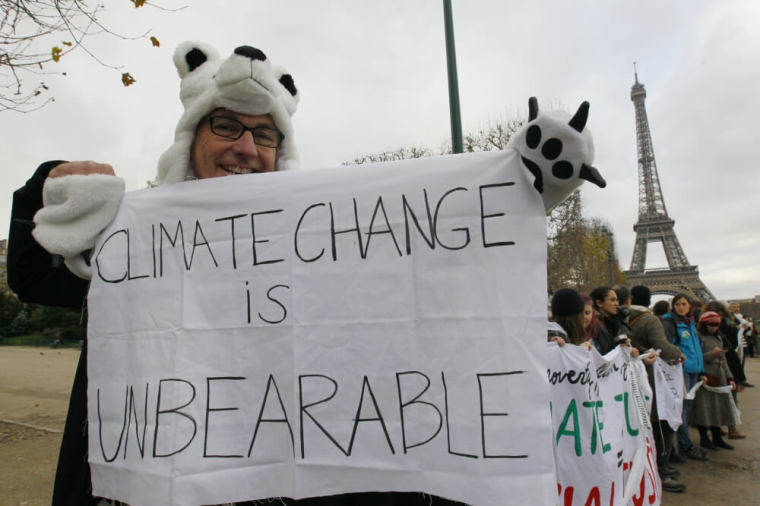 What is the final frontier? Whenever I ask my Earth Science 101 students they answer that the final frontier is space. This is no doubt because they have been acculturated by the ubiquity and glamour of space exploration in the popular imagination.
The Apollo program conceived in early 1960 during the Eisenhower administration ignited the dreams of a generation that lacked the drama of exploration that characterized their recent ancestors. Apollo missions merged seamlessly with the popular television series Star Trek, which began in 1966.
Captain James T. Kirk, the boyish and impulsive hero, augmented the romance of space travel with his promise to explore "brave new worlds." That his middle name is Tiberius — perhaps after one of Rome's greatest generals, who became a moody and reluctant Emperor — only added to the gravitas.
Star Trek's opening lines, "to boldly go where no man has gone before," tapped into the jet-fueled excitement of the space exploration generation, the words coming almost verbatim from a government booklet produced after the Sputnik flight in 1957.
In 1969 the Apollo astronauts walked the moon. The previous month Star Trek was canceled.
The cancellation of Star Trek pointed out a feature of mainstream American culture. Although most people enjoyed making the Vulcan salute it was not enough to sustain the television show. Fantasy was in every way less extraordinary and interesting than reality. Priorities were clearly different than they are today. Perhaps we are the generation Star Trek was waiting for.
After the show's cancellation in 1969 one might be forgiven for the inability to summon the imagination needed to see ahead to the annual Star Trek Convention, now heading into its 50th anniversary celebration. Now it is not hard to imagine the main meeting in Las Vegas hosting over 50,000 'Trekkies'.
In the first quarter of the twenty-first century we live in a world where a large number of people find it difficult to disentangle reality from fantasy.
According to the Journal of the American Medical Association, over 13 percent of the population are on antidepressants. This suggests that an alarmingly large and increasing portion of the population have a dissatisfaction with real life. By means of antidepressants they struggle to live in a world as they wish it to be rather than live in the world as it is.
Although the 1960s were years when experimentation with recreational drugs became a cultural phenomenon, it is today that drug use is virtually an institution. The fascination with fantasy extends far beyond entertainment.
In his book The Flight from Reality in the Human Sciences, Yale's Ian Shapiro offers a disturbing sketch of how the abandonment of truth has disconnected much of academia from the real world. Whether leading or following the academic social science, it is clear to many that in politics, economics, sociology, whatever, postmodern man is similarly engaged in a concerted flight from reality. I am not alone in finding myself constantly obliged to argue against ideas that are so foolish and superficial that they should be readily recognized as self-refuting.
Environmentalism is a prime example. The Green movement once concerned itself with genuine environmental problems but today largely thrives on exaggeration, myth, and fantasy. Greenpeace claims, "[c]limate change is accelerating" and global warming is worse than previously thought. Their solution is to completely dislocate human industry because, in their view, CO2 gas from human industry is causing rapid and accelerating global warming.
Never mind that their climate models simulate two to three times observed warming and that none predicted that for about 20 years there's been no warming trend apparent in NASA's satellite records, the most reliable because they are least contaminated and least "adjusted."
Models don't match reality? No problem. A generation of climate scientists trained mainly on computer modeling rather than real-world observations self-consciously admits it frequently fails to distinguish models from reality.
Maybe the real final frontier is the human mind, and the challenge is getting it to submit to reality rather than preferring fantasy?
In my book Resisting the Green Dragon. I analyze the worldview, philosophy, theology, ethics, politics, and strategies of the Green movement. I wrote the book because, as a scientist and as a Christian, I believe it is possible to bring a balanced Biblical view of stewardship and conservation to the critical issues of environment and development.
Around the world, environmentalism has become an unbalanced, radical movement, a metastasizing social pathology unhinged from reality. It is deadly — deadly to human prosperity, deadly to human life, deadly to human freedom, and deadly to the gospel of Jesus Christ.
It is not hard to see how living in fantasyland quickly becomes socially and economically disastrous. If governments continue accelerating the heavy-handed imposition of Green policy, it will not be long before we will fondly but sadly recall Mr. Spock and his wish that we "live long and prosper."
James Wanliss, Ph.D., is Professor of Physics at Presbyterian College, Clinton, SC. He is a Senior Fellow and Contributing Writer for The Cornwall Alliance for the Stewardship of Creation, and author of Resisting the Green Dragon: Dominion, Not Death. He has published over 50 peer-reviewed physics articles, has held the NSF CAREER award, and does research in space science and nonlinear dynamical systems under grants from NASA and NSF.