Pope Francis Warns of 'Catastrophic' Event If COP21 Leaders Fail to Protect Environment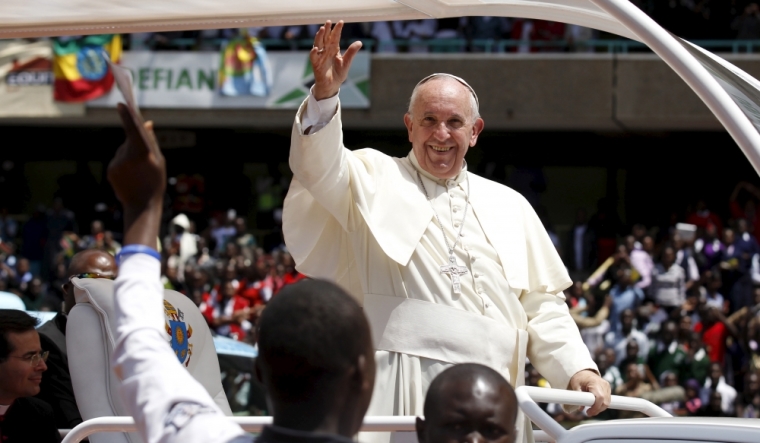 Pope Francis has warned that there will be "catastrophic" consequences for the planet unless global leaders agree on a plan to reduce the use of fossil fuels and tackle climate change.
"'Particular interests,' the pontiff insisted, should not be allowed to prevail over the common good in the fight against global warming and climate change," Crux reported on Francis' words at a U.N. campus in Nairobi, Kenya. "He also took an indirect shot at global warming skeptics, warning against 'manipulating information' to serve someone's 'plans and projects.'"
The Vatican leader's comments come just days ahead of the global climate change meeting that will take place Nov.30-Dec. 11 in Paris, where representatives from 194 countries will attend.
Francis said the leaders are "confronted with a choice which cannot be ignored: either to improve or to destroy the environment."
Much like he suggested in his 184-page "Laudato Si,'" or "Praise Be to You" encyclical from earlier this year, Francis called for the development of a new energy system that will greatly reduce the world's need for fossil fuels, and uses little to no carbon content.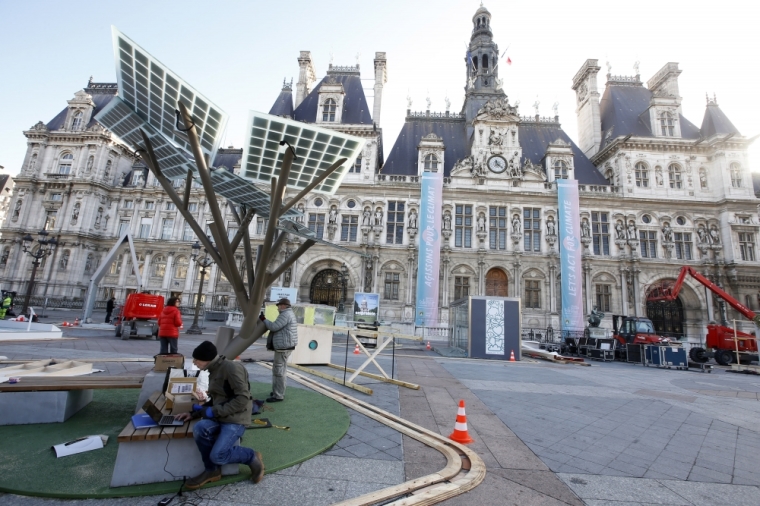 "It would be sad, and I dare say even catastrophic, were particular interests to prevail over the common good and lead to manipulating information in order to protect their own plans and projects," Francis added.
The Wall Street Journal noted that Francis also addressed the problem of Islamic extremism in his first trip to Africa, condemning violence done in the name of God. Francis argued that God "must never be used to justify hatred and violence."
As the world's attention turns to the the 21st Conference of the Parties to the United Nations Framework Convention on Climate Change, Roman Catholic bishops from around the world have been raising their voices and warning of dire consequences for the environment if action is not taken.
Back in October, leaders of the U.S. and Canadian bishops' conferences, along with leaders of the regional bishops' conferences of Asia, Africa, Latin America, Oceania and Europe, all signed a joint letter warning of a pending "disaster" without a transformational climate agreement.
The bishops' appeal said that it represents "the anxiety of all the people, all the churches all over the world," and argued that "unless we are careful and prudent, we are heading for disaster."
In his speech in Kenya, Francis said that the COP21 summit should focus on tackling three specific areas, namely climate change, poverty, and ensuring respect for human dignity.
He also addressed a specific environmental problem in Kenya when he spoke out against ivory trafficking and the killing of elephants, saying that such crimes are related to "political instability, organized crime, and terrorism."
President Barack Obama, who will be attending the COP21 summit, praised the decision to keep the event in Paris, despite the terror attacks on the city earlier this month, where Islamic militants killed 130 people.
"What a powerful rebuke to the terrorists it will be when the world stands as one and shows that we will not be deterred from building a better future for our children," Obama said on Tuesday.
French President Francois Hollande agreed, and said: "I think there cannot be a better symbol for response but to hold a conference in Paris where the attacks took place, where we took the right measures in terms of security, protections, as well as in defending our values."