Climate Week: Tony Blair Says Man-Made Climate Change 95 Percent Certain, Changes Needed
NEW YORK – Former U.K. Prime Minister Tony Blair and top leaders from around the world warned at the start of the Climate Week conference in New York that man-made climate change is a 95 percent certainty, calling for serious and urgent action to address the devastating disasters that have impacted the planet in recent times.
"This year is perhaps more critical than ever before," Blair said at the opening ceremony of the 5th annual Climate Week on Monday. "Here in the U.S., people's lives and livelihoods have been disturbed by extreme weather. The devastating floods of Colorado are a one in a thousand year event – and at the same time, 60 percent of the country is gripped in a severe drought."
Blair added that he is not pessimistic about the world's response to climate change, but is worried about the speed of progress.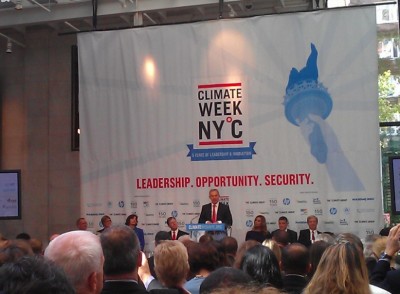 The week-long conference taking place from September 23-30 is pushing for a "Clean Revolution" and a low-carbon future where governments, organizations and companies will move away from a high-carbon dependency and seek solutions that will be both prosperous for the economy and good for the environment.
"There is no doubt for serious people that this is an urgent and a serious problem," Blair added.
Climate Week is taking place in the shadow of the imminent publication of the IPCC Fifth Assessment Report, which Blair described as the most authoritative census on the science of climate change to date, proving with 95 percent certainty that man-made climate change is happening.
"If you were told there is a 95 percent chance you are about to have a heart attack, you wouldn't ignore it, you wouldn't debate the risk, you would do something about it. The science is clear, it's time to act, it's time to do something about it. It's not about politics and division, it's about the world we'll hand to future generations."
The opening ceremony, hosted by leading organizations such as The Climate Group and The Weather Company, featured distinguished speakers such as Dr. Jim Yong Kim, president of World Bank; Bob Inglis, executive director of the Energy and Enterprise Initiative and former congressman, as well as Sir Richard Branson, the English business magnate and founder of Virgin Group, who said that people have a responsibility to leave a better future for their children and grandchildren.
Mark Kenber, CEO of The Climate Group, who was one of the main speakers, spoke with The Christian Post following the opening ceremony and said that dealing with climate change should not be seen as a problem, but an opportunity.
"Those people who are taking action – from the faith community, the agricultural community, from industry, from finance, from a whole range of sectors, they are pushing as hard as they can. And they all say they need leadership from government to give them the framework to enable them to innovate, unleash entrepreneurship, and really create a more prosperous future for everyone," Kenber began.
He said that most of the technology is already available for a Clean Revolution, and that it is not more expensive than the current fossil fuel economy.
"We know the policies that we need, and we know of the finance that exists. What we need is leadership from politicians, leadership from business leaders to say 'yes we will make this happen.' So the problem in most parts of the world is one of politics now, because the science is clear, the economics is clear, the ethnology is clear, but we need that political leadership."
The Climate Group CEO noted that there is a huge range of different activites related to a low-carbon future going on all around the world.
"In the U.S. in the last few years we've seen because of a switch from coal to gas, and because of efficiency standards particularly in vehicles, that emissions are beginning to come down. At the same time, the U.S. is coming out of recession. So that gives light to the myth that dealing with climate change is expensive," Kenber continued.
He noted that China, India, Indonesia, and parts of Africa have seen clean renewable energy providing solutions to people "that they've never even dreamt of before."
"The Clean Revolution is started, but it needs to happen bigger, and it needs to happen quicker, and that's the challenge that faces us all today."
As for the consequences of ignoring climate change, Kenber explained that some people falsely believe that there is a choice between a high-carbon prosperous economy and a low-carbon prosperous economy.
"That's a false choice," he said, "because the high-carbon economy is not a prosperous one."
The Climate Group CEO explained that climate change could create 250 million new refugees because there would be countries under water, farmlands would be destroyed, and the livelihoods of people from all walks of life will be threatened.
"We already know that 60 percent of this country is under drought, at the same time that there are floods in Colorado. We saw SuperStorm Sandy last year; we've seen extreme weather events all around the world. We've seen problems with the Monsoon, we've seen problems with agricultural variability in all sorts of countries, so the consequences of climate change are not something that will happen in the future, it's happening now, already, and it will only get worse," Kenber continued.
"So it's not a choice between high-carbon prosperity, or a low-carbon prosperity – it's high carbon disaster and low-carbon prosperity."
Dr. Dorothy Boorse, a professor of Biology at Gordon College in Massachusetts, who published a report titled "Loving the Least of These: Addressing a Changing Environment," which addresses why climate change is also a Christian issue, spoke to CP about why the Christian community should be more engaged in climate change matters.
"I think it's a really exciting time of change," said Boorse, who was also one of the main speakers at the opening ceremony.
"I think that we will see change in people's thinking, and I'm really hoping that people will be able to make a connection between environmental degradation and increasing poverty, so that everybody who cares about poverty will care about climate change in particular."
The Biology professor said that one of the big barriers for Christians has been the politicization of the topic, which leads to many not trusting the information they are given.
"One thing that churches can do is really rally their constituents," she offered on how Christian groups can get involved in climate change issues. "I think if people hear from people that they trust, know, love and respect, they are more likely to make real changes in their lives. It's going to take everything we have – all people working together to make real change."
Boorse noted that the youth movement is one of the biggest factors that can spark a change in the Christian community and motivate believers to get involved.
"There is something called 'Young Evangelicals for Climate Action' and they are young people really coming together, and of course people like me, no longer young but working really hard to rally and encourage," she added.
The "Loving the Least of These" report adds: "Yes, climate change is happening. While we debate the causes of climate change, people are dying from its effects. Do we 'love our neighbor' only if it costs us little or nothing, agrees with our politics, is convenient, and doesn't interrupt our lives?"
The full schedule of the 5th annual Climate Week in NYC, including links to further information, is available on the official website.