'Clock Boy' Ahmed Mohamed Moving to Qatar After Meeting President Obama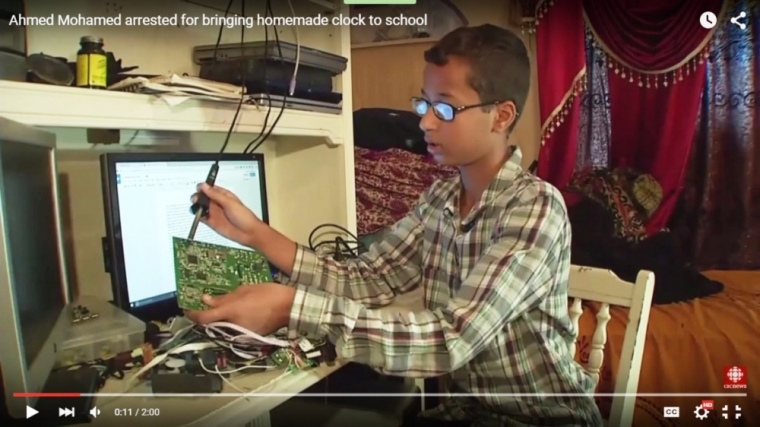 Texas teenager Ahmed Mohamed is moving to Qatar, he father said earlier this week, after being awarded a free education in the Arab Gulf State.
Reuters reported Tuesday evening that Mohamed and his family will be moving to Qatar where he'll study at the Qatar Foundation for Education, Science and Community Development, thanks to a full scholarship from the country's Young Innovators Program.
Mohamed, who was arrested at his school in September amid concerns that a homemade clock he was showing to teachers might be a bomb, was invited to the White House Monday for the annual astronomy night attended by astronomers, NASA astronauts, and President Barack Obama.
In September, after news of Mohamed's arrest first broke, Obama tweeted out support for the 14 year old.
"Cool clock, Ahmed. Want to bring it to the White House? We should inspire more kids like you to like science. It's what makes America great."
Reflecting upon his presidential encounter, Mohamed tweeted out Tuesday: "So happy, can't believe I met the President of the United States."
White House Press Secretary Josh Earnest had said before astronomy night on Monday that Obama would probably not meet with Mohamed.
"I don't believe the president will have an opportunity to meet one-on-one with Ahmed Mohamed. After all there are several hundred people who are planning to participate," Earnest said.
However, Obama and Mohamed did have a brief encounter where they embraced and traded words on the South Lawn of the White House.
Mohamed told The Dallas Morning News that he did not takehis homemade clock to his White House visit Monday because he was traveling from Sudan where he met with Sudanese President Omar al-Bashir.
The Irving Police Department, which is still in possession of Mohamed's clock, has told the former public school student that he can pick up his clock anytime.
The president's invitation to Mohamed did not come without criticism. Texas Senator and Republican presidential candidate Ted Cruz denounced Obama's actions, accusing him of playing politics with the boy and dividing the country.
"President Obama, at every stage, tries to politicize what happens, whether it is this teenager here in Texas, whether it is the shootings we saw in the Pacific Northwest," said Cruz.
"Over and over again, sadly, he seeks to try to divide us, to try to tear us apart," added Cruz. "The president really ought to be looking for ways to bring us together, to unify us."
Mohamed was arrested in September after he brought a homemade clock, housed in a pencil case and appearing to have wires sticking out of it, to school and showed it to teachers. The boy's engineering teacher told him to put it away and not to show it to anyone else. After the clock alarm went off, an English teacher alerted school security officers.
The boy's family took a picture of him in handcuffs and Mohamed instantly became a social media sensation, gaining over 113,000 followers on Twitter, with the help of the hashtag #IStandWithAhmed, and raising scholarship money via GoFundMe.
Mohamed's new-found fame also earned him a spot as a special guest at this year's Google Science Fair and a tour throughout parts of the Middle East, which included Mecca, Saudia Arabia.
Many on social media accused law enforcement and school officials in Irving of racially profiling Mohamed because of his Sudanese background. The Irving Police Department, mayor, and some school officials have refutted those claims and said there were other undisclosed details that contributed to Mohamed's arrest, but the family's lawyer will not allow that information to be released.