Planned Parenthood Shooting Leaves 3 Dead; Suspect Captured, Identified as Robert Lewis Dear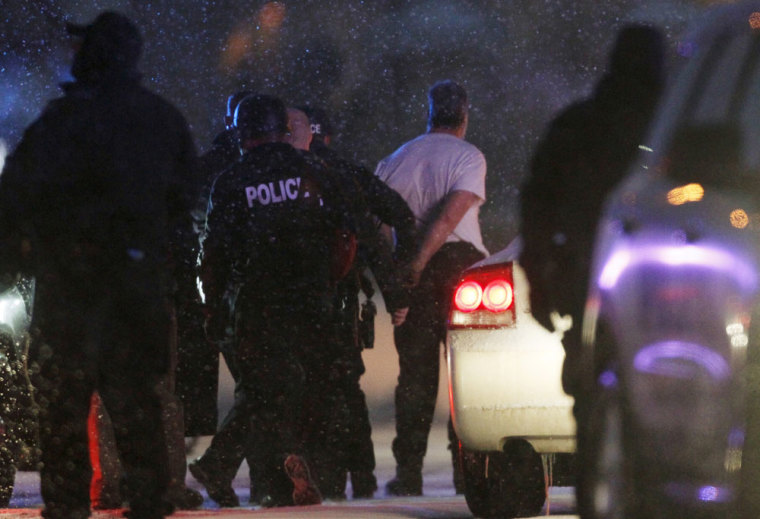 Two civilians and a police officer, who was also a co-pastor of a church, were killed and nine others were wounded in a shootout at a Colorado Springs Planned Parenthood clinic that lasted for six hours Friday until the suspect, who was carrying an assault-style rifle, finally surrendered.
An anonymous police officer told The Associated Press that the suspect's name is Robert Lewis Dear from North Carolina, but the police department is yet to officially name him.
Authorities had not been able to determine a motive behind his shooting spree at the time of reporting. Lt. Catherine Buckley of the Colorado Springs Police Department was quoted as saying, "We don't have any information on this individual's mentality, or his ideas or ideology."
Buckley added that the gunman, who was reportedly wearing a long coat, surrendered after officers inside the building shouted at him. He had brought "items" with him, some of which he left outside and officers had to determine if they were not "any kind of devices."
"I heard a bullet go right by the door and hit something," a witness told CNN. "And I ran back to my desk and grabbed a bunch of keys and fumbled at the door trying to find one to lock it. ... As I was doing that I was seeing the police commotion outside, police running everywhere, ducking behind cars with guns."
All the injured are said to be in good condition. "The officers, they're obviously in some pain, but thankfully they're alive and talking to us, and they're heroes ... The courage they displayed today saved many, many lives -- no doubt," Colorado Springs Fire Chief Christopher Riley said.
The University of Colorado in Colorado Springs police department identified the officer killed while responding to the shootout as 44-year-old Garrett Swasey, a six-year veteran of the force, according to The New York Times.
Swasey was married, with two young children, and had been serving on the campus for six years. He also spent seven years as a co-pastor at Hope Chapel in Colorado Springs.
"Here's a guy who worked full time as a police officer, and then gave a great amount of time to his local church and didn't get a dime for it," Scott Dontanville, a co-pastor who knew Officer Swasey for 15 years, was quoted as saying. "He did it because it was the thing that he felt he needed to do."
A Planned Parenthood official claimed in a statement that the incident could be attributed to a "poisonous environment that feeds domestic terrorism," according to CNN.
"We don't yet know the full circumstances and motives behind this criminal action, and we don't yet know if Planned Parenthood was in fact the target of this attack," Vicki Cowart, president and CEO of Planned Parenthood of the Rocky Mountains, said. "We share the concerns of many Americans that extremists are creating a poisonous environment that feeds domestic terrorism in this country. We will never back away from providing care in a safe, supportive environment that millions of people rely on and trust."