'Come Sunday' Film Trailer: Megachurch Pastor Preaches Against Hell, Says God Told Him Everyone Is Saved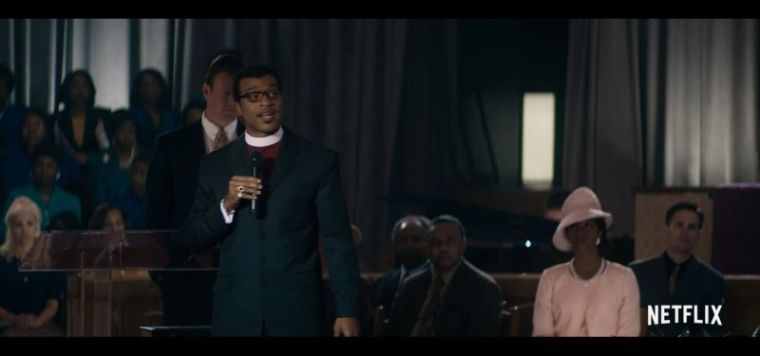 Netflix has debuted the full-length trailer of its upcoming film "Come Sunday," charting the real-life story of a former evangelical megachurch pastor who loses his belief in Hell and battles church officials who accuse him of being a heretic.
The trailer, released on Wednesday, features several snippets of preacher Carlton Pearson, played by actor Chiwetel Ejiofor, explaining how his belief that everyone is saved comes from an instance where he felt God was speaking to him.
"I heard a voice, say 'everyone's already saved,'" Ejiofor says as Pearson in the trailer, while speaking before his congregation.
The pastor, who in the 1990s led Higher Dimensions Evangelistic Center in Tulsa, Oklahoma, is challenged in the movie by church members who tell him that he can't rewrite the Bible.
"I'm not rewriting anything, I'm just re-reading it," he responds. "God loves us all."
The trailer depicts other real-life events, such as Pearson's congregation walking out on him due to his move outside mainstream Christianity.
Church elders are also featured telling the preacher directly that he is arguing for "false doctrine."
Still, Pearson stands defiant, proclaiming, "I've never been more sure of anything in my life, and I'm not backing down."
The Netflix film, which will be available for streaming on April 13, originally premiered in January at the Sundance Film Festival.
Director Joshua Marston told USA Today that he was pulled in by Pearson's faith journey.
"Here's a man who prayed and contemplated, and ultimately said, 'I've changed what I believe.' It takes tremendous courage to examine and revise your beliefs," Marston stated.
"This is a powerful story of a man [who] stood up for what he believed even in the face of severe criticism."
The director said that the film challenges people's concept of God, and asks them how it would change if there is no such thing as eternal damnation, as Pearson suggests.
A survey by LifeWay Research in 2016 found that despite mainstream theological teachings, as much as 64 percent of evangelicals believe that everyone will go to Heaven. Still, 84 percent of people with evangelical beliefs said that Hell is a real place of eternal judgment.
Watch the "Come Sunday" trailer below.