Comedian Sarah Silverman Mocks Jesus, Christian Values, and GOP in New Netflix Promo (Video)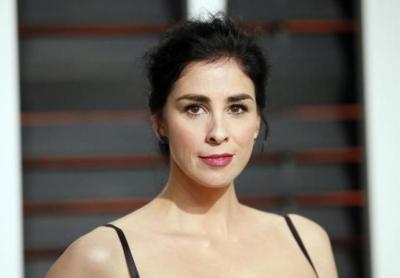 Controversial comedian Sarah Silverman strikes again with her anti-Christian agenda in a new promo trailer for her comedy special on Netflix, "A Speck of Dust."
In the trailer, Silverman invites "Republican Congressman" Tom Virtue to shoot a mock promotional ad for her special. Tom Virtue is an actor well known for his role on "Even Stevens."
As the clip begins, a seemingly polite Silverman leaves behind her crude humor and takes on the role of producer to assist Virtue in his pitch.
"As a House Republican, Christian values are important to me," Virtue says as he promotes the new series. "This is not the inappropriate Sarah Silverman of recent times but a wholesome comedy special about family. Sarah's days of blue humor and politics meddling are over. That ship has sailed, as she's had a true come to Jesus moment and is writing clean material that the whole family can enjoy ... Now she understands we are one nation under God."
Silverman then takes the filmed footage to the production room where she's seen editing the clip. She cuts the spot using different phrases said by Virtue and pieces together sound clips promoting her new show. The final version of the promo shows Virtue stating that the show will explore politics, abortion, and Jesus, among other topics, and some inappropiate phonographic terms.
"It's perfect," Silverman says of the edited promo video.
WARNING: The video below features some vulgar language.
It's not the first time the New Hampshire stand-up comedian targets Jesus in a video. A pro-choice video she released in 2014 featured an actor representing a mock Jesus who was crass.
During that time, Silverman told Rolling Stone Magazine that her pro-choice video was not attacking Christ, but instead she claimed she "loves" the idea of Jesus and is "not against Christianity."
"I'm not against Christianity. I date Catholic men! That's always what they come back with, 'Sarah Silverman mocks Christianity!' I'm not! As a matter of fact, I have no religion and many people in my life that I love and respect and even look up to have religion," she said.
Some Christians, however, are not buying her claims and have been in protest of Silverman's controversial actions ever since. She admitted that the anti-biblical stance she has taken is taking a toll on her support.
"This is terrible for my career, make no mistake. This is not good for my career, and it definitely lost me an entire kind of audience," she explained. "I'm the Poorest Famous Person in the World."
Silverman went on to say that it is not Jesus that upsets her; rather, it is some of His followers. "I love the idea of Jesus. The quotes that are attributed to him are so beautiful. I can't imagine how the people that shroud their hatred in his name would respond if he came today."
Silverman's supposed affection toward Jesus, however, has not stopped her from using Jesus and His virtues as the bunt of her jokes. Some fans that are upset by her newest Netflix promotion are saying that her career is what should become "a speck of dust."
Follow Jeannie Law on Twitter:
@jlawcp