Comic Sarah Silverman Invokes Jesus in Profanity-Laced Pro-Abortion Skit; 'Using Religion to Dictate Legislation Is Un-American,' She Says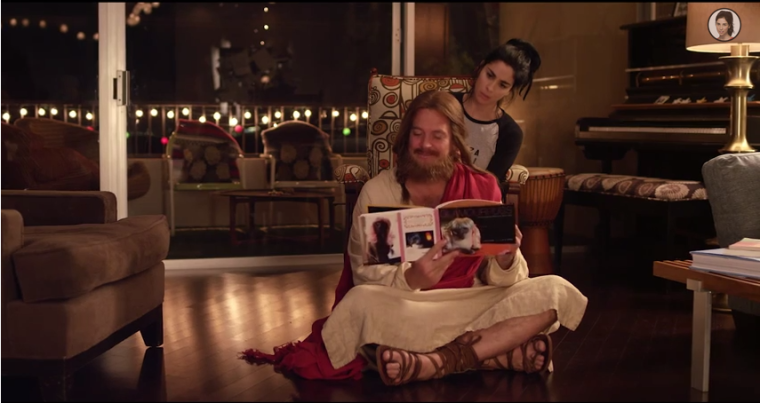 Comedian Sarah Silverman recently invoked Jesus in a profanity-laced, pro-abortion skit to rally support for a national pride day for women and some critics have dismissed it as offensive and blasphemous.
The event billed, "From V to Shining V," is scheduled for Sept. 28 and is being organized by a group called Lady Parts Justice. The group is aiming to set up rallies in all 50 state capital cities and Silverman is expected to lead one in Concord, N.H.
A video of the skit, which was posted to YouTube on Tuesday, shows NCIS actor Michael Weatherly appearing as Jesus Christ to Silverman and declares to her that he is "really bummed by all these people who use my name for intolerance and oppression."
He then tells her that he wants her to spread his message to the people. In his message 'Jesus' quips that "life begins at 40" then explains to a questioning Silverman that: "Fertilized eggs aren't people, people are people."
He later tells her, however, that: "People who believe fertilized eggs are people are people too. You have to love them. You're not better than them."
Silverman then argues that "using religion to dictate legislation is un-American, but it's happening."
The video, which has been viewed by more than 100,000 people on YouTube, has elicited a variety of reactions including many who found the parody of Jesus offensive.
"This is stupid. I understand you want to put a valid point across. Don't use Jesus' name in the wrong way. Using the F words. Totally wouldn't share such a video. Zero for you," wrote Patrik Buchana in the comments section of the video.
Zulfiqar Ali commented that Silverman "is a hypocrite." He then further explained, "A fertilized egg is one thing, but when the fetus develops a heartbeat, it's a human then. Before that, I think abortion is kind of an option in most serious cases, but after that you are just killing a person."
The Lady Parts Justice group argue on their website that: "Abortions don't cause mental instability and the HPV vaccine doesn't make girls mentally retarded. No woman's boss should be able to demand information from her to decide if her reason for wanting birth control is moral enough to grant permission."
Citing the burden of legislation seeking to limit abortions across the country, the group appeals to women on the website to rally against the restrictions to their freedom.
"These are all actual laws coming from statehouses all across America, and we are sick of it. Lady Parts Justice is doing something about it. We are calling it 'V to Shining V.'"